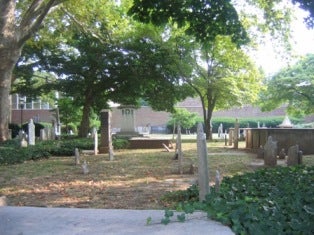 Old Pine Q&A
Respondent: Rev. Debbie McKinley
1. Old Pine Presbyterian, like neighboring St. Peter's, has had many prominent 18th and 19th century American leaders on its congregational roster. In the 1950's and 60's, Old Pine was a pioneer in the revitalization of Society Hill. What is your congregation's role in the history of the waterfront? How does the congregation and place illustrate the role of the Presbyterian church in Philadelphia? What challenges has it faced?
American Presbyterianism began in Philadelphia in 1706 with the organization of America's first Presbytery. Today Old Pine (a.k.a. Third, Scots and Mariners Presbyterian Church) was built in 1768 as a chapel of ease for 1st Church and is the only colonial Presbyterian Church in the city still on its original foundation – and in the original building, though that building has been through extensive changes since 1768! Old Pine is steeped in Philadelphia's maritime history. Among the 3000 congregants buried in its graveyard are 38 sea captains, the first commissioned U.S. naval officer, rope markers, ships chandlers, mast makers, and tavern keepers. In 1959, nearby Mariners Church merged with Old Pine; its ministry to seafarers continues today through the mission of the Seamen's Church Institute.
2. How has your congregational make-up evolved over the past fifty years? What sorts of people attend services at Old Pine Presbyterian and where do they come from? What has drawn them to this church in particular?
Old Pine's original congregants were largely drawn from the Scotch-Irish who originally settled in Pennsylvania. Beginning in the 1880's, a flood of immigrants from Eastern Europe came through the Port of Philadelphia and remained in the eastern part of the city in houses abandoned by people moving to more fashionable areas in the city and to the new "Main Line." By the 20th century Old Pine was surrounded by people of Polish stock and by the many African Americans who had joined the considerable pool of free blacks living here from the city's earliest days. In response to their needs, the church held services in Polish and separate classes for local children- white and black. Today, professionals of all ages make up the congregation. Some come to the city to attend school, some for their first jobs. While the congregation is predominantly young, we are beginning to see an influx of empty nesters who are moving back to the city for easy access to music, art, and activities. Some came because of its convenient location, some because of its programs, some because of its history, and some because of Old Pine's warm and welcoming atmosphere. Today, most members comment that it is Old Pine's sense of community that draws them and keeps them at Old Pine. And of course there are always tourists. Hardly a Sunday goes by without two to twenty visitors worshipping in awe in Old Pine's exciting sanctuary.
3. What are some of your thoughts about how Society Hill has evolved in recent years, especially how the neighborhood has been transformed into one of the city's most fashionable residential districts? How has this affected your church's mission and congregation?
Today's residents of Society Hill and Queen Village tend to be middle to upper class, college educated, and socially and politically aware. They care about their neighborhood and how it looks and functions. In many families both partners work so dependable and quality childcare is a must. Old Pine Church and Community Center host 20+ Twelve-Step meetings. Earlier in the 20th century, Old Pine held language and sewing classes for Polish children and Bible study for young African-Americans; it now offers year-round childcare and community activities at its Old Pine Community Center at 4th and Lombard Streets. As always, Old Pine is sensitive to perceived needs in its community. But we also respond to the needs of the larger world as demonstrated by our two mission trips to Katrina survivors in Pearlington, Mississippi, and our partnership with other Presbyterian Churches and Habitat for Humanity in Philadelphia's own Point Breeze neighborhood. Not only does the church serve the spiritual and often the practical needs of its parishioners, it gives its members the opportunity to follow Christ's command to "Feed my sheep."
4. What are your feelings about the proposed waterfront developments, not just casinos but also residential and commercial. How do you think these will affect your ministry and your church?
From our earliest days, the Delaware River has been Philadelphia's lifeline to the outside world and it still is. It has brought us people and goods and its beauty keeps us in touch with God's creation and with our own history. Therefore, we support a greenway that frames the river and that affords a slice of nature to those of us who live or visit this densely populated part of the city. Casinos and big box businesses are antithetical to our vision of the riverfront and we do not support them.
5. What do you see as the future of Old Pine Presbyterian Church?
Clearly, Old Pine will continue to be a Presbyterian shrine. Its ancient walls and its saints in the churchyard will continue to speak for centuries to come. It is not an accident that the archives of the national Presbyterian Church, the Presbyterian Historical Society, are housed on the same block as the venerable church. But Old Pine is a living church – not a museum. Its people gather to worship as did their ancestors; then they go out into the world as their ancestors also did. No cloistered people, we. We don't know what the world (or God!)will ask of us in the future, but we do know that Old Pine people will respond. This fine old church that stayed to serve when thirty or more Protestant churches within a mile's radius fled will remain faithful and unmoved.
6. How has the construction of I-95 affected your congregation?
It has not had much effect – except to inhibit development along the river front – as it blocks pedestrian access, except in Society Hill.
7. In a sentence, what does the phrase "Holy Experiment" mean to you?
Penn's Holy Experiment was just that – an experiment. Never before had a diverse gathering of religions and Christian denominations been allowed or encouraged to live side-by-side peacefully, in freedom. Would it work? Who knew?
You are invited to learn more about Old Pine on personalized tours. Ronn Shaffer has researched the churchyard and will be happy to share his knowledge with you. Liz and Dick Ostrander have also researched the church building and will be glad to share what they have learned with you. Please call Mary Hall at the church office to set a time for either or both tours. 215-925-8051.
WHYY is your source for fact-based, in-depth journalism and information. As a nonprofit organization, we rely on financial support from readers like you. Please give today.