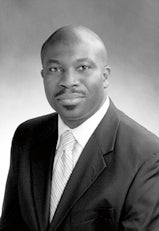 DARWIN BEAUVAIS
Age: 40
Education: Bachelors degree in psychology and Africana studies from Rutgers; Juris Doctor from Seton Hall.
Professional: Zoning and land use attorney at Klehr, Harrison, Harvey, Branzburg & Ellers, LLP, where he is an associate. Formerly legal counsel to the majority leader of Philadelphia City Council.
Volunteer/Community Work: Bar Association member; sits on the board of directors of the Design Collaborative of AIA Philadelphia and the Free Library of Philadelphia; frequent volunteer at Canaan Baptist Church in Germantown and at his children's daycare.
Personal: Married to Kim; A son, 4 and a daughter, 7.
Philadelphia resident since 1996. Born and raised in northern New Jersey.
Neighborhood: Overbrook Farms
Appointer: City Councilwoman Jannie Blackwell.
Q&A
Why is zoning reform important to you? Because the code needs to be updated after being dormant for 50 years.
Why are you a good choice for this commission? Having worked in city council for five years, I've seen many, many temporary fixes for zoning issues in this city. And I believe that knowledge could help me bring about a better zoning code.
What is the most pressing zoning issue Philadelphia faces? What really bothers me personally is the process. I don't think the average person knows what's involved in getting zoning approval. Forget the average person! The big-time civic groups that have a lot of sophisticated people, they think they know the process, and even they have trouble knowing exactly what it entails. The current process is so complicated that I just find it more of a burden.
For example, if you want to build a shed to store your lawnmower and snow blower, and it's larger than a certain square footage, you need a permit. If you don't realize you need a permit, it's very conceivable that you go to Home Depot and buy the shed of your dreams, and it turns out that it is above the maximum size allowed under the current code. Eventually, someone tells you, "You can't do that." Or you get sited. So then you spend four hours in L&I trying to legalize it. L&I then gives you a refusal and send you before the zoning board. And then you're standing in front of the five panel members thinking, "All I want to do is store my snow blower and lawnmower!"
We need to better streamline the process by updating what the code can allow by today's standards.

What should be done to address this issue? Streamline the process, make the code simpler and publicize the changes (so that everyone knows how things work). The commission needs to discuss the best way to get the word out.
WHYY is your source for fact-based, in-depth journalism and information. As a nonprofit organization, we rely on financial support from readers like you. Please give today.