Book this rare waterfront find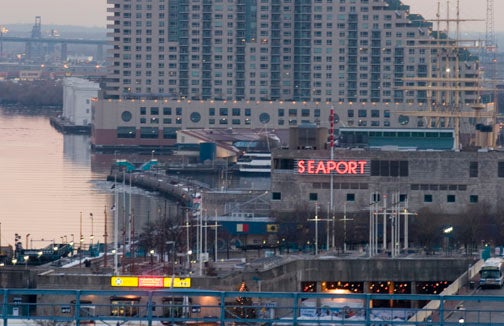 May 1
By Linda K. Harris
For PlanPhilly
For most of his life, Tim McGrath has been fascinated by the adventures of Commodore John Barry (1745-1803), the man known as "the father of the American Navy."
McGrath's father, a veterinarian, taught at the University of Pennsylvania and would take his son to see the sites around Philadelphia. At Independence Square, father and son would admire the statue of Barry. www.ushistory.org/people/commodorebarry.htm
As an adult, McGrath was somewhat annoyed that most of the information about Barry was confined to a few lines or footnotes.
Searching for a book or other information about the esteemed seaman, McGrath called the Independence Seaport Museum in January 2003.
"Do you have any books or documents on John Barry?" McGrath recalled asking. Megan Fraser, the librarian, paused for a moment, then replied, "We have his papers." And that, McGrath said, was the beginning of a "drug-free addiction" that led him to research and write what is now a 900-page draft of a biography about Barry.
"I went ga-ga over the wealth of what was there," McGrath said.
The Independence Seaport Museum www.phillyseaport.org may be one of the best-kept secrets in Philadelphia, tucked along Penn's Landing and boasting river views that a five-star resort might envy.
"It's such a great place to do research and visit," McGrath said. "You have this great ambience. There are so many things, document-wise."
Contributing to the feel of the library is the giant picture window that looks out on the Delaware River, providing spectacular views of ships, sky and water.
McGrath has spent a lot of time at the library and other places filled with treasure-troves of maritime history. And he's managed to research and write his book despite his full-time day job as president of the Health & Science Center, an executive search firm in Lima, Pa.
Fraser gets the credit for making McGrath's job easier. "Megan has been resourceful and generous with her time," he said.
The last biography of Commodore Barry, Fraser said, was written in the 1920s. The Barry family came to the United States from Ireland. He kept journals and wrote letters back to Ireland, and other members of the family were prolific letter writers as well.
Because there were no phones, Internet, television and radio, letters were the main form of communication. Patrick Barry Hayes, a nephew, wrote copious letters, noted for their juicy details of everyday life in Philadelphia.
For example, in a letter dated 26 October, 1829, Patrick Barry Hayes (1809-1863) writes about a store that burned from a steamboat spark and segues to an accounting of a trip he took for the opening of the Chesapeake & Delaware Canal.
The ceremony itself was disappointing, according to the letter, but on the return trip, "a sumptuous repast" was served. "And as wine mighty wine generally is drank [sic] more freely when free, so in this instance every body on board became awfully besotted so much so that there was a blank in my eventful life of four hours finding myself at one o'clock Sunday morning on Arch Street wharf a drunken ensign with a tremendous long pole in my hand with our flag attached with which I staggered home much [to] the consternation of watchmen."
In a letter to a man named Bob, dated 4 August 1829, he writes: "Your old friend – 'Jesse the flower of Dunblane is at his old tricks here, in the way of sponging for a dinner – he the other afternoon borrowed the Roosters horse and gig which by some unlucky accident he broke all to pieces – which he attributed to the horse getting your old complaint the 'blind staggers.' The little Roan is on that account given up by the old man – who I believe intends owning no more horses."
In a letter to Vernon Brown, with the date 30 October 1829, there is a humorous description of the legal profession of the time: "Sure enough Bainbridge is an Esquire as you term it alias a Lawyer and has hung his sign not his banner upon the outward wall – this in Philadelphia generally continues to hang as a sign of Law and not a token of riches which plainly is to be perceived by the emaciated starved visages of two thirds of our young Lawyers – alas miserable profession even worse than the daily labor of driving the Quill."
Hayes did not marry and settle down until he had sown many a wild oat. In this letter of August 7, 1828, he writes about his military duty in Brandywine Springs "situated in Delaware New Castle about 38 miles from Philadelphia…" They apparently spent the night at one Tommy Tire's. "I shall never forget it, as long as there is life in my body, or the many occurrences of that eventful night," which included swimming and "the ravishing of Tommy's maids." Later in the four-page letter he recounts:
"Monday, Tuesday, Wednesday were spent in drilling, guarding, drinking, fishing, swimming, dancing, parading, eating, fighting, farting, f—ing, etc., all to the pleasure & taste of each member…"
"Patrick Barry Hayes in particular was quite the man about town," Fraser said. His and other letters ended up in the hands of various descendants, Fraser said, and were donated to the museum.
"It might be one of the greatest repositories of the family's material," Fraser said. "I would describe it as a gem."
Celestine Rafferty, librarian in County Wexford, Ireland, where the Barry family lived before emigrating to Philadelphia, enthusiastically agrees. County Wexford www.countywexford.com is on the southeast coast of the Emerald Isle and celebrates Barry Day every June 30. Barry is not the only famous son, however, John F. Kennedy's family also came from Wexford.
In 2003, while searching on the Internet for information about Barry, Rafferty discovered the collection at the Independence Seaport Museum, so she contacted Fraser, who invited her to stop by. Rafferty's husband is from New Jersey, so she visits her in-laws on occasion. In March 2003, Rafferty made her first visit to the museum's library.
"I supposed that what amazed me was that I assumed that Barry was the only Wexford person in Philadelphia. But it seems there were others there at the time. There seemed to be a number of Irish émigrés, but Wexford ones in particular. I wrote a report after seeing all this and recommended that we become involved in having the microfilm."
Rafferty disputes the common assumption that Barry was a peasant boy.
"I'm inclined to think that was not the case. Poor peasant boys didn't get educated in Ireland in the 18th century. I'm inclined to think he was born into a merchant class. They certainly didn't have a huge amount of assets but they had enough to be able to afford an education and that was very significant."
Of all the trips Barry made, the one to China in which he took along his nephew Patrick Hayes (father of Patrick Barry Hayes), particularly impressed Rafferty.
"Hayes was about 17 then. Hayes kept a journal throughout the whole trip. It was significant."
The microfilming is currently coming to pass, and the Barry collection is expected to be complete by early summer, Fraser said. Eventually some of the heavily used correspondence will also be digitized and available for research on the Internet.
The microfilm will ensure that the university students, writers, divers, family historians and art historians who use the letters and diaries for research will be able to continue to do so.
Divers come to the museum to consult the vessel registers – alphabetical lists of ships, how much they weighed, where they were built and sometimes, their cargo. And then they go treasure-hunting in the summer time, Fraser said.
"The East Coast was quite the graveyard," she said.
Even with all the esoteric interest, the library has kept a fairly low profile, with only about 300 people using it in a year. But things are picking up, with the website and increased attention to exhibits such as "Ladies Who Launch," which included the museum's first online exhibit www.phillyseaport.org/LWL. A new online exhibit
featuring Titanic items from the museum's collection has just gone live (www.phillyseaport.org/Titanic).
Fraser arrived at the museum in June 2001 with a master's degree in library science from the Pratt Institute in New York. She had graduated earlier from New York University and worked at the New York Historical Society. While an undergrad, Fraser thought she might like to be a journalist.
"I found out I didn't like writing news and I wasn't good at making deadlines," Fraser said.
Her mother is a history teacher and her father a librarian, and Fraser discovered that she liked to study history. When she graduated, she was lucky enough to get a job at the New York Historical Society's manuscript department.
"I couldn't believe people would pay me to read people's mail," she said with a smile. And that's when she knew she'd found her calling. So it was back to school at Pratt.
"I just love archives," she said enthusiastically. "It's so much fun."
Since her parents live in Millville, she decided moving away from New York wouldn't be a bad idea. She saw an ad for the job at the Independence Seaport Museum. And the rest, as they say…..
Today she helps boating enthusiasts pore over the library's large scale records of ship's construction, photographs, manuscripts and ledgers about boatbuilding. She guides the curious through correspondence and other documents. And she tries to plan for a future when the library's resources will be even more appreciated.
"I like the service aspect of it," she said.
In 2006, Matt Herbison, who is also an expert on archives, joined the staff of the library. With a technical bent as well, Herbison is helping out with the website.
"We're looking into getting some grants into building a real digital library," Fraser said. "Obviously with the change in the way people do research now, for us to be relevant, we need to do this."
On a broader scale, the entire museum is reinventing itself. It has hired an executive search firm to find a new president. The previous president was fired amid financial controversy.
But Kevin J. McNamara, vice president of development and marketing, said the museum's financial struggles and murky management are things of the past.
With a $3 million annual budget, the museum is expected to balance its budget this year, McNamara said. New board members are bringing new life and the endowment has increased from $7 million to $12 million.
Among the innovations planned for the museum is a small panoramic movie theater with 65 seats, similar to a mini-Imax. And a film is being made for that theater, which is expected to open this year. In addition, the 530-seat concert hall is being upgraded so that films can be shown and executive Power Point presentations will have the finest equipment.
"Certain things are on hold until we get a new president," McNamara said. But the optimism is palpable.
Philadelphia's maritime museum on the waterfront is beginning to really dazzle. As the planning continues for the future of the Central Delaware River front, a project underway by Penn Praxis, the clinical arm of the
School of Design of University of Pennsylvania, this riverfront gem will only sparkle more.

Linda K. Harris is a former writer and editor for the Philadelphia Inquirer. She lives in South Philadelphia.