Getting hooked on the waterfront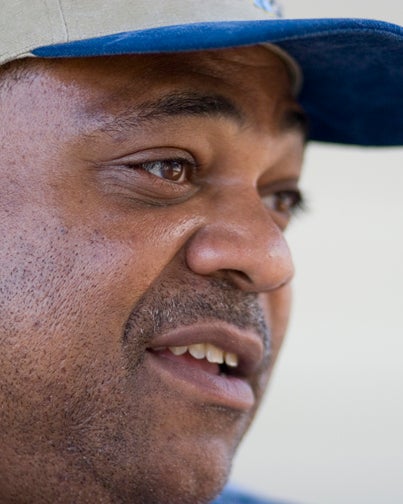 By Kellie Patrick
For PlanPhilly
Kevin Thomas strode purposefully along Darby Creek, lucky jacket, tackle box and 10 elementary-aged fisher folk in tow.
Contrary to what the bouquet of rods and three Styrofoam cups of worms suggested, Thomas – a Philadelphia School District police officer and a Cub Scout leader – wasn't really there to catch fish.
Thomas brought the "Little Heads" from Overbrook's Cassidy Elementary School and Troop 842 to John Heinz National Wildlife Refuge because he believes fishing will show them that beautiful, natural spots exist close to their city homes. He wants them to fall head-over-heels for the sky, the water, the plants, the animals around them, because they will care for what they love. And because fishing is loved by people of all ages, colors, incomes and creeds, he hopes it will help them forge boundless friendships.
Besides, if anything can teach antsy kids patience better than waiting for a fish to bite a night crawler, Thomas doesn't know what it is.
"They learn to sit back, and contemplate and think," Thomas said. "When they go on in life, studying becomes easier. And as adults with stressful lives, they can come back to the water, to the quiet, to relax."
With his love of fishing and his faith that fishing can lead to more than just fish, Thomas has kept close watch on development plans for the Delaware River. At PennPraxis design forums, he has lobbied loudly for fishing piers.
"You would see all of Philadelphia using those piers," he said. "It would help bring this city together."
Thomas does not oppose casinos outright, provided they also offer family-friendly activities, do things to benefit community groups, and allow access to the water through their properties. But he believes neither they nor any construction should dominate the waterfront – he thinks the city needs more green along the water, and more access to the water.
It frustrates him, for example, that behind the Wal-Mart in South Philadelphia there lies a good fishing spot with piers that could be restored – but the whole thing is fenced in and inaccessible.
But this day is about the kids who are with him. They fished with Thomas and canoed with educators from Pennsylvania Sea Grant, an environmental organization that sponsored the trip to the refuge and also taught the children about some of the fish they might encounter.
Thomas praised Cub Scout Myles Byrd, 7, who spotted a snake warming itself in the sun.
"If you make noise, you will scare the animals. Myles saw that because he was quiet," Thomas said. "We have to be like cats.
Myles' mom and parent volunteer Quiana Byrd came on the trip to help with the kids. "This teaches him that even though he's young, he still has a responsibility and even though we live in the city, there is some wildlife out there," she said.
Thomas, 43, learned these lessons when he was a child. He grew up in the Wynnefield neighborhood, and Fairmount Park was his playground.
"We have always been outside people," said his mom, Joan M. Thomas. And they were remarkably tolerant of their son's habit of bringing the outside in, from Hoppy the Rabbit to Jake the Burmese Python to the hawk he found in a rainstorm.
"I used to watch Wild Kingdom," Kevin Thomas said. Walking home in a hard rain, he came upon a hawk that was too drenched to fly. So, he put on some heavy gloves and took him home to dry out.
"We were at the dinner table, and I asked everyone, 'Do you want to see what I have?'" He put the gloves back on, and the hawk, which was in the pantry, latched onto his arm. He went back into the kitchen. "Just then, he spread out his wings. And everyone was screaming." The rain stopped, the hawk was dry, and Thomas released him in the back yard.
Joan Thomas and her late husband, James L. Thomas, took their son fishing. So did a neighbor. Thomas kept fishing through graduation from Overbrook High, two years of college at Millersville State, loss prevention and hotel management jobs, and 20 years in the Army reserves.
He has spent much of his adult life taking children fishing, including his own. He has a five-year-old daughter, Lenora, who enjoys playing with worms, and a grown stepdaughter and two grandchildren. Lenora is among the young ones who surround Thomas as the group reaches its fishing spot.
"I'm going to take a worm and break it, and put it on your hook," Thomas, who was recently certified as a fishing instructor by the Pennsylvania Fish and Boat Commission, tells the upturned faces. "You drop it in the water. If your float goes down that means a fish is on the line."
On his inaugural fishing trip, 9-year-old Cub Scout Derrick West plopped his line into the creek, carefully placing it between two submerged tree limbs. Soon, a minnow swam over to his worm, and took a nibble. He excitedly reported this news to Thomas.
"If the little ones are down there, the big ones are down there!" Thomas said encouragingly.
Darby Creek flows into Tinicum Marsh – the largest freshwater marsh remaining in Pennsylvania, said the park's wildlife biologist, Brendalee Phillips. The creek re-forms on the other side of the marsh, and then flows into the Delaware River. The marsh serves as a nursery for trout, crappie, carp and other fish, which hide in the grasses. And big fish travel throughout the connected waterways.
But signs warn against eating the fish.
The John Heinz Wildlife Refuge at Tinicum contains a landfill, Phillips said. The EPA is working to clean it up, she said, but "anything and everything" had been dumped into the area – which is closed to the public – and there are concerns that contaminants leached into the water.
Upstream, there are sewage treatment plants that sometimes become overwhelmed by rainwater and let some untreated water into the creek, she said. "All these little tributaries come past many different kinds of construction sites and industry, and everything goes downstream."
But the water that enters the Delaware is cleaner than it would be without Tinicum Marsh, she said. The current slows in this wetland, and heavy metals and other sediments float to the bottom before the water flows out again into the creek and eventually the Delaware and the Atlantic.
The wetland also cuts down on flooding downstream, because the water has room to spread out and slow down, she said.
Thomas believes fishing can even help troubled young people. He uses it along with academics and character development curriculum as part of the program of Karing Living Together, Inc., the non-profit behavior modification consultant business he founded in 2001. The kids in the program fish in fresh and salt water, and they pick up trash and re-plant banks.
Karing Living Together operates part-time for now. The faith-based organization has worked with several hundred children through the years, often through churches or schools.
This summer, it will offer a three-week day camp, based at Cassidy School. For about $1,000, participants will brush up on their literacy and communication skills and do crafts for two days a week. The other three will be spent in natural areas around the region – often with fishing pole in hand.
Thomas dreams that one day, his non-profit will have a pier to restore. Everyone could use the pier, he said, but he would have a place to teach his students to fish, and they could clean the area around it and plant vegetation that would help retain soil and curb run-off, contributing to the health of the river. He's working on gathering government approvals and financial backing.
Meanwhile, there are trips like the one to John Heinz sanctuary.
Derrick's red and white bobber was never pulled below the surface, but he hoped to try again soon.
"I like the water," he said. "It's quiet."
Kellie Patrick is a freelance writer with a keen interest in the landscapes, plants and animals of Pennsylvania. A former newspaper reporter who worked for The Philadelphia Inquirer and other papers in Florida and Upstate New York, she lives near Philadelphia with her husband, dog and cat.

WHYY is your source for fact-based, in-depth journalism and information. As a nonprofit organization, we rely on financial support from readers like you. Please give today.