Philly to block weekend access to Devil's Pool at the Wissahickon for safety reasons
Starting this Saturday, people hoping to cool off in Philadelphia's most beloved swimming hole might have to change their plans.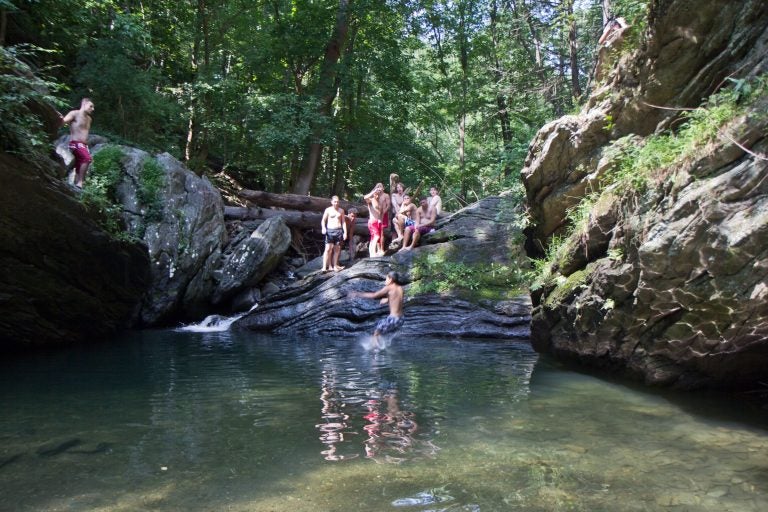 New Jersey resident Katie Cornelius likes to come to Philadelphia to swim.
The Devil's Pool in the Wissahickon Valley Park is her favorite spot.
"It's a lot of fun jumping off of there," Cornelius said. "I've never had an experience like that. It's pretty awesome."
But starting this Saturday, people hoping to cool off in Philadelphia's most beloved swimming hole might have to change their weekend plans.
"We are going to close access to Devil's Pool by closing the orange trail and the white trail," said Tiffany Thurman, chief of staff of Philadelphia Parks & Recreation. 
The decision to restrict weekend access to the pool was made by a task force formed by city officials and community members trying to encourage public safety there. They say swimming at Devil's Pool is not safe for a number of reasons. There are dangerous undercurrents, people have injured themselves on the rocks, and there are no lifeguards. Cell phone reception and access to the area are also poor.
Thurman said recently there was a shooting and a fire near the pool, and people are reporting drug use.
"We decided to close it for public safety reasons. We've seen a lot of rain lately, so there's excessive flooding in the area. It's just not a safe place," Thurman said. "[And] it's illegal anyway to swim in the pool."
Water quality in the Wissahickon Creek isn't safe either.
City officials and nonprofit groups like Friends of the Wissahickon (FOW) have tried to enforce regulations by giving people code violation notices and by telling them swimming is not safe. But those efforts have not been effective.
FOW's 2011 park user count and survey determined that more than 400 people visit Devil's Pool every day during the summer. Social media lures more people to the pool every year. 
"We do our very best to educate people on the best use of the park space, and we strongly discourage them and do our best to dissuade them from swimming at the creek and at Devil's Pool," said Thurman.
The city will be blocking access to Devil's Pool on the weekends until the end of September. Access to the rest of the park remains open.
WHYY is your source for fact-based, in-depth journalism and information. As a nonprofit organization, we rely on financial support from readers like you. Please give today.