How Patriots fans living in Eagles country are prepping for the Super Bowl
She roots for the Pats, he bleeds Eagles green. But, no matter what team wins Sunday, the Glenside couple has vowed not to gloat.
Listen
3:30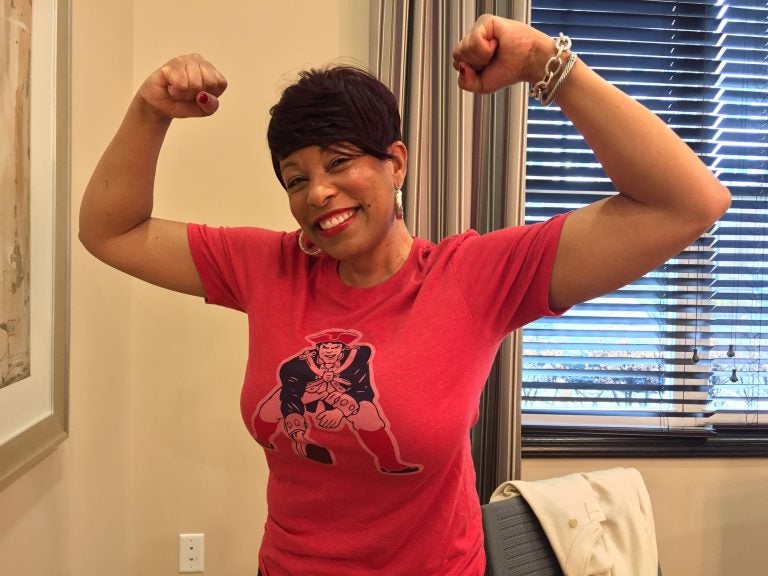 Pam Croke has a no-gloating rule.
The Glenside, Pennsylvania, resident — a Massachusetts native — is a New England Patriots fan. Her husband bleeds Eagles green.
The couple has agreed that — whoever emerges victorious in Sunday's Super Bowl — there will be no bragging  about it.
"This is just a difficult period of time that we kind of have to get through," she said.
Nonetheless, Croke and her husband will sit down together and watch the Patriots face the Eagles in Super Bowl LII this weekend, a huge deal for Philly sports fans itching to get their hands on the Vince Lombardi Trophy.
"We'll be wearing our team garb. I have quite a few championship shirts to choose from. My husband … not so many," Croke said in an interview. When I noted that she may have just violated the no-gloating rule, she laughed. "I'm not gloating. I'm just stating a fact."
Croke is one of an unknown number of Pats fans living behind enemy lines in Eagles country, quietly (or not) rooting on quarterback Tom Brady and the rest of the team from afar.
As the buzz grows among Eagles fans in Philadelphia in the run-up to Sunday's game, Patriots boosters in the Delaware Valley are fending off more and more playful trash-talking.
For Kimberly Reed, Cherry Hill, New Jersey, resident and staunch Patriots fan, that battle is taking place on social media. Her friends, mostly Eagles fans, tease her, and she gives it right back to them.
"They've got memes? I've got memes. They've got stats? I've got stats. They want to go back to history? I've got history," she said. "They want to compare quarterbacks? We'll compare quarterbacks."
Reed grew up in Boston and Connecticut, where she developed a love for New England sports teams. Later she went to West Chester University, then attended graduate school at Temple University.
Though she loves Philadelphia, Reed felt like Eagles fans were a little too boastful after their team's NFC championship win last month.
"People who don't win or who are not used to going to championships, that's how they act, so I get it. I let them have their pass. Champions? We sit back and relax, because we know what's gonna happen on Sunday."
Brian Reed, who lives in King of Prussia, Pennsylvania, said his Patriots fandom stretches back to his upbringing in Massachusetts. His wife, on the other hand, roots for the Eagles.
"My wife will not even sit in the same room with me because I'm so into it, screaming at the TV, standing up and pointing," he said. "She won't even watch the Super Bowl with me."
Reed said the chance matchup between the Eagles and the Patriots in the Super Bowl this year wrecked the couple's plans for watching the game.
"Every year, we usually have a pretty big Super Bowl party. [We] had one last year when the Patriots were in there," Reed said. "This year we're not doing it because everyone — you know, it's kind of an awkward thing."
Croke said she has some sympathy for long-suffering Eagles fans. As a devotee of the Boston Red Sox, Croke said she understood what it was like to feel deflated by a history of losses and then wind up in striking distance of victory. Until winning the World Series in 2004, the Red Sox went through an 86 year championship drought, though teams came close only to come up short.
"I am very familiar with losing teams, having been a Red Sox fan. So I can sympathize greatly with Eagles fans," including, she said, her husband and kids. "Part of me really thinks, ooh, it would be so nice for the Eagles fans to get it. But I just don't want it this year. How about next year?"
WHYY is your source for fact-based, in-depth journalism and information. As a nonprofit organization, we rely on financial support from readers like you. Please give today.