NTSB: Amtrak at fault for '16 Chester rail crash that killed two
An Amtrak passenger train struck a backhoe on the tracks, resulting in the death of two maintenance workers and injuries for 39 passengers in April 2016.
Listen
1:54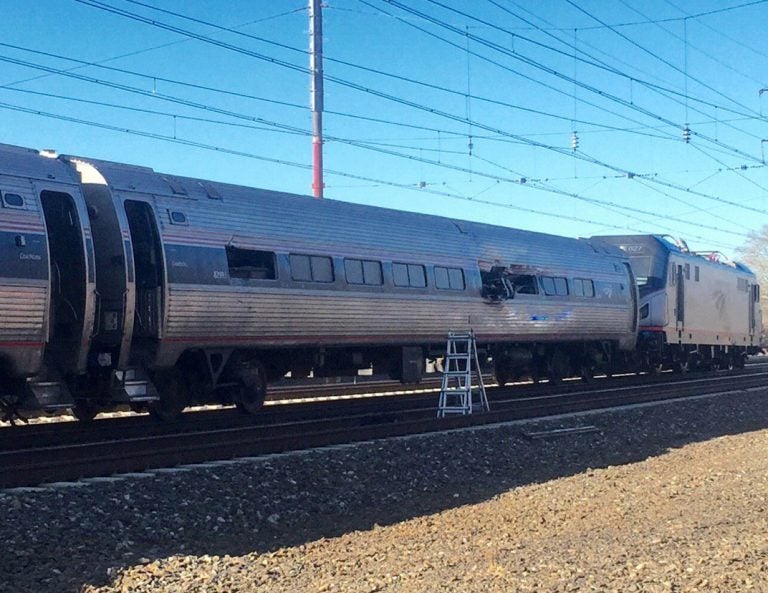 On April 3, 2016, an Amtrak passenger train struck a backhoe on the tracks, resulting in the death of two maintenance workers and injuries for 39 passengers outside of Chester, Pennsylvania.
How that train came to travel on tracks with ongoing maintenance triggered an investigation by the National Transportation Safety Board.
On Tuesday, the NTSB highlighted more two dozen "unsafe conditions" that led to the accident — from insufficient safety equipment to "safety rule violations and risky behaviors by workers." The board also cited poor communication between the night foremen and day foremen, leading engineers to believe the track was clear, and the train dispatcher taking personal calls immediately before the collision.
Supplemental shunting devices, a kind of safety equipment that flags tracks as "occupied" to approaching trains, were not in use.
At a hearing in Washington, D.C., NTSB chairman Robert Sumwalt criticized a "culture of fear" at Amtrak that contributed to the accident. Sumwalt said that contentious relations between workers and management within Amtrak closed down communication about safety problems, because workers feared punishment for speaking up.
"The report by the NTSB today is a wholesale criticism of the systemic and cultural problem at Amtrak, allowing this accident to happen," said attorney Tom Kline, who represents the family of Joe Carter, one of the maintenance workers killed in the accident. Carter's family is suing Amtrak.
The NTSB also made recommendations for how the Federal Railway Administration and various unions representing railway workers and maintenance crews could work on safety.
But the board NTSB laid blame for the accident at Amtrak's door, although how the rail service can ensure compliance with NTSB recommendations is unclear. Several of those recommendations include some version of the phrase "work collaboratively with labor" in coming up with better safety protocols.
In a written statement, spokeswoman Bethany Toll said Amtrak has already taken steps to improve its safety procedures.
"In the 19 months since the Train 89 event, we have taken a series of actions to improve workplace safety at Amtrak – including the implementation of many of the actions discussed by the NTSB today," the company's CEOs Richard Anderson and Charles Moorman wrote in a special employee advisory. Those included revamping their safety training, as well as revising company drug and alcohol policy. The train engineer and maintenance workers had illicit substances in their bloodstreams at the time of the accident, although it is not believed to have contributed to the collision.
WHYY is your source for fact-based, in-depth journalism and information. As a nonprofit organization, we rely on financial support from readers like you. Please give today.