A feud over partially wild landscapes
Some ecologists say celebrating 'novel ecosystems' could encourage polluters.
Listen
0:00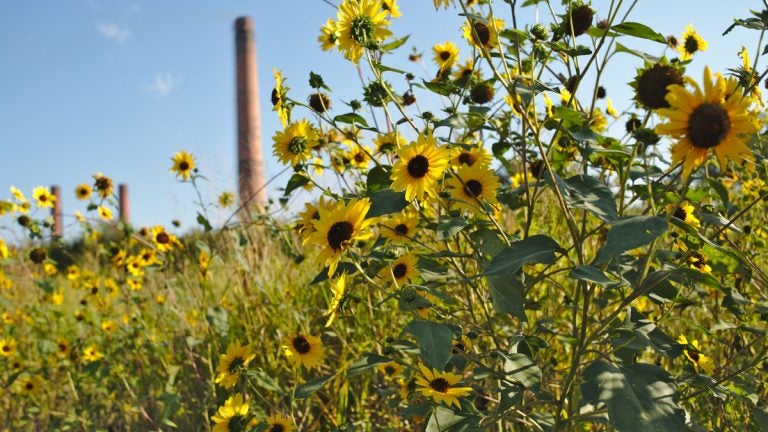 Near downtown St. Louis, there's a hidden paradise of cottonwoods and wildflower meadows. This was once the site of the Pruitt-Igoe housing projects, often cited as an example of failed public policy. In the 40 years since the last building was demolished, a forest has taken root.
Charlie Nilon, a biologist with the University of Missouri-Columbia, takes students to the site to study its ecosystem. He's seen hawks and owls, and many native prairie species. But there are also colonizing wildlife, including "invasives" like bush honeysuckle.
A decade ago, a group of scientists came up with a new phrase to describe such ecosystems, where humans have altered the environment or introduced new species. They call them "novel ecosystems."
Science writer Emma Marris has become a vocal proponent of that term.
"It gives us this way to notice these spaces that we have sort of been trained not to notice," Marris says.
"Then if somebody came up with a proposal to pave over one of these systems, we would have a way to say, 'No. Okay, maybe it's not Yellowstone, maybe it's not pristine, but there's a lot to value here and we're going to fight that. We're going to fight that destruction.'"
Many traditional ecologists disagree. They prefer that we call these spaces "degraded." That word, says James Aronson, can spur action.
Aronson, a senior scientist at the Center for Conservation and Sustainable Development at the Missouri Botanical Garden, was one of the co-authors on the first paper to use the phrase "novel ecosystems." But in the subsequent years, he's come to regard the term as a problem. He worries that developers and industries might tarnish an ecosystem and then claim they have simply made a "novel ecosystem" — something celebrated by some scientists.
"So polluting industries are getting a get-out-of-jail-free card," Aronson says.
Ecological restoration projects typically choose what is called a "reference ecosystem." This is a baseline, often reflecting historic conditions and the project aims to restore the landscape to a similar state.
But certain scientists say maybe we shouldn't spend so much time winding back the clock.
Richard Hobbs, an ecologist at the University of Western Australia, has been the lead author on many papers describing the new "novel ecosystem" concept. He believes that having more restoration choices in a world of scarce resources is important.
In St. Louis, biologist Charlie Nilon has seen coyote tracks, quail, and even bald eagles in various "wild" pockets around the city. These spaces, he says, are an important part of maintaining urban biodiversity.
"Whatever you want to call them, they're here," he says. "And so you have to be intentional and thoughtful about how you manage them."
But no one is managing the old Pruitt-Igoe housing site as wilderness, it's become one through neglect.
That might change soon. Last year, a developer bought the land, and he's said it will be the "crown jewel" in a massive commercial project that will include a hotel, a hospital, stores and offices. For a lot of people, this is cleaning up the site, they don't want an empty, unkempt lot down the street from their homes.
For others, though, it's a missed opportunity to preserve a space that's a bit wild but still in reach of people who live near urban centers.
WHYY is your source for fact-based, in-depth journalism and information. As a nonprofit organization, we rely on financial support from readers like you. Please give today.