Federal judge says Philly's sanctuary city policies made 'in good faith,' delivers blow to Sessions
Mayor Jim Kenney declares U.S. ruling "total and complete victory" for Philadelphia.
Listen
2:25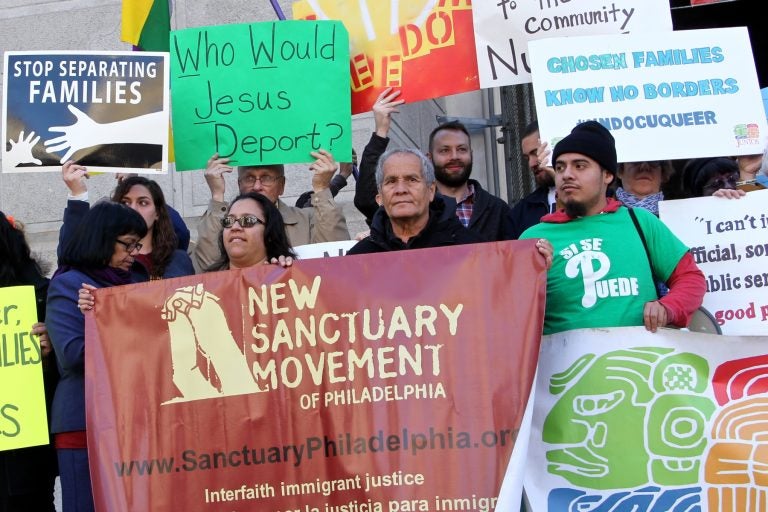 A federal judge in Philadelphia on Wednesday again rejected a push by U.S. Attorney General Jeff Sessions to force city officials to give immigration agents more access to city jails or be punished by withholding public safety grants.
In his final opinion, backing a previous decision in November, U.S. District Judge Michael Baylson said the new strings Sessions sought to attach to the grant funding are unconstitutional, writing that if city officials agreed to them, Philadelphia would suffer "irreparable harm."
"The city's policies were adopted in good faith and are a reasonable and lawful exercise of authority by the city," Baylson wrote.
Mayor Jim Kenney described the opinion as "a total and complete victory" for the city.
"It is, most of all, a ruling that reminds everyone of why this city and this country exist — to give safe haven, and hope, to those who flee tyranny, oppression, and poverty in other parts of the world — to be a welcoming country," Kenney said.
The city of Philadelphia holds inmates suspected of being in the country illegally for immigration officials only if the person in question has a felony conviction or if federal agents obtain a warrant signed by a judge.
Since the vast majority of requests for officials to hold on to inmates is done without a judicial warrant, nearly all of them are denied, something that has irked Sessions.
So as part of his crackdown on "sanctuary cities," Sessions has attempted to goad cities into better assisting U.S. Immigration and Customs Enforcement officials in deporting unauthorized immigrants by making federal money available only if agents get more access to local jails.
In particular, Department of Justice officials wanted federal immigration authorities to have unlimited access to visit inmates and a two-day notice before someone suspected of being in the country illegally was released from local custody.
The funding source Sessions tried to use as an enticement, an Edward Byrne Memorial Justice Assistance Grant — also known as the JAG program — supports police overtime and court equipment.
In its latest application for nearly $1.6 million, Philadelphia said the city plans to devote the funds to fighting the opioid epidemic, which contributed to the deaths of more than 1,200 people who overdosed last year.
As the federal lawsuit filed by the city has been pending, Justice Department officials have not delivered the money to the city that was supposed to be transferred last year even though Congress has already appropriated the money to the city.
In November, Baylson said complying with Sessions' new conditions would force city officials to "choose between forgoing the JAG grant funds and losing hard-fought good will amongst the immigration community."
The judge on Wednesday also said Sessions abused his authority by asking for the extra conditions, supporting the argument made by the city's lawyers that that the attorney general was essentially trying to use the power of the country's purse strings – a power vested in Congress, not the executive branch.
"It prevents a White House run by a bully from bullying Philadelphia into changing its policies," declared Kenney.
In a footnote, Baylson questioned Sessions' policy of making all people who are in the country illegally, even those who have merely overstayed a visa, a priority for deportation.
"The idea that the judicial process, with the necessary procedures and protections and appellate reviews, can accomplish this task is completely unrealistic," Baylson wrote. "From a judge's point of view, Congress needs to act."
A federal court in Chicago, in a strikingly similar legal battle, also favored the city's policies, a ruling that was upheld by a federal appeals court in April.
A spokesman for the Department of Justice did not return a request for comment.
WHYY is your source for fact-based, in-depth journalism and information. As a nonprofit organization, we rely on financial support from readers like you. Please give today.