Federal appeals judges hear arguments in Philly 'sanctuary city' case
Lawyers for the Trump administration Wednesday tried again to legally justify its attempt to punish "sanctuary cities" like Philadelphia.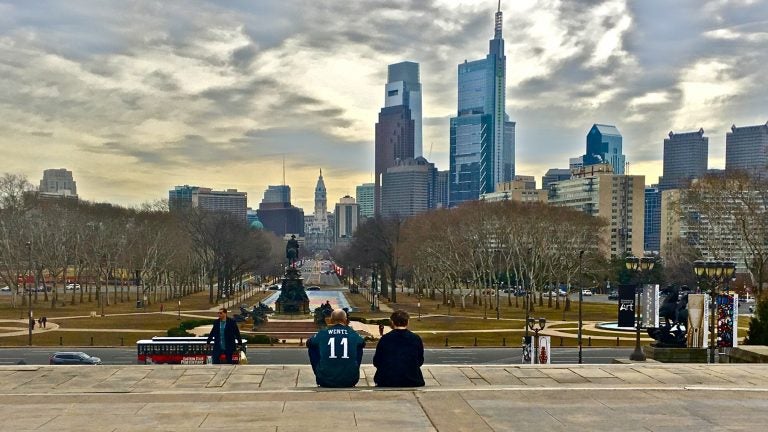 Before a panel of U.S. appeals judges, lawyers for the Trump administration Wednesday tried again to legally justify its attempt to punish "sanctuary cities" that limit cooperation with federal immigration authorities working to deport people in the country illegally.
As the panel considers how to rule, the U.S. Justice Department has been on a losing streak in this fight.
Last year, a U.S. District Court in Philadelphia found that new conditions the Justice Department tried to attach to grant funding were unconstitutional. And federal judges in Chicago and California also rejected the Justice Department's new grant requirements.
Former Attorney General Jeff Sessions — whose resignation was announced as the federal judges listened to arguments — sought to make about $1.7 million in annual grant funding to Philadelphia contingent on three things: that the city give immigration authorities more access to prisons; that Immigration and Customs Enforcement receive a two-day notice before a migrant is released from city custody; and that federal authorities be told the immigration status of everyone sitting in local jails and prisons.
Last November, U.S. District Judge Michael Baylson said city officials are not required to do any of that. If federal immigration authorities want more information than that already shared about someone held in the city, Baylson said, they must obtain a warrant signed by a judge.
(Under city policy, those in local custody are held for ICE only if agents obtain a warrant approved by a judge or if the individual has been convicted of a serious felony.)
"Obtaining a judicial warrant is not a burdensome procedure. ICE enforcement officers are well trained in preparing warrants based on 'probable cause' as the Fourth Amendment of the United States Constitution provides," Baylson said at the time.
On top of that, Baylson said, Sessions was improperly trying to use the power of the purse, something vested in Congress, as a executive branch weapon.
But on Wednesday, Justice Department lawyer Katherine Allen told the three-judge panel of the 3rd U.S. Circuit Court of Appeals that federal law does allow attaching special conditions to funds such as the Edward Byrne Memorial Justice Assistance Grant, also known as the JAG program.
Allen also said immigration removal proceedings are a civil process, not a criminal matter, so the Justice Department has historically used administrative warrants — not those signed by a judge — to question and detain those suspected of being in the country illegally.
By declaring that federal immigration officials must secure a judicial warrant before gaining access to a detained migrant, Allen argued, "the district court reached beyond the controversy and imposed a warrant requirement." Rejecting the grant conditions, she said, also ignored what is allowed under the law: "The U.S. District Court called an Act of Congress unconstitutional."
Representing the city of Philadelphia, lawyer Neal Katyal offered a different perspective.
"The attorney general lacked the authority to impose those conditions," said Katyal, who served as the U.S. solicitor general under President Barack Obama. "Allowing those conditions would do massive violence to the statute."
During the hearing, questioning from the three judges — Anthony Scirica, Marjorie Rendell and Thomas Ambro — did not fully reveal how they might rule.
But Scirica called the district court requiring a judicial warrant to question a detained immigrant "troubling."
Scirica also wondered if the two-day notice before a migrant detainee was truly an issue for city officials. "Is the notice provision really so severe for the city?" he asked.
Questions of trust
Katyal responded that it would be. He referenced the testimony from top city officials during the trial who said if immigrant residents thought their immigration status would be shared with federal authorities, many would stay in the shadows, afraid to report crimes and perhaps too fearful to seek medical treatment for a dire injury or illness.
"If we create situations where people are afraid to come forward, we might find out about crimes by the time it's too late. Losing that trust could make our challenges insurmountable," Philadelphia Police Commissioner Richard Ross testified last year.
It is a position shared by cities nationwide. Officials from Chicago and 26 other cities filed a brief in support of Philadelphia's stance. If the grant conditions are approved, the city leaders say, many parts of civil society could start to erode.
"At the heart of these policies lies the concern that without the cooperation of immigrant communities, local governments will be unable to investigate and prevent crime effectively because, the moment immigrant victims and witnesses begin to fear that their local police will deport them, cooperation with their police then ceases," the city officials wrote to the court.
A Justice Department spokesman declined to comment on whether the agency's position would change with Sessions no longer in charge. Instead, an official referred to Trump's 2017 executive order declaring that anyone in the country illegally — including those seeking green cards and people who are in the U.S. after overstaying their visas — is now a deportation priority.
WHYY is your source for fact-based, in-depth journalism and information. As a nonprofit organization, we rely on financial support from readers like you. Please give today.