Sessions: Immigration judges must be efficient with backlog
Speaking to the group of 44 new judges, Sessions told them they must keep "our federal laws functioning effectively.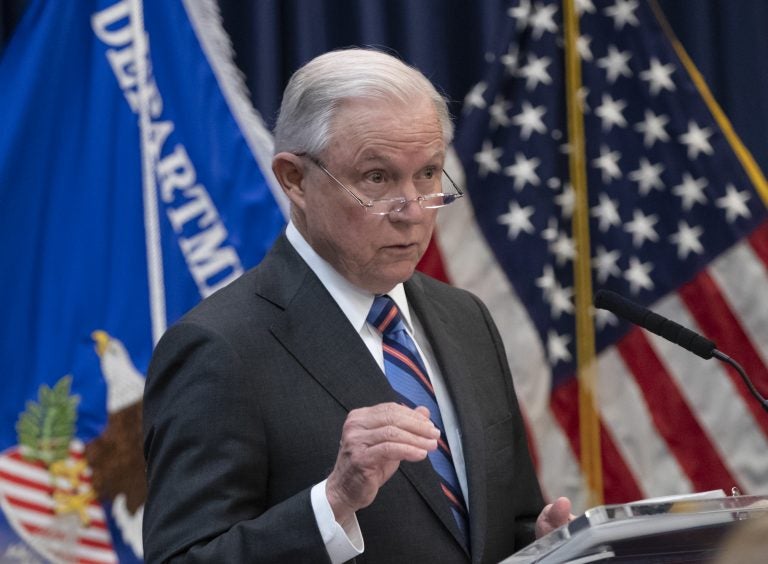 Attorney General Jeff Sessions told a group of new immigration judges Monday they have an obligation to decide cases efficiently in a system besieged by ballooning dockets and lengthy backlogs.
Speaking to the group of 44 new judges — the largest class of immigration judges in U.S. history — Sessions told them they must keep "our federal laws functioning effectively, fairly, and consistently."
The attorney general has pushed for faster rulings in immigration cases and issued directives preventing judges from administratively closing cases, which has reignited a debate about the independence of immigration judges, who work for the Justice Department and are not part of the judicial branch.
Earlier this year, the Justice Department sent a memo to immigration judges telling them they would need to clear at least 700 cases a year in order to receive a "satisfactory" rating on their performance evaluations.
On Monday, the attorney general also reiterated the Trump administration's plan to increase the number of immigration judges by 50 percent compared to the number of judges when Trump took office last year.
James McHenry, the director of the Justice Department's Executive Office for Immigration Review, said the department would "keep hiring until we run out of space or money."
Sessions cautioned the jurists will face challenges because "we have a lot to do right now."
"As you take on this critically important role, I hope that you will be imaginative and inventive in order to manage a high-volume caseload," he said. "I do not apologize for expecting you to perform, at a high level, efficiently and effectively."
Sessions said the system for seeking asylum in the U.S. has been "abused for years" and while the judges must respect the rights of immigrants they should also "reject unjustified and sometimes blatantly fake claims."
Sessions also defended the government's "zero tolerance" policy to prosecute people illegally crossing the U.S.-Mexico border, which he said will deter others from doing the same.
"Our U.S. Attorneys are prosecuting over 90 percent of those cases referred to us. It's a two to threefold increase — and it has some deterrent effect," he said.
The U.S. government separated more than 2,500 children from their parents this year as the Trump administration adopted a "zero-tolerance" policy on illegal immigration. On June 20, Trump reversed course amid an international outcry and said families should remain together. As of last week, more than 300 parents remained separated from their children.
WHYY is your source for fact-based, in-depth journalism and information. As a nonprofit organization, we rely on financial support from readers like you. Please give today.