Withholding U.S. grants over 'sanctuary city' status will be lethal for some, Philly officials tell judge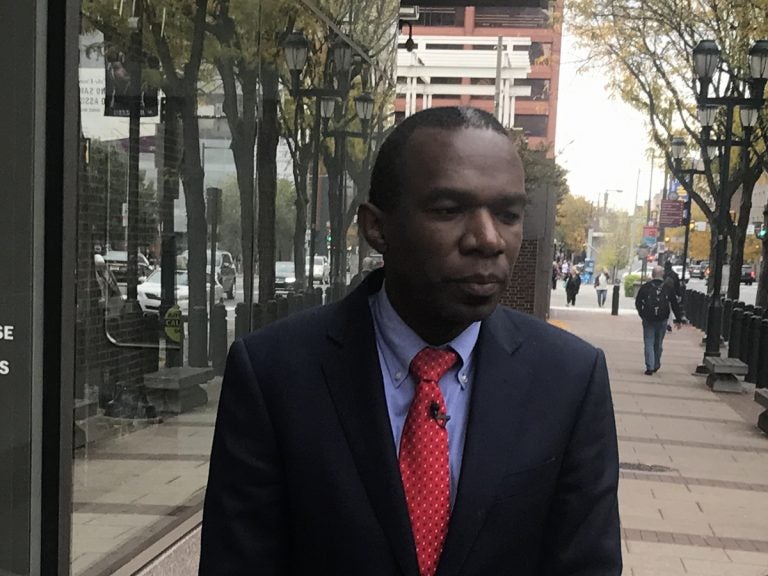 Top Philadelphia officials told a federal judge Thursday that if U.S. Attorney General Jeff Sessions gets his way and withholds public safety grants from the city, the consequences could be dire.
"More people would die," Brian Abernathy, Philadelphia's first deputy managing director, said on the stand. "Because we wouldn't be able to administer Narcan on a widespread basis."
City officials have applied for $1.6 million from the Edward Byrne Memorial Justice Assistance Grant, also known as the JAG program. Most of that money would be devoted to combating the opioid crisis, Abernathy said.
The funding would support police overtime in areas hardest hit by the epidemic and pay for providing officers with Narcan, a  brand name for a device that delivers naloxone, a medication that helps people survive an opioid overdose. Abernathy estimated that opioid-related deaths are expected to exceed 1,200 this year, about four times the city's murder rate.
In 2016, Philadelphia received a $1.6 million JAG grant. The city has already spent the money, but it may be forced to give back the grant if Sessions wins. In that case, a pending request for the same amount of funding for the upcoming fiscal year to support anti-opioid efforts would be rejected.
"Anything we can do to ebb that tide," Philadelphia City Solicitor Sozi Tulante said after the hearing. "The Narcan that we intend to buy would save lives, and we don't have money from any place else to buy that."
Small but vital stipend for opioid fight
JAG funds represent a small sliver of the city police department's $600 million annual budget, yet Police Commissioner Richard Ross said it has come to rely on the funding.
"To some, $1.6 million may sound negligible, but it's not. It is vital for our mission and what we do, for crime suppression efforts," he said.
After the Department of Justice under Sessions announced new conditions on the grant to punish "sanctuary cities," Philadelphia officials filed a federal lawsuit aimed at preventing Sessions from putting new conditions on qualifying for the federal money. The proposed new strings include allowing Homeland Security agents to have unlimited access to city jails and requiring local authorities to give immigration officials two days' notice before releasing an unauthorized immigrant from custody.
Doing so, Ross testified, "would severely inhibit our ability to fight crime.
"If we create situations where people are afraid to come forward, we might find out about crimes by the time it's too late," he said. "Losing that trust could make our challenges insurmountable."
Under Philadelphia policy, city officials will not hold an inmate suspected of being in the country illegally for additional time for federal immigration authorities — unless agents have a criminal warrant signed by a judge for the suspect's arrest or if the individual has been convicted of a first- or second-degree felony.
Arjun Garg, a Department of Justice lawyer, seized on this during his cross-examination of Ross, suggesting that those convicted of lesser felonies could be getting a free pass.
Third-degree felonies include sexual assault of a minor, making terroristic threats and carrying a gun without a permit. Garg said he "didn't mean to quiz" Ross, but he asked the police commissioner if he knew a host of violent crimes are third-degree offenses.
"Are you aware that third-degree felonies in Pennsylvania are punishable for up to seven years in Pennsylvania," Garg asked Ross.
Two years, 140 detainer requests
Immigration and Customs Enforcement agents have issued requests that inmates be detained beyond their release date 140 times since 2015, Abernathy said. Just four of those requests also included a criminal warrant issued by a judge.
ICE-filed administrative detainer requests, even ones issued by immigration judges, are not honored by the city.
"We have a professional cooperative relationship," Abernathy said of the city's ties to ICE. "But we certainly have our disagreements."
Recently, federal immigration authorities have tried to interview three inmates in city custody. Two of the inmates declined the requests. One agreed but asked that an attorney be present for the questioning. At that point, Abernathy said, immigration authorities canceled the interview.
Department of Justice lawyers did not call any witnesses. Through cross-examination of city officials, however, they sought to show that the city's policies violate the law and endanger public safety.
In the city's August suit, Tulante wrote that crime has declined by 20 percent since 2009, when Philadelphia instituted a policy preventing police and other authorities from asking about immigration status.
Philadelphia Health Commissioner Tom Farley told the judge that the policy is important in pushing public health outreach.
"We want to make sure people are healthy regardless of immigration status," Farley said. "If we asked about their status, people would hide from us, get sicker and pose a risk to those around them."
Temporary injunction issued in Chicago
In Chicago, a federal judge last month temporarily ruled that Sessions cannot impose new conditions on the grant funding.
U.S. District Judge Michael Baylson noted at the end of Thursday's hearing that the injunction in Chicago affected cities nationwide, although it was not a final ruling. On top of that, some of the issues with Philadelphia's policy differ from those in Chicago, so permanently halting Sessions' conditions in Philly would require a separate ruling.
On Nov. 2, both sides will meet again in Baylson's court for oral arguments over the underlining legal issues. Soon after that, Baylson is expected to rule.
WHYY is your source for fact-based, in-depth journalism and information. As a nonprofit organization, we rely on financial support from readers like you. Please give today.