Lost Rodin bust finds a home in Philadelphia
A forgotten bust by the French sculptor Auguste Rodin, hiding in plain sight in a small New Jersey town for 80 years, is now on display at the Philadelphia Museum of Art.
Listen
2:08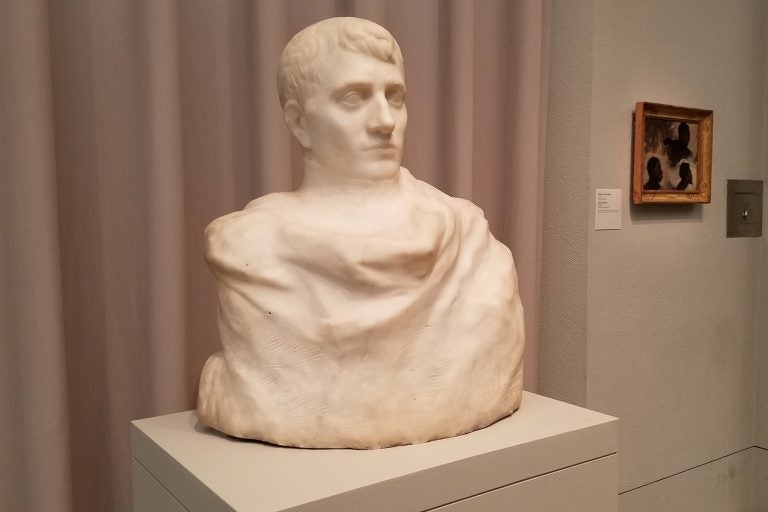 Madison, New Jersey, is a small borough of 15,000 people. Its town hall featured a bust of Napoleon Bonaparte that most people walked past without looking twice.
That is, until graduate student Malorie Mortillaro was hired to take inventory of all the art in the Hartley Dodge Memorial building as it underwent renovations. That included the white marble bust that had been wedged into a corner since the 1930s.
"As she recounts it, she ran her fingers over it and felt the signature by Rodin," said Jennifer Thompson, curator at the Philadelphia Museum of Art's Rodin Museum. "That sparked two years of bringing it to the attention of Rodin scholars."
Suddenly, they realized they had an original piece by Auguste Rodin, carved in marble in 1904 and hiding in plain sight for more than 80 years. It is now on long-term loan at the Philadelphia Museum of Art, in a salon setting surrounded by academic paintings and sculptures in gallery 155.
"Napoleon Wrapped in his Dream," features the head of Napoleon emerging from what seems to be a cloud, but is really the folds of a high-collared cloak. Look carefully to see the delicate embroidery carved in the collar.
Thompson called it unusual for two reasons: one, Rodin did not normally sculpt historical figures and was not particularly a fan of Napoleon. The bust was commissioned by an American patron.
Two, Rodin tweaked the classic image of Napoleon by dressing him in a military cloak typical of ancient Rome.
"Even the way the hair is cut is in a precise, regular fashion, which evokes a Roman military leader," said Thompson. "Rodin is taking liberties with Napoleon."
Because Rodin was so prolific, with a global client base, it's not that unusual for his pieces to go missing and then be rediscovered many years later, Thompson said.
While indefinitely on display at the Philadelphia Museum of Art, this Rodin bust is still owned by the Hartley Dodge Foundation. Thompson hopes to move it down the hill to the Rodin Museum on the Parkway in a year or two, to join other pieces by the artist.
"We have lots of pieces related to 'Gates of Hell' and 'The Kiss,'" said Thompson. "This is unusual, a piece of an historic figure."
WHYY is your source for fact-based, in-depth journalism and information. As a nonprofit organization, we rely on financial support from readers like you. Please give today.