In Banff, design helps critters safely cross the highway
Listen
6:36
Animals use underpasses and overpasses to safely cross the Trans-Canada Highway. Researchers have found that different critters prefer different kinds of structures. (Courtesy of Highwaywilding.org)

Animals use underpasses and overpasses to safely cross the Trans-Canada Highway. Researchers have found that different critters prefer different kinds of structures. (Courtesy of Tony Clevenger)

Animals use underpasses and overpasses to safely cross the Trans-Canada Highway. Researchers have found that different critters prefer different kinds of structures. (Courtesy of Adam Ford)

Animals use underpasses and overpasses to safely cross the Trans-Canada Highway. Researchers have found that different critters prefer different kinds of structures. (Courtesy of Highwaywilding.org)

Animals use underpasses and overpasses to safely cross the Trans-Canada Highway. Researchers have found that different critters prefer different kinds of structures. (Courtesy of Tony Clevenger)

Animals use underpasses and overpasses to safely cross the Trans-Canada Highway. Researchers have found that different critters prefer different kinds of structures. (Courtesy of Adam Ford)
Aerin Jacob sets out on a trail just east of Banff National Park in Alberta, Canada. Bright sun lights the snow underfoot. The highway buzzes from beyond the trees.
Jacob, a biologist with the Yellowstone to Yukon Conservation Initiative, bends down to look at a pile of scat.
"I usually can't help pass without picking up a stick and picking it apart," she says.
Whatever critter left this could have been heading to the nearby animal underpass, a pathway designed to let animals safely cross the highway. A few minutes on, she stops at a clearing with a view of the busy Trans-Canada Highway – a route connecting the country from coast to coast.
It looks like dirt had been scooped out from under the highway, which passes over the indent like a bridge. Jacob stops from getting too close; the scent of people can sometimes scare off the structure's intended users.
"For some animals, having a mountain biker come through here, having people running, that can really affect their behavior," says Jacob.
Millions of tourists drive the Trans-Canada into Banff each year to climb mountains, take selfies by the turquoise lakes, and try to check out grizzly bears. The park is home to more than 50 species of mammals. Many of them use underpasses to get around a landscape fractured by highways and development.
As well as preventing animals from getting killed, these crossings help maintain genetic diversity and other natural processes, such as the distribution of nutrients through the landscape.
"An animal like a bear is really important because they help to disperse nutrients from rivers up into the forests and vice versa … That's what ecology is all about. It's having this interconnected ecosystem," Jacob says.
But, just like humans can deter animals from using the crossings, so can the structures' design.
Design determines use
Building animal crossings is one thing; determining if they are using those pathways is another.
Off the Trans-Canada Highway in Banff, heading westbound towards Lake Louise, biologist Tony Clevenger shows off a culvert underpass: a long, dark tunnel that runs underneath the highway. It was one of the first animal crossings built in Banff in the 1980s.
"When you look through here you can imagine … prey species maybe not being so keen about going through something like this," says Clevenger, a research scientist for Montana State University's Western Transportation Institute.
"The visibility is not real good. It's not a lot of light. We know that small, medium size critters … have a hard time going through these because … it's completely bare on the bottom; there's no cover for them to get through."
Clevenger monitored the crossing structures in Banff using hair traps, animal tracks and, eventually, remote wildlife cameras. He gathered data from 1997 to 2014, trying to figure out which animal species were using the underpasses, when, and how often.
He found different animals prefer different types of highway crossings. Clevenger's research showed cougars and black bears favor narrow and dark culverts that run under the highway.
Ungulate species like elk, deer, and moose generally prefer to use crossings with more light and visibility.
As more crossing structures were built in Banff National Park, Clevenger suggested switching up crossings' height, width, length, and how much light they receive, to cater to different animals.
By 2013, the park's 44 crossings, all with different designs, were complete. Some, like the six overpasses scattered between the park's east entrance and the town of Lake Louise, don't look like artificial crossings at all. They're wide, open, and lush with native plants to integrate them with the surroundings.
"These big structures are by far the most important," says Clevenger.
In November, Clevenger, along with biologists Adam Ford and Mirjam Barrueto, published a paper with the study's biggest discovery: the secret to keeping grizzly bears moving across highways.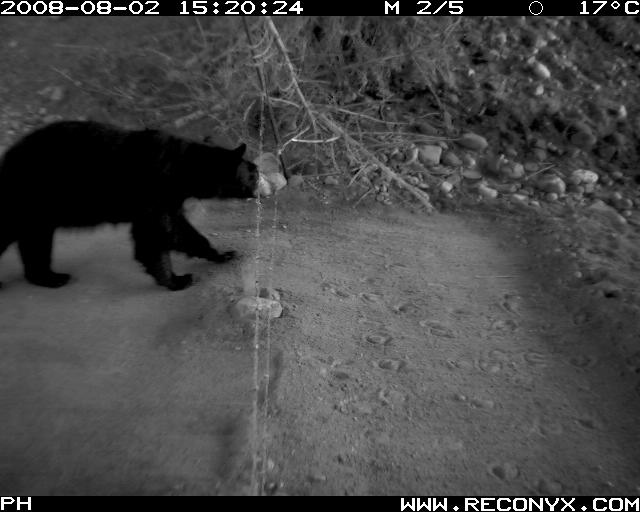 Their data revealed that male grizzlies use any route possible to cross highways. Breeding females, on the other hand, almost exclusively use overpass bridges. To maintain genetic diversity, and the future of grizzly populations, the breeding female bears need to feel safe moving across landscapes unimpeded.
"These are very wide structures; they have good visibility," says Clevenger. "Some people call these landscape bridges."
Clevenger has taken his research from Banff across North America – including major highway projects in Montana and Washington State – as well as to South America, Europe, and Asia.
WHYY is your source for fact-based, in-depth journalism and information. As a nonprofit organization, we rely on financial support from readers like you. Please give today.