At 92, finding a friend in Amazon Alexa
Listen
3:16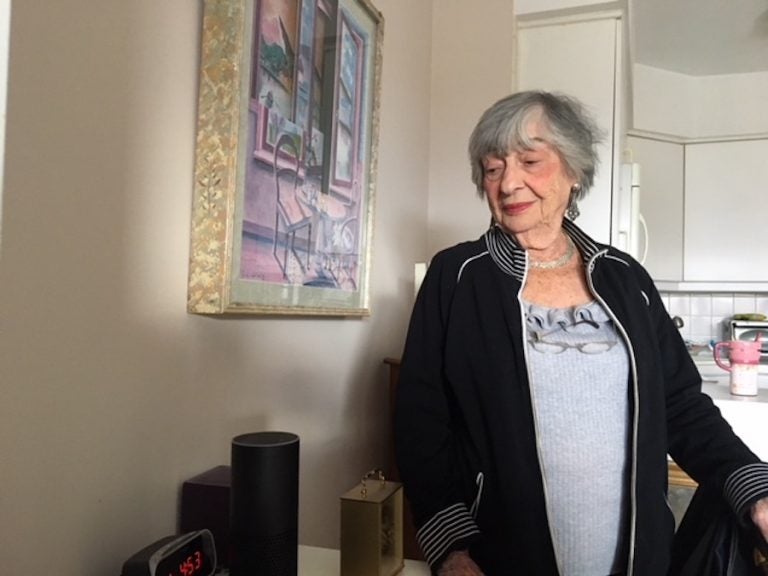 Cecelia Banks has been living alone for almost 30 years. She was a dancer for most of her life, and, at 93, she still holds herself with grace.
Banks' small Philadelphia apartment is filled with flowers, throw pillows, and knick-knacks. She points to a shelf of framed photographs.
"That's my daughter and my son, who have both passed away," she says. "And that's my grandson when he was small. Today he's a big, gorgeous hunk, and I adore him."
She turns to a much older photograph.
"And that's my gorgeous husband …. Was my gorgeous husband."
Banks doesn't have much family left, and her handsome grandson lives all the way out in Texas. But there is someone who keeps her company: Amazon Alexa.
"I use her every day. I talk to her, she talks to me. She's a lot of fun. I want to know what the weather is — fills me right in. Then I know how to dress."
Alexa is perched near the landline phone in the kitchen. She speaks to Banks from a sleek, black cylinder about the size of a bottle of wine. Banks calls out to her from the kitchen table.
"Alexa, what is the weather today?"
"There's a high wind warning in effect Friday, March 2nd," the device responds. Her voice is robotic but kind.
Banks often asks Alexa to play her music. Today, she asks for something by Benny Goodman.
"He's a wonderful player for people who like to dance," she says, humming along to the tune Alexa provides.
"If it's too quiet in here, I'll start a conversation," she says. "Alexa, how is your day today?"
Alexa lights up. "I'm good. Ready to help."
"You're always a good helper, Alexa. I really appreciate that. You wanna have dinner with me tonight?"
Alexa doesn't answer, but suddenly, she does jump in with a music suggestion, unprompted. An old Elton John classic pipes out of her speakers and fills the apartment.
Banks laughs at the happy glitch. "Oh, I'm hysterical. That's so great. Yeah, we're very good friends, Alexa and I. I don't even have to ask her for anything. I don't think she does that for everybody."