Mother of slain N.J. man blames computer program for his shooting
In New Jersey, there's a bail algorithm designed to recommend whether you sit behind bars or walk free until your trial. The state's court system recently abandoned cash bail.
Listen
9:50
Technology and big data are used all the time to help us make choices.
In New Jersey, there's a bail algorithm designed to recommend whether you sit behind bars or walk free until your trial. The state court system there recently abandoned cash bail. It's a step that's supposed to help poor defendants who were getting stuck in jail for months simply because they could not afford to pay their way out.
Under the new system, judges either detain or release criminal defendants before trial — no money involved. (Money bail was used in only a few cases last year.)
In the past, judges had to decide whether to set bail and how high.
Starting early last year they began choosing whether to let someone walk free or detain them before trial as a way to prevent the defendant from committing a new crime or skipping a court date while out on release.
To help judges make that decision, court officials adopted something called the Public Safety Assessment, or PSA.
The computer algorithm was developed by the Laura and John Arnold Foundation to determine whether a defendant is a high risk for re-offending or skipping town between their arrest and their trial.
Using some basic information about a defendant, the PSA assigns two "risk scores," which judges can use to inform their decision about pretrial detention. Ultimately, though, the decision is up to the judge, not the computer.
Critics have said the algorithm has no place in a courtroom, where human judges are tasked with using their professional experience and personal sense of justice and empathy to make decisions about criminal defendants.
Some opponents compare such algorithms to the film "Minority Report," in which clairvoyant humans warned police about crimes that would happen in the future, so they could arrest perpetrators before they committed the act.
Others disagree, claiming computers are more transparent than judges about how they reach conclusions.
"If there ever was a black box, it's the human brain," said Richard Berk, a professor of criminology and statistics at the University of Pennsylvania.
"Algorithms at least provide you with code that you can actually look at. You can look inside the 'brain' [of a computer] and see what the decisions were that were made. With a human brain, it's not so easy."
Crunching the data
The criminal justice field has assessed the risk of defendants for centuries. But only recently has computing power gotten so strong that scientists have been able to identify patterns using databases made up of hundreds of thousands of criminal defendants.
The PSA — which is used in a few dozen other jurisdictions besides New Jersey — analyzes bits of information about a defendant including age, current charges, previous convictions, and previous failures to appear in court. It then assigns a defendant two scores between one and six that indicate whether the person is a risk to commit a new crime or to fail to appear. The higher the score, the higher the risk.
In New Jersey, those scores are next put through another program that recommends releasing a defendant on his or her own recognizance, releasing a defendant with conditions (like reporting to a court officer or being subject to GPS monitoring), or preventive detention.
Proponents say, ideally, computer algorithms help judges make better-informed decisions about criminal behavior and mitigate any unconscious biases a judge may have.
According to Berk from the University of Pennsylvania, predictive computer algorithms have been shown to outperform human judges for more than 30 years.
"What they compare is clinical judgments — people sitting around a table, no matter what their expertise — against even very simple statistical tools," he said.
But, just like humans, computer programs make mistakes.
'This is a very, very dangerous tool'
On April 5, 2017, Jules Black was arrested for illegally possessing a gun.
Black lived in Vineland, New Jersey, near Christian Rogers.
Rogers was a father of two young boys, a rapper who went by the stage name "Chris Feddi," who was well loved in the community, says his mother June Rodgers.
As his mother tells the story: A few days before April 5, Christian Rodgers and his friends got into a small feud with Jules Black and his friends over a music video.
Christian Rogers was not worried about Jules Black, his mother says.
"By him getting arrested April 5th," June Rogers said, "my son thought he would be in jail for a little while."
On April 6, the day after his arrest, Jules Black went before a judge.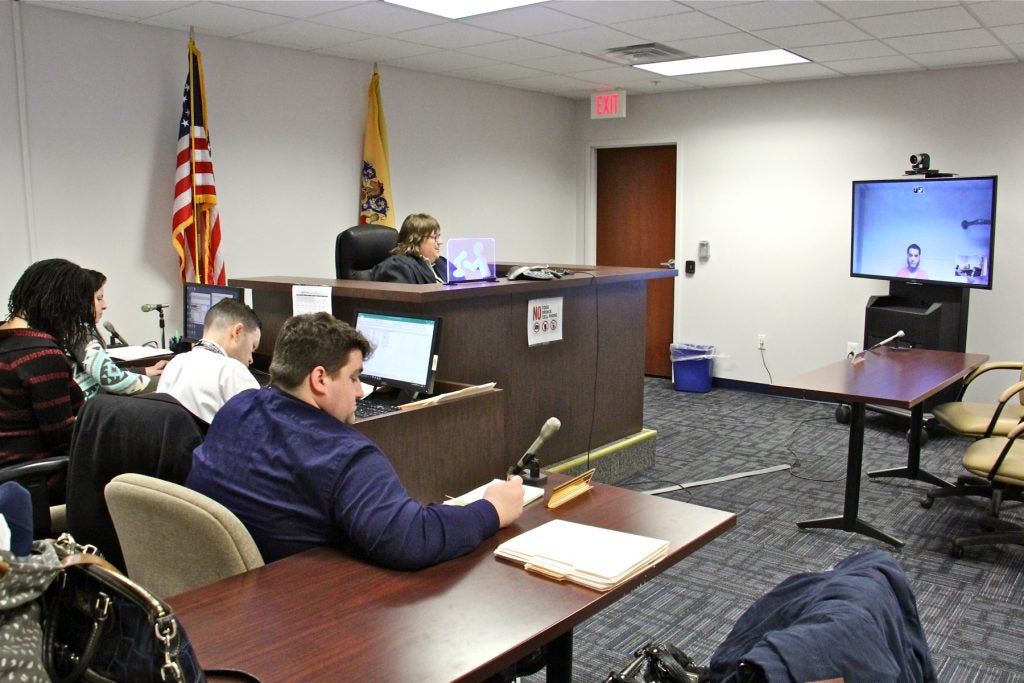 Although Black's PSA scores are not public information, he was likely rated around a medium risk, given the algorithm's recommendation that he report weekly to court staff. But the scores were apparently not high enough to prompt the prosecutor to file a motion to detain Black until his trial.
The way the New Jersey law is written, a judge can hold a defendant in jail only if the prosecutor requests it. So, the judge let Jules Black go home.
On April 9, Christian Rogers was out running an errand when Jules Black allegedly drove by and spotted him.
June Rodgers described what she heard happened next:
"The story is that [Black] is driving along and he sees Chris walking. He rolls down the window, he pulls out a gun, and he shoots my son in the chest a couple of times, and my son takes off running. He's driving down the street firing at my child as he's running for his life. My son ducks through an alley and he collapses in a backyard of an empty house. Well, someone called the police saying there were shots fired or whatever, and when the police arrived, they followed my son's blood trail to find him laying back there."
Black pleaded not guilty after being charged with Rodgers' murder. The public defender representing Black did not respond to a request for comment.
After her son's murder, June Rodgers channeled her anguish into trying to figure out how Christian ended up dead. Eventually, she blamed the algorithm for Christian's death, and she sued former Gov. Chris Christie and other state officials for the criminal justice changes they implemented early last year.
(After the murder, the state Judiciary updated the algorithm to recommend preventative detention for anyone charged with serious gun crimes.)
Today June Rodgers is  something of an activist. She began speaking out publicly against the PSA but found few people in power willing to act on her criticism of the algorithm.
"All I can do is warn them that it's not what they're making it out to be. This is a very, very dangerous tool," Rodgers said in an interview. "Someone should at least have the decency to say, 'Hey, there's something wrong with this. Let's stop these before we start losing more lives.'"
Meanwhile, proponents of scrapping cash bail and switching to the algorithm say defendants like Jules Black could have simply paid their bail and gotten free as quickly in the past.
And according to his record, Black had been arrested, bailed out, and recommitted before.
Progress or peril?
In the calendar year 2017 — the first year of New Jersey's criminal justice overhaul — the statewide jail population dropped by about 20 percent. Advocates viewed that as a sign that the system was working as intended, a suggestion that fewer poor defendants were languishing in jail on modest amounts of bail they could not afford.
There is still a lot the public doesn't know about New Jersey's new pretrial system.
The state judiciary has not yet released statistics on the number of defendants who have committed new crimes or skipped a court date while out on release. Officials say the data won't be available until after state workers have sifted through thousands of new and old cases.
Many state officials continue to back the new system and emphasize that the ultimate decision to release a criminal defendant or not remains in the hands of a judge.
"We clearly envision that the tool, the PSA, as just that — a tool. We never intended this to be an automatic substantiation of the recommendation," said Judge Glenn Grant, the acting administrative director of the New Jersey court system.
"We are continuing the criminal justice process that has existed in this country for centuries: That is, judges are the most knowledgeable, the most trained, and they are the ones that we expect to make this difficult decision," he said.
WHYY is your source for fact-based, in-depth journalism and information. As a nonprofit organization, we rely on financial support from readers like you. Please give today.