On a break: teens ghost social media
Listen
6:09
I was a teenager before the age of cell phones and the internet. I talked on the family phone until my parents would make me hang up. My friends and I passed notes in class. Today, social media has replaced much of that, becoming the way many of us, especially teenagers, communicate.
Lately, I've been wondering whether some teens have had enough, and whether they've started to pull back or opt out completely from using social media.
That made me think of a 17-year-old named Finn Kairer, who I've known since she was little. I've noticed Finn hardly ever has her phone out.
"I try not to go on it a lot," she says. "I've gone to sleepaway camp and not had my phone for like a month. And I was like, this is great."
Finn and I talk one afternoon after school, sitting at her dining room table with her friend and classmate Maxine Van Osten. Finn has changed into street clothes while Maxine, who's also 17, sits in her uniform.
They attend a Catholic high school in Philadelphia. The two met years ago, just around the time the first iPhones hit the shelves.
"Ok wait, 2007, I was only seven.  But I remember my mom having a flip phone," Finn says.
For teens, Snapchat is one of the most popular apps. It's where a lot of kids do this thing called "streaks."
Finn explains. "Ok, it's basically where, on Snapchat, you have a number next to the person's name of how many days you've Snapchatted consecutively. And if you do miss a day, you lose the streak. People get up to like 300 and stuff, and I'm like, 'That's crazy,'" she says.
Maxine says she used to be very into streaks. She had 10 going at one time. Then one day she decided she wanted to stop. It had become addicting, she says.
Finn tried to convince her friend to give it up.
"Because you wake up and you snapchat this person. It's literally a photo, maybe of a black screen and it says 'streaks.' And it's like, what's the point? It's not a conversation," Finn says.
Maxine had lots of streaks with people she barely knew.
"It was just like 'Oh streaks? Sure!' But I don't even like you. Like some of these people I didn't enjoy talking to," she says. Maxine now feels relieved to have stopped, even though she has faced pushback.
"People got mad at me because I was like okay, this is the end of my streaks. I'm not doing streaks anymore, and it feels nice. It's cleansing, like you're not chained to having to wake up every morning and take a picture of whatever to send to everybody. And it's really freeing," she says.
But almost before Maxine is finished talking about the joys of ending her streaks, Finn interjects. "Let's be real though. She still goes on her phone a lot."
"I do, but not as much," Maxine says.
"Yeah, that's true. But still, she does go on her phone a lot," says Finn, and both girls laugh.
Digital detox
Amanda Lenhart of the Better Life Lab at New America, a nonprofit think tank in Washington D.C., studies teens and technology. A 2017 poll she led found that 58 percent of American teens like Finn and Maxine have started to put their phones down and step away from social media.
Their reasons vary.
"It's both voluntary and involuntary. And so it's about two-thirds of that group that have taken a voluntary break of some kind where they themselves said, 'Hey, I'm taking myself off of this platform.' And often those teens find those breaks to be positive experiences," says Lenhart.
The poll surveyed 790 teenagers between the ages of 13 and 17. According to Lenhart's research, teens are taking breaks because social media can mean drama. And spending time on social media can take them away from other parts of their lives that feel important.
There is so much to process in these spaces, as well. "Some teens talk about feeling overloaded by information and not being able to manage all the information that's coming to them through social media," Lenhart says.
I got to know another 17-year-old, Sophia Delgado. She has a job working as a teen leader at an afterschool program. Before that job, she had all the social media accounts. When she started working, though, she quit social media altogether.
"I decided to cut off all social media and just really focus on myself, like focus on actually being present in life and not just on the phone the whole time," says Sophia.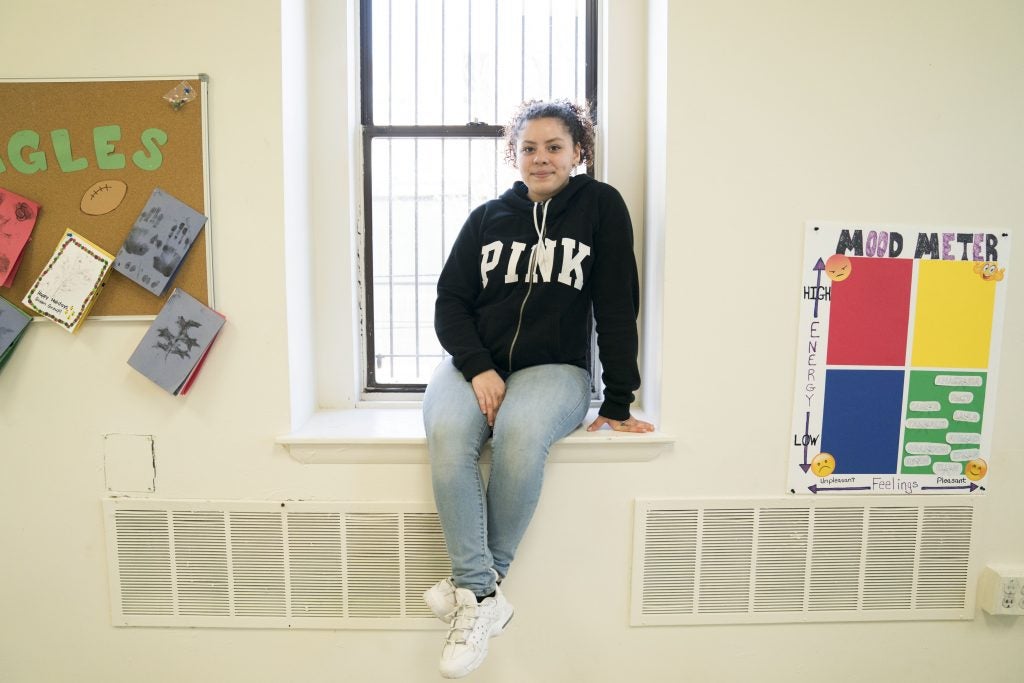 She remembers scrolling through other people's photos and thinking, "Oh my God, this girl is so much prettier than me. She's like this. She's like that."
Now, things are different for Sophia.
"I found that I don't have to do that anymore. Like I can just be me and accept me for who I am, like screw what social media or society thinks about who I am…I'm just so eager to meet with people and talk to people rather than sending a message. I'm just more open. I feel more outgoing. I'm just so ready to start a conversation with anyone."
But, having those conversations with friends isn't easy when the norm is for everyone to be on their phones.
"I hate it," says Sophia. "I feel like they're already in the mindset where that's all there is to do. So, for me to try to convince them there is more, it's really hard because convincing myself was hard. I feel awkward just because I don't know how to tell them, 'Come on we could talk to each other.' Getting them to understand what is the real beauty behind it. I feel it's just so hard to explain and to get others to understand."
To hear more about teens and their relationship with social media, check out Kouvenda Media's podcast Dial Back. The podcast, which explores the impact of technology on our lives, is hosted by Jessica Kourkounis and Stephanie Marudas.
WHYY is your source for fact-based, in-depth journalism and information. As a nonprofit organization, we rely on financial support from readers like you. Please give today.