Libya during and after Gadhafi's grisly death
Listen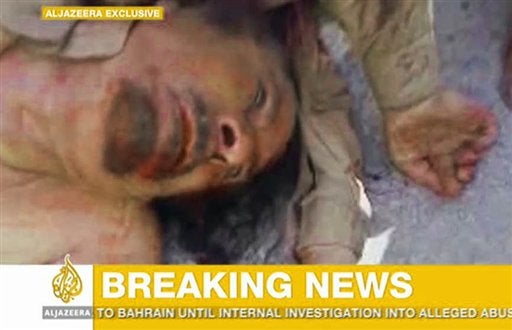 Hour 2
The 42-year reign of Libyan dictator Moammar Gadhafi came to a decisive, grisly end yesterday, with Libyan rebels capturing Gadhafi's hometown of Sirte, and the dictator himself meeting a bloody end. Gadhafi's slaying marks the end of the rebellion inspired by the Arab Spring revolutions in neighboring Egypt and Tunisia and saved by dramatic NATO intervention. Gadhafi, whose gaudy fashion and idiosyncratic behavior often overshadowed his brutal repression of Libya and support for terrorist attacks, had been in hiding since rebels overtook Tripoli two months ago. President Obama, whose decision to intervene under a new "Responsibility to Protect" doctrine drew praise, criticism and confusion in the Capitol and country, congratulated the Libyan people for overthrowing Gadhafi. But many questions remain about what comes next for the latest nation to enter a dramatically new era. Joining us to make sense of yesterday's news are ABDERRAHIM FOUKARA , Al Jazeera International's Washington Bureau Chief; MICHELE DUNNE, director of the Rafik Hariri Center for the Middle East at the Atlantic Council; and KHALED MATTAWA, a Libyan-born poet and associate professor of English and Creative Writing at the University of Michigan.
Listen:
[audio: 102111_110630.mp3]
WHYY is your source for fact-based, in-depth journalism and information. As a nonprofit organization, we rely on financial support from readers like you. Please give today.