Wolf's PFAS Action Team gives update on water-testing plans to frustrated Pa. residents
Water sources will be tested for PFAS contamination, and sampling will begin of urine, dust, and water from residents whose blood was already tested.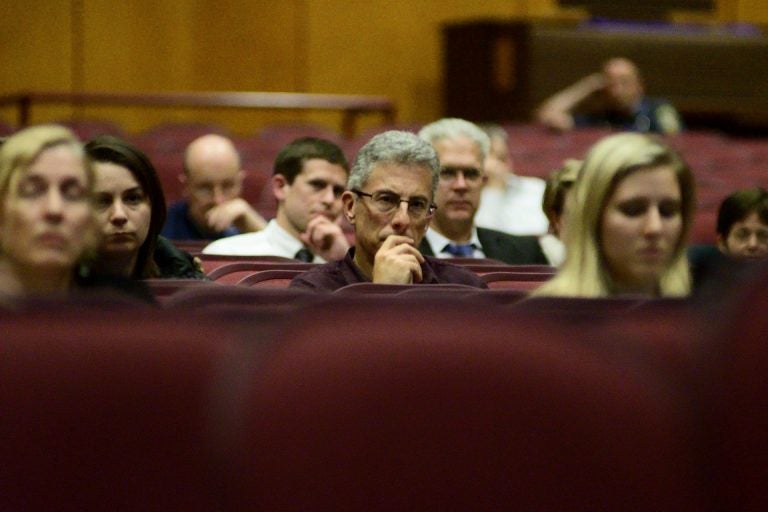 Gov. Tom Wolf's PFAS Action Team met with residents in Abington, Pa. on Monday to update them on plans to test water sources across the state for contamination by a toxic class of chemicals known as PFAS.
But many residents expressed frustration at a regulatory process they say is taking too long.
Environmental regulators expanded on an announcement from last week that the state will begin sampling 400 sites across the state for six PFAS chemicals — including PFOA, PFOS, and PFNA — to see where the chemicals appear and in what concentrations. The chemicals have been used in products including firefighting foam, non-stick cookware, and stainproof textiles.
The Department of Environmental protection will sample 360 public water sources and 40 other sites in more remote areas that will serve as controls. The department will focus its sampling efforts near sites that either used or manufactured PFAS, including airports, military bases, and manufacturing facilities. In the control group, state scientists will analyze half for groundwater levels and half for surface water.
"The primary purpose of what we're doing is to look for prevalence of the chemical across the state," said DEP Secretary Patrick McDonnell. "Obviously if we're finding incidence of the chemical above the current health advisory limit, we'll be taking appropriate actions there."
The information, he said, will be critical in developing a PFAS drinking water standard, also known as a maximum contaminant level or MCL, which the state has pledged to do in the absence of federal regulatory action.
But Jill Florin of Upper Dublin said she's disappointed that the state isn't moving faster.
"The fact that [McDonnell] said that it's going to take years to get an MCL is ridiculous when other states have stepped up and are in the process of getting MCLs immediately," she said.
Southeastern Pennsylvania has been particularly hard hit by PFAS contamination because three former military bases there used PFAS-laced firefighting foam, which seeped into groundwater and contaminated drinking water supplies.
"We are here tonight in southeastern Pennsylvania specifically because we know this area has been impacted like nowhere else in the commonwealth," McDonnell said at the meeting at Abington Senior High School, which is less than 10 miles from the former bases in Horsham and Willow Grove.
At the meeting, state health officials also announced the continuation of pilot study that looked at blood samples from exposed residents in Bucks and Montgomery counties. That study found elevated levels of PFAS in the blood serum of the 235 residents it surveyed.
Now, the health department will collect urine, dust and water samples from those residents to try to better understand the health effects and routes of exposure.
State Epidemiologist Sharon Watkins said the Department of Health is continuing to analyze the blood samples taken last year and, in a multivariate analysis, has concluded that higher blood PFAS levels were correlated with a person's drinking water source.
"Even considering all other things," Watkins said, "it did matter which public water system you were getting your drinking water from."
The highest serum PFAS levels were found in those who received their water from the Horsham Water and Sewer Authority, which is closest to the Horsham Air Guard Station. The lowest levels were found in North Wales and Warrington Township – the farthest from the bases.
The Department of Health will hold a meeting April 29 in Horsham to discuss that analysis in more detail.
The lack of regulatory action at the state or federal level has also frustrated local utilities, who find themselves caught between concerned customers and an unenforceable federal health advisory.
Aqua has been monitoring PFAS levels in its drinking water supplies since 2016 and has taken four systems offline. Two have treatment installed, a third will have treatment running in May, and a fourth has begun pilot project studying ion exchange as a potential treatment option.
In addition, the company has added large amounts of activated carbon powder to water supplies at their Neshaminy treatment plant, whose water source receives contaminated water from the Willow Grove base.
Many residents and local officials pointed fingers at the military for not doing enough to remediate the contamination and sticking them with the bill.
"Horsham residents should not have to pay for this," said Danette Richards of Horsham. "We didn't ask for this. We had nothing to do with this."
Bill Watkins, Horsham's Township Manager, said what the community really wants is less talk from the PFAS Action Team and more action.
"We're getting tired of the meetings," he said. "We're getting tired of repeating ourselves. We understand that these meetings must take place, but in the meantime any action – some type of action – we would like to see."

WHYY is your source for fact-based, in-depth journalism and information. As a nonprofit organization, we rely on financial support from readers like you. Please give today.