Wilmington demolition marks East Side revitalization effort
As workers began tearing down 10 abandoned houses along Bennett Street, Wilmington leaders celebrate fourth round in a long-term effort to raze derelict properties.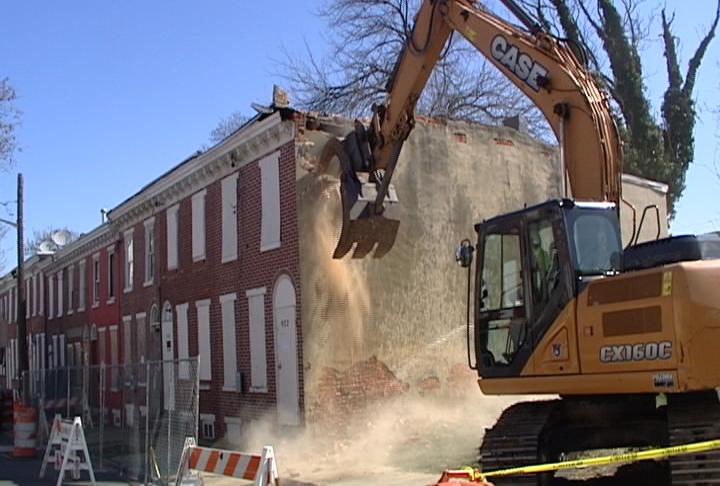 With a loud crash and cheers from city officials, demolition began on 10 homes along Bennett Street in Wilmington's East Side community Monday morning. The fourth round of demolition along Bennett Street is part of a seven-year effort to rebuild the neighborhood.
"Hopefully, this project serves as a driving force to spark revitalization," said Wilmington developer Rob Buccini. In addition to helping run development company the Buccini/Pollin Group, Buccini also chairs the Wilmington Housing Partnership. "The demolition of vacant properties reflects how public and private partnerships can positively impact our local community."
City Council President Hanifa Shabazz called the demolition a big step forward. "It's a great example of how we can replace blighted properties that are detrimental to the safety and the quality of life of our neighbors with affordable housing that extends the opportunity for home ownership and wealth accumulation to more Wilmingtonians, which I think is a great win-win for our city."
In last week's budget address, Mayor Mike Purzycki talked about the need to stabilize neighborhoods around the city.
"I have identified a lack of home ownership as a major cause of weak neighborhoods in our city," he said.
Purzycki encouraged City Council to approve more aggressive inspections of rental properties to prevent the growth of abandoned and nuisance properties.
"I implore Council to pass crime and blight legislation to give us the tools necessary to deal with irresponsible property owners," he said.
At Monday's demolition, Purzycki reiterated his hopes that improving properties will improve neighborhoods.
"By investing in new housing developments, we are improving the quality and stability of our neighborhoods," he said. "These efforts are going to continue throughout the city so every neighborhood shares equally in Wilmington's success."
After the Barrett Street site is cleared, plans call for construction of three-bedroom, 2.5-bath townhomes by early 2020. The properties are expected to sell for $155,000, and three of the homes will be made available for families earning 60 percent of median income.
The demolition and reconstruction work is funded by a group of partners including the city, JP Morgan Chase, Bank of America, Capital One, Comenity Bank, Delaware State Housing Authority, M&T Bank, PNC Foundation, Rockford Woodlawn Fund, TD Bank, and WSFS Bank. The effort is also a part of East Side Rising, an initiative to improve living conditions and reduce crime on Wilmington's East Side.
WHYY is your source for fact-based, in-depth journalism and information. As a nonprofit organization, we rely on financial support from readers like you. Please give today.