When the 'Skeleton Crew' becomes just a skeleton, from People's Light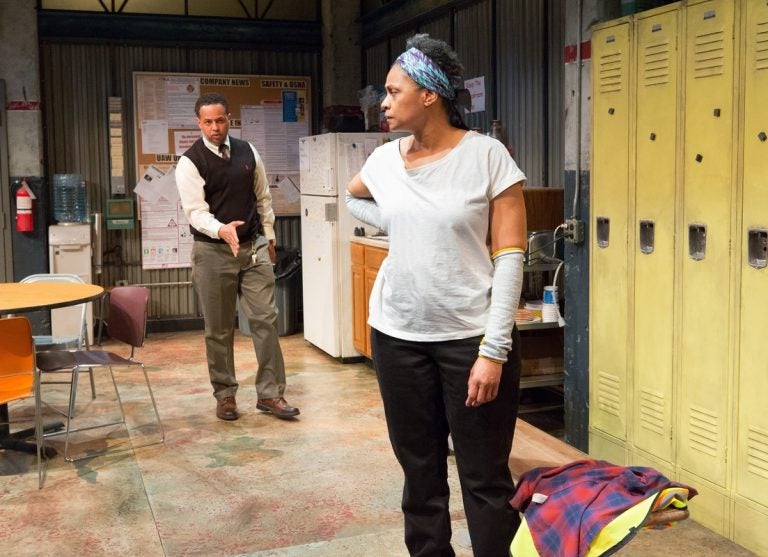 The question at the Detroit plant that produces thousands of car parts a day is not just whether the place will close down. The persistent rumor along the assembly lines is that it will. The question is whether the skilled workers will get a financial package before they're led out the door. Some of them – like the characters in Dominique Morisseau's tense and flawlessly written "Skeleton Crew" – have known only assembly-line work that's given them a common identity, whether it's tied to the sheet-metal stamping machines they run or the pensions their union has fought for.
Morisseau's play, in a finely tuned production at People's Light that carefully blossoms as it explores the relationships among employees and with their jobs, is the last of a trio she calls the Detroit plays. The experience of watching it unfold makes me want to run and find productions of the other two. All three plays are set in her native Detroit, whose factory culture she captures beautifully in "Skeleton Crew," especially its meaning to the city's African American residents who make up a large portion of the skilled-labor workforce, and who – along with the rest of the employees – have been treated with varying degrees of respect as the car industry changes and is reborn.
It's impossible not think of August Wilson when watching "Skeleton Crew" because Morisseau's trilogy is said to chronicle black life in her native Detroit, much like Wilson's 10-play cycle gives voice to a century of black life in his native Pittsburgh. Like Wilson, she has an undeniable talent for showing a character's soul through dialogue, and she distills the rich, rhythmic and sometime raw elements of everyday spoken English into a mesmerizing black street poetry.
The play, set in a break room that feels like it could have been imported directly from a Detroit factory (bravo to Tony Cisek's stage design), involves a worker who knows the factory inside out and is a union shop steward (a sterling piece of character building by People's Light troupe member Melanye Finister). She's an old friend of the supervisor she deals with on the line (Brian Marable) and he, in turn, walks a tightrope between managing her and confiding in her. He ends up telling her of secret company plans. That puts her on her own tightrope with co-workers whose interests she represents. The question for both of them: What are the consequences of losing your fragile balance?
The other two workers on the line are a pregnant single mom (Patrese D. McClain) who deeply believes that the work she's doing makes a difference to car owners and a volatile young buck (Joshua E. Nelson) who regards his union with suspicion and the factory as a place to make enough money to eventually do something else.
Finister has made her professional reputation largely with People's Light, and the other three actors are first-timers at the theater company. All are remarkable for the attention they pay to their character's specific quirks and values – you get the feeling that they know these people inside out, a tribute to the actors as much as to the astute director, Steve H. Broadnax III.
Another look at the decline of American factories, the conflict it causes among employees and the way it changes a town is a play called "Sweat" by Lynn Nottage, on Broadway last year. The setting for that play is Reading, Pa., and like "Skeleton Crew," it's getting plenty of productions because it resonates with audiences. Two different productions of "Sweat" are scheduled next season, at People's Light and at the Philadelphia Theatre Company. As for Morisseau, People's Light is producing the world premiere of her new play, "Mud Row," next summer. It's set in West Chester, Pa.
_
"Skeleton Crew" is extended through July 15 at People's Light, 39 Conestoga Road, Malvern. 610-644-3500 or peopleslight.org.
WHYY is your source for fact-based, in-depth journalism and information. As a nonprofit organization, we rely on financial support from readers like you. Please give today.