Voice-automated pedestrian signals get mixed reviews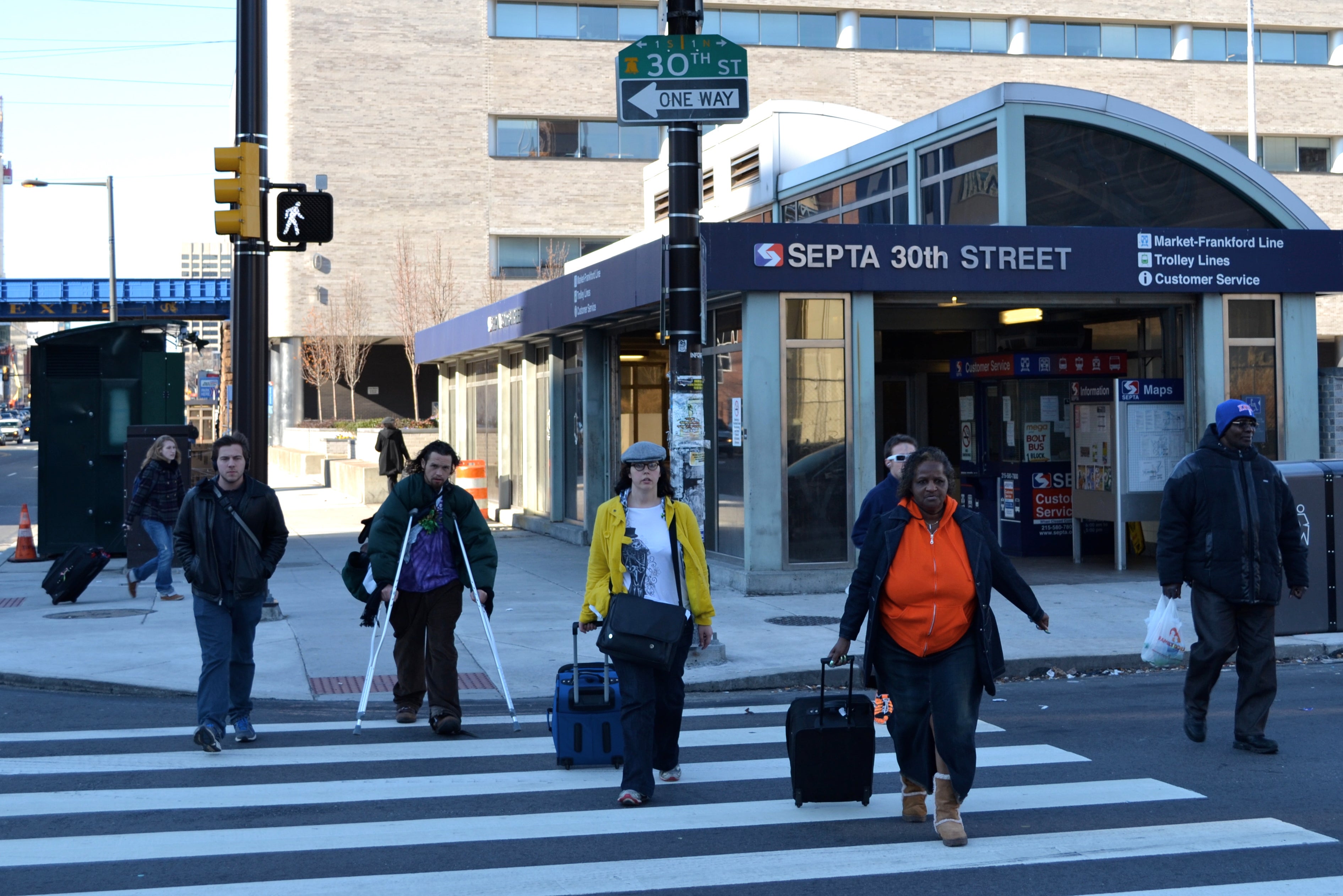 If you've taken the subway to a train at 30th Street Station or visited University City by way of the 30th Street stop on the Market-Frankford line recently, you may have noticed a woman's voice directing you across the intersections and, if you're like many pedestrians in the area, you may be confused as to what exactly the voice is saying.
As part of a $50.8 million bridge rehabilitation project, PennDOT installed automated-voice pedestrian crossing signals at the intersections of 30th and Market and 30th and Chestnut streets. The installation was done at the direction of the Philadelphia Streets Department, and the department is now responsible for maintaining and overseeing the signals.
The PennDOT project is a two-year endeavor to reconstruct six structurally deficient bridges over the Amtrak northeast corridor. While most of the project is subsurface, PennDOT has made some streetscape improvements to Market and Chestnut streets between 30th Street and the Schuylkill Expressway.
At the direction of the Streets Department, PennDOT upgraded some pedestrian signals to include the automated voice, which now directs pedestrians thusly, "30th, walk sign is on to cross 30th," and "Market, walk sign is on to cross Market."
The Streets Department has installed some other automated voice pedestrian signals on Broad Street and has plans to install more on Malvern Avenue and on 10th Street between Walnut and Market streets to serve the nearby school and library for the blind, respectively.
Richard Montanez, Streets Department chief traffic & street lighting engineer, said the department had PennDOT upgrade the pedestrian signals to include the automated voice since PennDOT was already doing streetscape improvements along Market and Chestnut streets between 30th and Schuylkill Avenue and because the intersection has a high volume of pedestrian traffic.
While Montanez, Deputy Commissioner for Transportation David Perri and Assistant Chief Traffic Engineer Charles Denny were unsure how much the signals at 30th and Market and at 30th and Chestnut streets cost, Montanez said such signals can cost as much as $20,000.
The department has received a mix of feedback on the signals so far.
"I guess it's a 50/50 split of people who like them, people who don't like them," Denny said.
Anthony Presta who catches the Route 31 bus on Market Street just north of 30th Street said initially he had trouble understanding what the voice was saying.
"I was curious, so I kinda stopped and [listened]," he said and strained his neck forward. "I think it's saying, 'Cross site, and then whatever street you're crossing."
Presta is not convinced the voice signals are necessary.
"There's traffic but I think it's kinda pointless," he said.
Veronica, who asked that her last name not be used, but who owns Ed & Veronica's lunch truck which parks on 30th Street between Market and Chestnut streets, said while she can hear the signal, sometimes it is difficult to understand.
"Sometimes it's annoying but it probably helps people that are blind," she said.
Perri said that the signal can be adjusted to make it louder if necessary, and that any inaudibility is a result of the background traffic noise. He said as traffic noise increases the voice should get louder and vice versa.
When asked about offering the signals in languages other than English, Montanez said, "That would be extremely difficult [because] it's not on for that long of a time."
The Streets Department will be responsible for maintaining the signal, which at the moment, must be controlled or adjusted on site. The department is, however, working on another project to connect fiber optic cables to these pedestrian signals and others throughout the city. Those fiber optic cables will connect signals to the planned Traffic Operations Center and will allow for remote control and programming.
Contact the reporter at cfisher@planphilly.com
WHYY is your source for fact-based, in-depth journalism and information. As a nonprofit organization, we rely on financial support from readers like you. Please give today.