Visual art for the visually impaired: Philly museum tests out new ways to experience paintings
The Museum of the American Revolution is testing a new way to present visual art to people who are visually impaired, creating richer experiences for all patrons.
Listen
4:31
For much of her life, Elizabeth Mayeux said she has been prejudiced against visual art.
"No offense intended — just because I can't see it," said the 44-year-old, who has been blind since she was born. "I thought it was irrelevant."
Now, she may be experiencing a change of heart.
Mayeux was recently one of the first people to test out a new exhibition of contemporary paintings at the Museum of the American Revolution in Philadelphia, featuring a new way to present visual art to people with visual impairments.
Tactile graphics are reproductions of paintings made on heavy cardstock embossed with different textures, representing various elements of the image composition. Those textures are meant to help visitors "see" the paintings through their fingertips.
Through the cultural accessibility organization Philly Touch Tours, Mayeux and Simon Bonenfant were invited to experience "Liberty: Don Troiani's Paintings of the Revolutionary War," an exhibition of 46 historically accurate paintings depicting key battles of war.
Bonenfant, also blind since birth and now a freshman at Chestnut Hill College, said he has always been eager to better understand visual art.
"I can remember being much younger, going to places like the Art Museum and seeing paintings behind glass — well, not seeing them, but knowing about them," he said. "I remember feeling left out because I couldn't experience the things in the way that everybody else was, feeling the emotion behind it or the intensity behind it. I couldn't get that."
The artist has some idea of what he means.
Troiani's battle scenes are densely packed with historic detail. He says they act as visual documents for a war with otherwise little else to show for itself.
"It's under-painted. If you want to see a picture of a battle, in a lot of cases there's nothing you want to see," he said. "There might be a couple of old woodcuts or a couple of inaccurate, old magazine illustrations. There's no real visual documentation of all these great scenes."
So for a half-century, Troiani has been deeply researching every aspect of the Revolutionary War, including the topography of the battle sites, how particular individuals chose to dress on the battleground, the soldiers' uniquely decorated cartridge boxes, and the laced jackets of the battleground drummers.
"I have a file on every single regiment in the Revolution, on both sides," said Troiani in a phone interview from his studio in Connecticut. "Whenever any new information turns up, it goes into that file."
The tour at the museum started with Troiani's painting of the Boston Massacre, the first episode of violence of the American Revolution in 1770 when British soldiers opened fire on an angry rally of Boston residents.
With the help of Trish Maunder, director of Philly Touch Tours, Mayeux and Bonenfant were first shown how large the painting is, roughly 2 feet by 3 feet. Walking along the width of the painting with their fingers on the frame, they feel in their paces the scale of the work.
"Wow," said Bonenfant as he stood on tiptoes to try to touch the top of the frame.
"We are standing in this painting behind a group of British soldiers, so imagine them in their bright red coats. There's about six inches of snow on the ground," said Tyler Putnam, the museum's manager of gallery interpretation, describing the painting. "We're looking at their backs and they are surrounded by a huge crowd."
Because the perspective of the painting is behind the line of British soldiers, the viewer cannot see their faces in favor of the opposing colonists, whose panicked faces are lit by flashes of black gunpowder explosions.
"Why are they fearful?" asked Mayeux.
"Because the soldiers are holding their rifles up," explained Maunder. "They're coming at the soldiers, or, the soldiers are coming at them more realistically. They are protesting and they're pushing back."
To better understand how the two groups are facing off against one another, Maunder posed Mayeux and Bonenfant with their white canes acting as muskets, so they could feel in their arms how the British soldiers were holding back the Boston civilians with their weapons.
Maunder held the tip of the white cane to her own chest. "This feels very intimidating. You're a soldier, and I'm a townsperson."
"Trish is furious," added Putnam.
Mayeux begins to recognize the emotion in the painting: "Furious, not fearful."
"Yeah, I'm probably a little fearful, but certainly furious," said Maunder. "I want to come to you and do something to you, but you're the one with the gun right now."
Putnam then passed around the tactile graphic papers, so Mayeux and Bonenfant could feel the layout of the painting's composition. Created by the Braille printhouse Clovernook, the paper had been embossed with different types of textures to indicate the surrounding brick buildings, the snow on the ground, and the flashes of gunpowder. A Braille legend in an upper corner identifies what the textures represent.
Although there are several dozen figures in the painting — the crowd of colonists reaches deep into the background of the canvas — the tactile graphic had to be greatly simplified so it could be coherent to fingertips. Only six figures are in the graphic. Most of the information Troiani had put in his painting was eliminated.
Mayeux did not like the tactile graphics. For her, the verbal descriptions were much more engaging.
"It's harder to tell what they're feeling," she said. "We just need you to describe these things. This is really cool. I like experiencing art through description."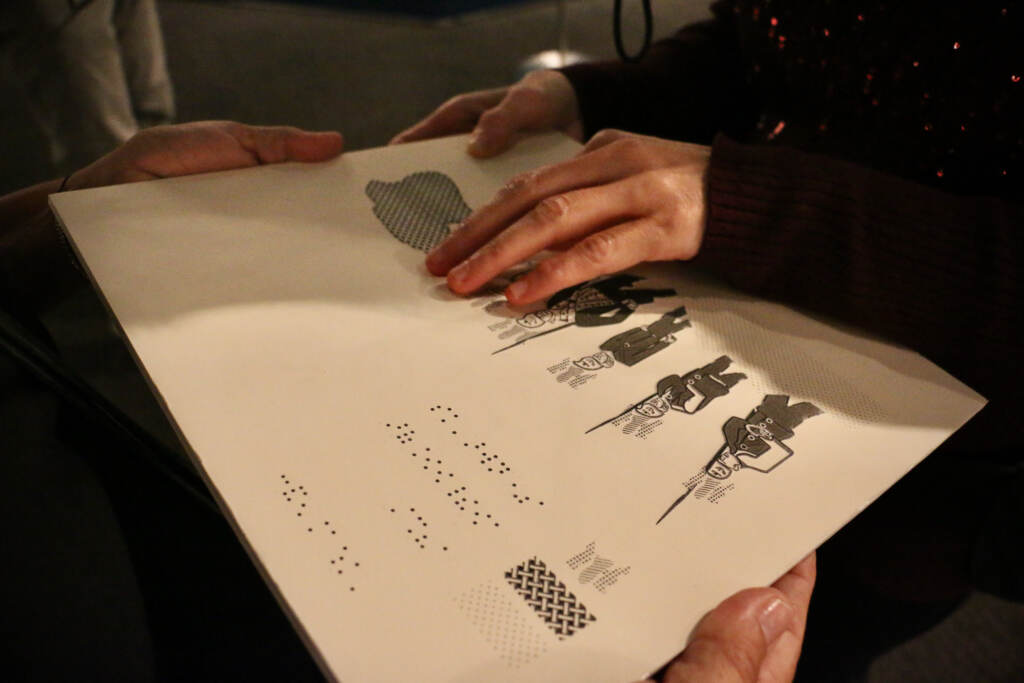 Bonenfant, on the other hand, said he got a lot out of the tactile graphics, but only when accompanied by the history, drama, and emotion of the verbal description.
"I really visualize things in my mind as they are being described. When they're described well and adequately, I visualize myself in the painting," he said. "That's not to dissuade tactile graphics and tactile drawings, but just to use them as complementary sources."
The tactile graphics are in a trial phase. If the museum can find a way to make the texturized handouts work, they could be developed into permanently mounted elements in the gallery spaces.
They are the latest element of the museum's accessibility toolbox, which also includes a kit for people on the autism spectrum, closed captioning on multimedia exhibits for the hearing impaired, and for the visually impaired, an audio tour accompanied by a guide to all the items that can be touched.
There are even items that can be smelled, like the odor of the tea that was thrown in the harbor during the Boston Tea Party.
"We have guests all the time who are interested in engaging with these stories in tactile ways," said Putnam. "We have smell-able elements in the galleries. We have things you can touch, clothing you can try on. Our goal was to make the museum as accessible as possible to all comers."
The Museum of the American Revolution is not the only Philadelphia institution experimenting with new ways to make culture accessible.
The Philadelphia Ballet (formerly the Pennsylvania Ballet) has begun playing back verbal descriptions of dance over speakers for the entire auditorium to hear.
Typically, verbal descriptions of performances are recited live and received through wireless headphones distributed to patrons with visual impairments. The Philadelphia Ballet regularly includes at least one verbal description performance during the run of every production.
However, during its recent run of "The Spark," a triple-bill of contemporary dance (including two world premieres), there were no headphones needed. Everyone watching the show heard Nicole Sardella's live descriptions of the dancers' movements mixed into the music.
For one performance during the run of the production, Sardella described the movements of the dancers in real time while watching them. She had seen earlier performances to become more familiar with the dances and to map out how she would describe it, but she did not write down her descriptions. She described what she saw, as she saw it.
"It's important to be engaged with exactly what's going on onstage at the exact moment that it is occurring," she said. "For me to be buried in notes, I think you can miss so much."
Putting Sardella's audio descriptions over speakers is a new idea for the company, as a way to connect everyone in the audience into a singular experience regardless of their visual abilities.
Sardella believes the experience of audio description can be just as beneficial for sighted people as it is for the visually impaired, as it can better focus people's minds on the action.
"It allows you to more deeply appreciate what is really going on onstage," she said. "There's really so, so much that goes on. There's so much artistry, there's so much athleticism, and there's just so much grace and beauty that can all be captured through words, too."
The visitors at the Museum of the American Revolution also found that everyone can benefit from being part of an exhibition tour for the visually impaired.
For instance, while looking at and interrogating Troiani's newest painting, "Brave Men as Ever Fought," Maunder noticed that they had been talking about a single painting for about 20 minutes, something she would rarely have done with a sighted group.
"When else would you stand this long in front of a painting?" said Maunder. "This is why we love to work with our colleagues who are blind and visually impaired, because of the richness of what we do together. It's a joint experience. It's not us for them or them for us. It's together."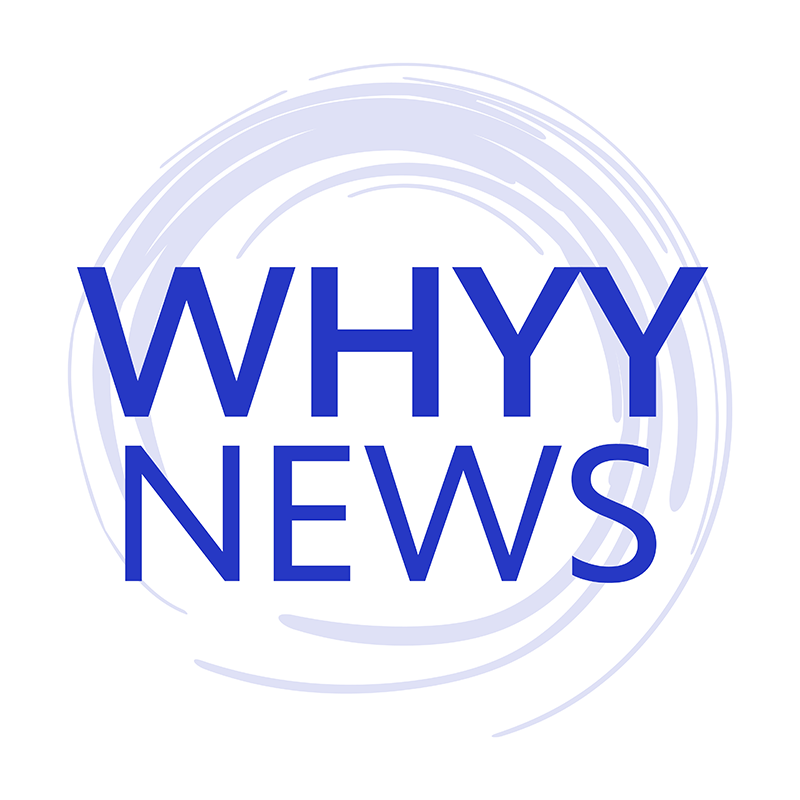 Get daily updates from WHYY News!
WHYY is your source for fact-based, in-depth journalism and information. As a nonprofit organization, we rely on financial support from readers like you. Please give today.