'V to X' at the Arden an education in the inhumanity, inequity of mass incarceration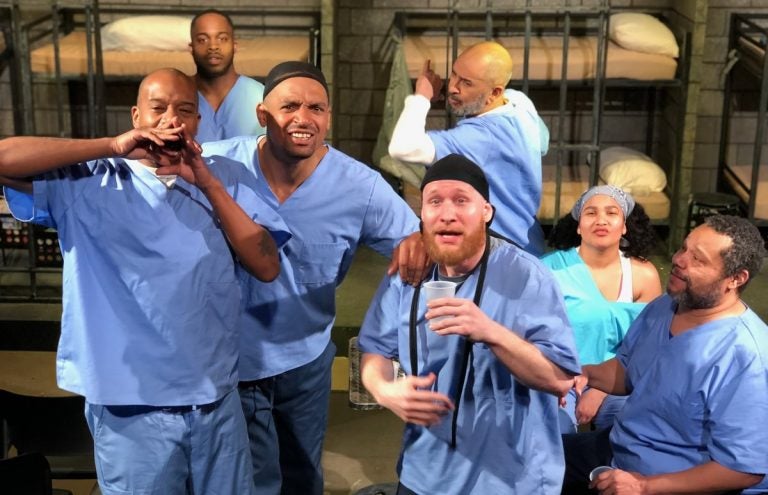 You need only look at the front page of Wednesday's New York Times to see the relevance of Kash Goins' play "V to X," at the Arden Theatre, about an appalling privately run prison and its inmates. That prison is fictional. The Times chronicles the current case against the real company that operated the East Mississippi Correctional Facility: prisoners so badly beaten they required hospitalization, pleas for medical attention ignored, fires set by inmates, and undisciplined guards.
Since 2000, the Times says, the national prison population has risen about 10 percent, yet the number of inmates in privately operated prisons has risen 45 percent. States and the federal government are turning over the incarceration to big business. Jailed offenders are "human capital," the phrase an administrator uses in "V to X" when he slips up in front of a tour group.
The tour group is us, the audience, and the jail we see in Goins' play is run by the fictional U.S. Prisons Corporation. The talented Goins is a prolific producer, actor, and playwright. He is an African-American artist from South Philadelphia who specializes in theater about being black in America. He first produced his "V to X" – a reference to five-to-10, as in years in prison – three years ago. Now, in a two-year residency at the Arden, Goins revives his disturbing — at times, chilling — play, directing an A-1 cast.
"V to X" is not a play you like, nor is it one you're supposed to like. It unfolds with stinging realism, raw power, and a constant base tone that mirrors prison life, especially the lives of imprisoned black men who seem to have been consigned by fate and circumstance to incarceration from young ages.
The production under Goins' direction is at once stark and florid: You feel the numbing sameness of jail life and also sense the enormous complications of the prisoners as they conduct their own bible study; trade in contraband; conspire with guards; pine for connection during severely limited visits from loved ones; try to find privacy; and get into vicious fights. Terri McIntyre's fight choreography is remarkably real and unhinging.
The play has its faults — the street patois isn't easy to understand whenever it's delivered with furious speed, and the play feels indulgently long at two and a half hours. Its plot-driven second half is joltingly different from the first, which focuses more on the issues Goins wants to stress. These include the justice system's reliance on plea bargaining that results in convictions and bypasses trial by jury; disproportionate sentencing guidelines for minor crimes; people without bail who languish in jail before a trial; and the privately managed prison systems for which prisoners are money. That last issue has been on the radar of two presidents in different ways: Barack Obama's administration tried to phase private prisons out of the federal system, and Donald Trump's attorney general has turned that policy around.
"V to X" whets our curiosities about the private prison system through the prison administrator (Steve Connor) who begins the play with our tour of the prison. He comes on stage several times between prison scenes to explain rules and to generally flog privatization as a way of saving taxpayer dollars. Late in the first half, the tour ends, and with it, the conceit that we're learning about the system. The plot among the various prisoners picks up, and we're at a different, more traditional play. I found myself wanting more on the subject of privatization, and wondering what makes the prison depicted in the play different from a prison the government operates, besides the corporate shareholders.
Goins stages the show close to the audience, with a row of bunk beds against cinderblock (Dustin Pettigrew's convincing set) in front of us and a solitary confinement cell behind us. In that cell is the pathetic Bitch Baby (played by Jarron C. Battle), a juvenile awaiting a court date and confined because his family can't afford bail. Goins modeled that character from Kalief Browder, a New York teenager charged with stealing a backpack and confined for three years of court delays — most of them in solitary. After his release, Browder began studying in college, but the depression that overcame him led to his suicide.
Filling the prison unit are the lifer Wolf (the excellent Monroe Barrick), a new inmate brutally introduced to prison society (George Carver), a recidivist white prisoner (Steve Lunger), a man who's become a deacon while incarcerated (James Tolbert), and others in a cast that had me convinced I was imprisoned with them. That's a terrible feeling, but, in this case, just the right one.
—
"V to X," produced by GoKash OnSTAGE, runs through April 15 at Arden Theatre Company's studio theater at 62 N. Second St., a few doors north of the main Arden theaters on Second Street north of Market Street. 215-922-1122 or ardentheatre.org.