All it takes is '74 Seconds … to Judgment' at Arden Theatre Company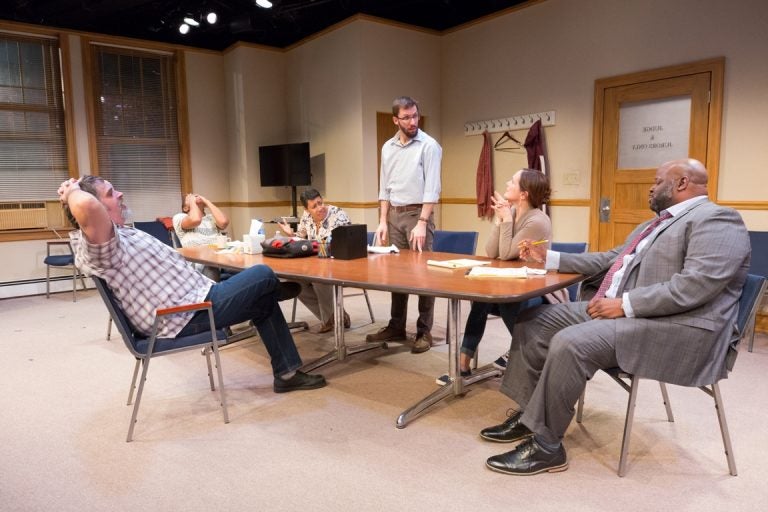 My first thought while watching a six-member jury deliberate the fate of a man in the fearless new play "74 Seconds … to Judgment" was, gee, if I ever get into trouble with the law I hope the jury is nothing like this. My last thought after the play ended was, wow, this is the jury for me.
"74 Seconds," which opened at Arden Theatre Company on Wednesday night, is a look at six jurors — the minimum required to compose most juries — who've been coming everyday to a deliberation room for two weeks and haven't been able to reach a verdict. They have gone round and round: Did  a 74-second altercation end in justifiable homicide or not?
The play by Kash Goins, the locally-based theater artist who also directs and, in this play, acts, is a brave undertaking. Without tossing in every incendiary racial bomb you can imagine (as in a current Broadway play called "American Son"), Goins takes his three white and three black jurors through a day of deliberations in which the racial perceptions of every character are laid bare. He does not avoid the hot-buttons, and when he pushes them with his characters, the dialogue is honest and unforced and blossoms organically.  Goins creates a discussion — sometimes comical, sometimes intense — about race that many Americans have generally gone out of their ways to avoid.
The first version of  "74 Seconds … to Judgment" played for a short time last year at the Arden's smallest theater, three doors from its main building. It was produced by Goins' theater company, GoKash Productions, in residence there at the time; the Arden's artistic leader, Terrence J. Nolen was taken by the play and its provocation and suggested that Arden produce it as a part of its season. What you'll see is a new version Gains worked on over the year, directed by another all-around theater artist, Amina Robinson. She staged last year's run, and also directed a big hit this season for Theatre Horizon in Norristown — its production of "The Color Purple."
The reason I was initially wary of this collection of jurors is the way they behave when we first meet them. Their characters aren't drawn as extremes by Goins, but that's the way the actors play them. The first half-hour's direction of the 90-minute production feels so over-acted (and by a cast of mostly seasoned veterans, including Goins in the role of a well-heeled black juror), I wasn't sure if we were witnessing an out-and-out comedy or a forceful drama or what. The matter isn't made easier by Goins' decision not to introduce the details of the case under deliberation — these jurors have been with it for some time, so they know what they're talking about. We don't.
As it turns out, that was a smart decision and unusual, too — look at any number of scripts and you'll find that playwrights introduce their characters and plot through devices that seem baldly artificial even if they get the job done. Goins keeps us guessing, that's his device. Any frustration we might have is worth it by the end, long after the jurors decide to play-act witnesses by using the case's testimony and even considering back stories that weren't part of the record. If this doesn't sound kosher, consider that deliberations are private. Only the jurors know what goes on.
As these characters become more serious about trying to reach a verdict and begin to concentrate on the details, their play-acting of the case's prime characters reveals their notions about what really happened during and leading up to those 74 seconds. I risk ruining the suspense and revealing more than anyone should know before seeing the play, so I'll write nothing about the actual case.
But I can tell you about the jurors. In addition to the character Goins plays, there's a white mother of young kids (Julianna Zinkel) who is itching to get the case finalized so she can concentrate on her family; a young black man (Travoye Joyner) in acting school who comes up with the role-playing idea; a black woman we don't know much about (Kala Moses Baxter) but who is a voice of calm reason; a white juror who has been on a police force (Peter Bisgaier) in the footsteps of his father, and the white jury foreman (Dan Hodge) with a strong sense of his duty.
The story plays out on Dustin Pettegrew's realistic jury-room set, right down to the rack of coat hangers nailed to the wall and the tall windows of courthouses built in the mid-20th century. I question the decision to dim Kathy A. Perkins' lighting design whenever the jurors go deeply into role-playing. But after a few instances it feels right, like the play itself.
—
"74 Seconds .. to Judgment" is extended through March 10 at Arden Theatre, Second Street just north of Market Street. 215.922.1122 or ardentheatre.org.