University of Delaware wants taxpayers to split cost of free-tuition plan for some residents
Listen
1:38
The University of Delaware has an ambitious goal — to provide free tuition to every in-state student whose family earns less than $75,000 a year.
The school wants taxpayers to share equally in the expense, however, and the leading lawmakers who control the state's purse strings are expressing some reservations.
The state currently spends $10.4 million a year on scholarships and financial aid for Delaware residents. Now the state's flagship university wants taxpayers to gradually increase their annual contribution to $19 million over the next four years.
Dennis Assanis, who has been UD's president since 2016, said the higher contribution by the state would match the school's commitment and mean that half of Delaware's families would qualify for free tuition and fees, currently $13,680 a year. Room and board, now at $12,862, would not be included.
"I'd love to partner with our state, our legislators and our government to do something bold, which would be a tremendous, transformational impact on our state and our economy,'' Assanis said. "I honestly think that any investment the state makes in higher education is the best investment we can make in the future of our state."
Gov. John Carney addressed UD's request this week after touring a biopharmaceutical research facility under construction on campus. The state is contributing $12.5 million over five years toward that endeavor.
Carney emphasized that a well-educated populace makes for a better workforce that attracts companies to Delaware where they provide high-paying jobs. In that vein, he embraced the concept of free tuition, but he would not commit to spending what UD is seeking for the next fiscal year or beyond.
"We don't want to spend more than we can sustain in the future,'' said Carney, who wore a construction hard hat while crews labored behind him. "That's why, frankly, investments in this facility are important because you can make a one-time capital investment that's not ongoing after that."
'Why ask somebody for money?'
State Sen. Dave Lawson, who sits on the Joint Finance Committee that reviews and sometimes rewrites the governor's budget proposals, opposes UD's proposal. He'd rather see the state help kids pay loans after they graduate.
"You are taking money out of hard-working folks' pockets, and giving it to people for a free ride to college,'' he said. "We've got a lot of dropouts. I'm not willing to invest taxpayers' money in a maybe."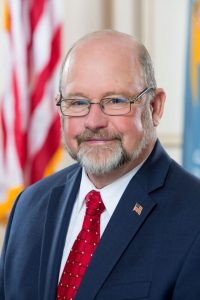 The Kent County Republican also said UD could use more of its $1.6 billion endowment to pay tuition for Delaware kids.
"If you've got money in your pocket, why would you go and ask somebody for money? It doesn't make sense,'' Lawson said.
Assanis countered that UD uses money from the "proceeds" on its endowment as authorized by its board of trustees for the money it provides to in-state scholarships and aid.
The Joint Finance Committee won't be deciding how to act on UD's request for months.
State Rep. Quinn Johnson, co-chair of the finance committee, said he wants to know what the taxpayers think before deciding whether to increase the state's ante. He said he'll be watching to see whether state revenues hold steady or change.
Johnson, a Middletown Democrat, also wonders whether UD would open its books for lawmakers' scrutiny to determine whether the schools needs more from taxpayers to help more in-state students pay for tuition.
"It's certainly an admirable goal,'' Johnson said of UD's proposal. "But I, like Sen. Lawson, would want to know is that something that you, the University of Delaware, can actually take on without needing the state's assistance."
Assanis said he has heard "a lot of positive expressions of support" from lawmakers.
"Any investment the state makes in higher education is the best investment we can make in the future of our state,'' he said.