Tracing Montco's decades-long shift from GOP stronghold to boon for Biden
Two big reasons stand out: Republicans lost many of their moderate voters here as the GOP crept rightward, and suburbs have further diversified.
For several decades, one of the central goals in Marcel Groen's life has been to strengthen Montgomery County's Democratic party.
But if you told him in 1994 when he became the county's party chair that it would one day deliver more Democratic presidential votes than almost any other county in Pennsylvania, he would have been nonplussed.
"When I became chairman there were 255,000 registered Republicans and 125,000 registered Democrats," Groen said. "We were in the majority in one borough, Jenkintown … we had nothing, basically."
In the 26 years since, a lot has changed.
Montgomery County is perhaps Pennsylvania's strongest example of a trend that's been happening across the country over the last several decades: suburbs, once Republican bastions have become one of the most reliable sources of Democratic votes.
In the 2020 presidential election, turnout was at record highs for both candidates — much higher than in President Donald Trump's 2016 upset win. And while Trump bolstered his already-significant margins in rural counties among white voters who haven't attended college, President-elect Joe Biden cut into those margins while running up the score in the suburbs, especially outside Philadelphia.
Democratic votes surged in Chester, Delaware, Montgomery and Bucks counties. In 2016, Hillary Clinton beat Trump in the region by a combined total of 188,353 votes. Biden won it by 287,740.
The margin was especially notable in Montgomery County, where Biden got some 57,000 more votes there than Clinton did in 2016.
The result is even more striking given the country's political history. In 1990, when Democrat Bob Casey Sr. was running for a second term as Pennsylvania governor, he won by a historic margin, taking every county except one: Montgomery.
So, how did a solid Republican stronghold become a Democratic powerhouse?
There's never a single reason for major political shifts, but two big ones stand out: Republicans lost many of their moderate voters here, and suburbs have further diversified.
Diversity is relative
Montgomery County is still largely white — around 75%. But like many suburbs, it has seen steady gains among Black, Latino and Asian residents.
Over the past two decades, Norristown, the county seat, has changed the most. In the 2000 U.S. Census, 39% of its residents self-reported as a race other than white, and 10% of respondents identified as Hispanic. As of 2018, people who aren't white made up 58% of the borough, while about 28% of residents described themselves as Hispanic.
Cheltenham, Skippack, Hatfield and Pottstown also saw sizable changes in population diversity.
While there are plenty of ideological differences among Black, Latino and Asian voters, on average, those groups are more likely to cast ballots for Democrats than white voters. And while changes in racial diversity don't perfectly track with changes in voting behavior, there are some clear correlations between the two over the past couple of decades.
Based on a Keystone Crossroads analysis of presidential election results from 2000-2020, the data shows, with a few exceptions, that the more populous and often more racially diverse areas in the southern and middle parts of Montgomery County, like Norristown and Cheltenham, have become solidly blue.
At the same time, the data shows that some of the deepest remaining red regions in the county are its whiter, more rural areas, which includes municipalities such as Douglass and New Hanover, which sit near the Berks County line. One area that's seen a growth in diversity and a shift toward the GOP is Lower Moreland, which borders parts of Far Northeast Philadelphia.
In Norristown, Tre Hadrick grew up watching the town become increasingly more diverse.
Hadrick is Black and generally votes Democrat. He thinks a lot of his friends and neighbors are similar.
But he said despite Norristown and Montgomery County turning solid blue, he doesn't feel the area is anywhere near as liberal as, for instance, Philadelphia. He thinks there could be much more focus on poor and working-class people on the municipal and county level, and notes, it's an issue that goes beyond race.
"Sometimes you might get Black and brown people who get into office and then don't uphold their end of the bargain of what they said they were going to do," said Hadrick, a school counselor and community organizer. "You already have an issue where maybe not everyone is looking holistically [at the issues] … and then people get in and forget why they ran for office."
Ruy Teixeira, a political scientist with the Center for American Progress, has spent a lot of time thinking about how shifting demographics and voter behavior correlate, and how big demographic changes in places like Norristown translate into votes.
What he sees in blue-shifting places like Montgomery County isn't necessarily that raw numbers of minority voters are flipping the political equation. It's a slower, more subtle change than that.
"When these counties change, these suburban areas change and become more diverse, become more educated, become more cosmopolitan and just become different, it just affects everybody," he said. " It's a different ethos, a different culture."
There's electoral power, and then there's institutional power
That rings true for Obed Arango, to some extent.
He's from Mexico and moved to Montgomery County in 2003 — part of a wave of Latino people who settled in and around Norristown at that time. He's an anthropologist who lectures at the University of Pennsylvania, directs a local cultural center, sits on the county planning commission and recently joined Democratic Congresswoman Madeleine Dean's Racial Equality Advisory Committee.
But before he was involved in all that, in his early days in the area, he recalls that he was an outlier. Of about 40 soccer coaches in Whitpain Township, for instance, he was the only one who wasn't white.
"For many people, I was the first…Latino friend that they had," he said. "Today I would say it's more common for people to get in interactions with minorities."
Watching places like Norristown diversify has been rewarding for Arango.
But he added, he has also come to a similar conclusion to Hadrick: Just because minority groups, like Norristown's Black and Latino populations, are now formidable voting blocs, it doesn't mean they have institutional power.
Arango describes himself as more progressive than much of Montgomery County's current Democratic leadership, noting he supported Vermont Sen. Bernie Sanders in this year's Democratic primary. And he said even with a blue-leaning county government that emphasizes public services, there are still wide gaps between richer and poorer communities.
For instance, he sees big differences in graduation rates and post-high school employment between the students in Norristown's schools — where students of color are the majority — and the mostly white students at nearby districts like Lower Merion.
"Montgomery is a very rich county," he said. "But Norristown and Pottstown represent the places where…the poverty rate is very high, and the resources in the school districts are completely different than the other school districts in the county."
The solution, as he sees it, is representation — not just in voting booths, but in municipal government, on the county's board of commissioners, in the state House and Senate and in Congress.
"I am one of the few Latinos, or perhaps the only Latino, who participates in a county commission," he said, "When you have lack of representation, the agenda that is set will benefit the groups that are represented there. Many times, I've had to bring that perspective."
Even if voters didn't change, the parties did
Increased diversity alone can't explain Montgomery County's blue shift.
In presidential elections, it has been trending toward Democrats for a while. The last Republican candidate to win the county was George H.W. Bush in 1988. That year was also the last time a Republican won the commonwealth, before Trump's 2016 upset.
But Joe Landis, who lives in Harleysville — which sits just below the red northern stretches of the county — said he didn't feel a distinct change in his area's political dynamics until Trump ran for president.
Harleysville is located mostly within Lower Salford Township, which has stayed fairly white over the past couple of decades. It's not among the bluest areas of the county, but it has still shifted toward Democrats. In 2000, George W. Bush won the township by 1,330 votes. In 2020, Biden won by 406.
"We thought that things were fine now that Obama was president," he said. "But when [Trump] got elected we were like, 'Alright, we've been too lazy.'"
Joe grew up in Montgomery County, and in many ways, his ideological path has been similar to many others who live there.
When he and his wife, Jan Landis — aged 73 and 72, respectively — settled in Harleysville in 1975, after meeting in college, neither was particularly involved in politics. Both are Mennonites, who note that their church, especially back then, didn't encourage participation in politics.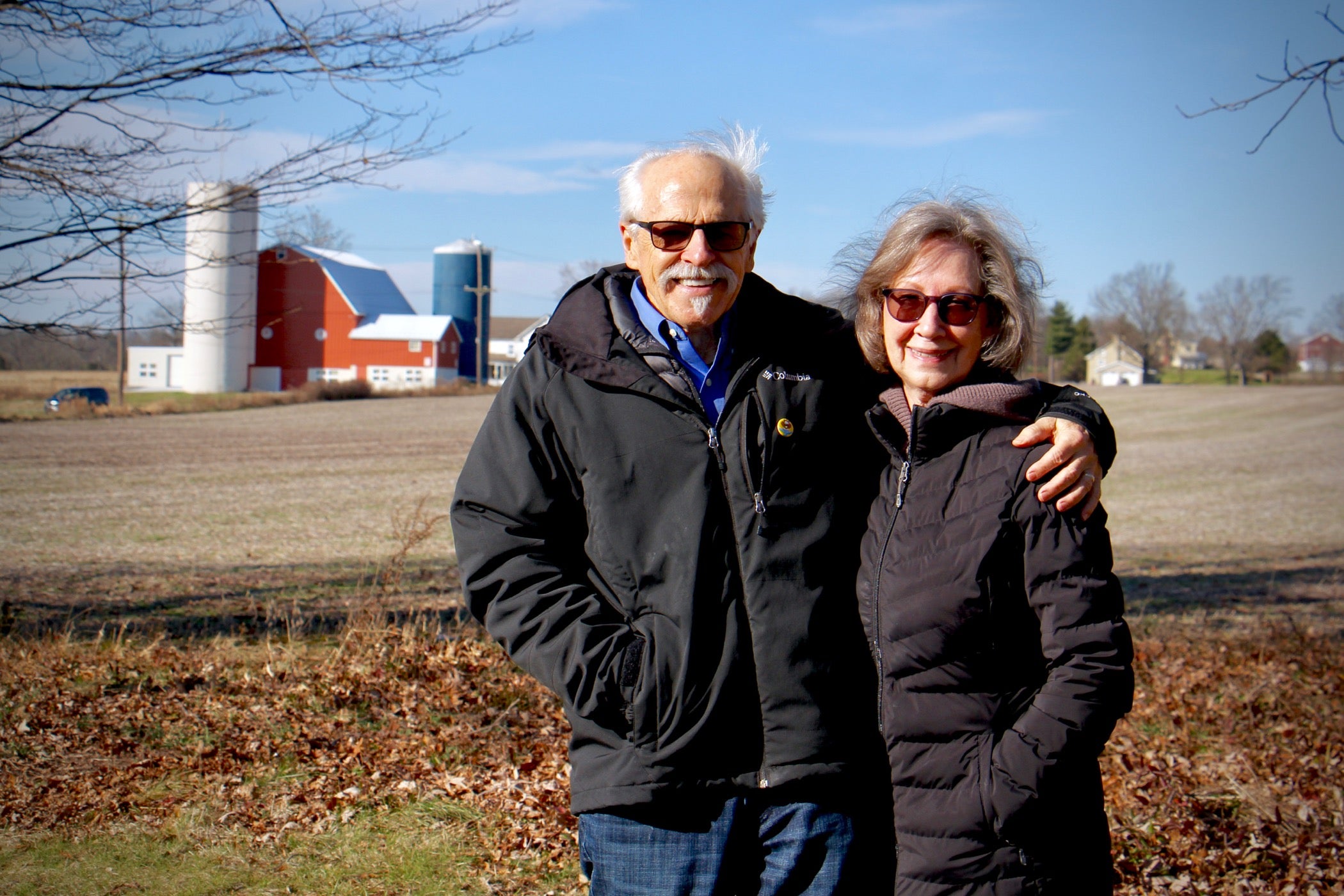 The couple always considered themselves to be fairly liberal. Joe, for instance, staunchly opposed and protested the Vietnam War. But he was registered as an independent for a while and tended not to see huge differences between Democrats and Republicans, particularly when it came to his job. He founded Peaceful Living, a nonprofit with day programs and residential homes for people with intellectual disabilities, and often had to work with local officials.
"It was a lot of Republicans in power," he said. "It didn't bother me what their politics were."
That changed after November 2016.
Joe, Jan and several other mostly Mennonite couples began organizing regular meetings to talk about politics and pressure their local officials about issues they cared about — like environmental protection and affordable health care. They formalized their group under the banner of Indivisible, a network of grassroots organizations that sprang up in 2016 in an effort to push back against Trump.
They called their chapter Indivisible Hope.
"We've grown up with all kinds of privilege," Jan said. "Our church teaches that Jesus says we're to take care of the poor and do things for others, not just think of ourselves."
Groen, Montgomery County's Democratic Party chair from 1994 to 2015, also thinks Trump's election galvanized moderate voters to become Democrats — or at least, to become anti-Republican.
But in his view, the longer-term blue shift in the county has less to do with changes in voters' political beliefs and more to do with changes to the political parties themselves.
As the Tea Party came to prominence in the GOP, Groen saw an uptick in the numbers of voters Democrats could peel off in formerly GOP-controlled areas. That's still going on today. But in his opinion, the trend can only continue if the party keeps moderates in the fold.
Groen became the chair of the state Democratic Party in 2015 and resigned three years later amid accusations that he'd ignored sexual harassment allegations in the party.
It's a period he associates with Democrats' leftward shift — something he thinks won't be good for its prospects in places like Montgomery. His view of what the party should be, and how it can consolidate power, is much the same now as it was in his long tenure as county chair: whoever dominates the middle of the road wins the county.
He sees Biden — a candidate who ran to center in the Democratic primary and beat Trump with lots of help from Montco voters — as a case in point.
"We had a brand of the Democratic Party where we were not extreme, where we were moderate," he said. "I'll tell you straight out, if we stop doing that, we'll lose our voters."
That's still an active debate among Democrats in the county.
Hadrick, for instance, thinks there's broad support for certain measures that could be considered "extreme," especially when it comes to boosting funding for schools and people in poverty.
"Some people would call it radical," he said. "But it's just people standing up for what they believe in."
His wife, Perly Hadrick, who is Colombian and also works as a school counselor, chimed in.
"These issues don't have a political party affiliation," she said. "People are getting hungry, people are getting tired of looking for jobs, people are getting tired of not being listened to…that's just injustice."
Get more Pennsylvania stories that matter
WHYY is your source for fact-based, in-depth journalism and information. As a nonprofit organization, we rely on financial support from readers like you. Please give today.