Review: A seashore 'Moon Over Buffalo'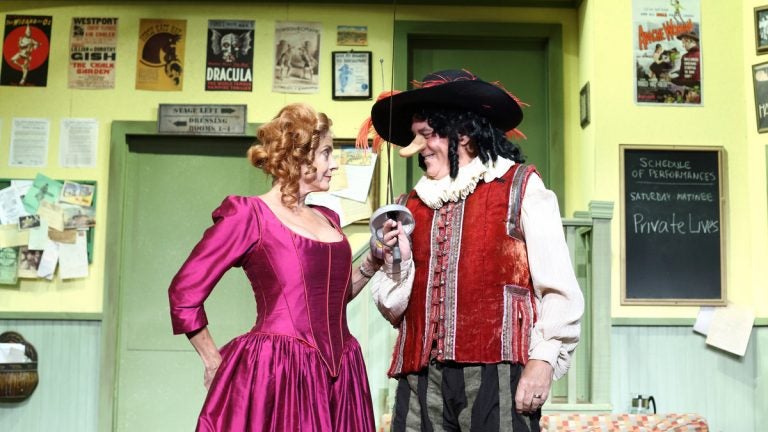 Even as farces go, "Moon Over Buffalo" is dumber than dumb. It's also good fun at Cape May Stage, where producing artistic director Roy B. Steinberg proves that with ideas and the skills to realize them, you can create a production that lifts the bar of a play.
Precision delivery. Well-timed shtik. A cadence that rocks. I smiled through much of this seashore production of the play by Ken Ludwig, who wrote the ubiquitous farce "Lend Me a Tenor" and the musical "Crazy for You" before he brought "Moon Over Buffalo" to Broadway in 1995. (The show is notable for Carol Burnett's Broadway return after an absence of about three decades.)
"Moon over Buffalo" has some of the same plot elements as "Lend Me a Tenor" – enough to make it seem as though "Moon," which lasted about nine months on Broadway, may be a little like yesterday's leftovers. Both are about show business. Each has a performer as the lead character, overcome by alcohol.
But while "Tenor" has as sophisticated a plot as you're likely to get in a farce – indeed, in a comedy of any sort – "Moon over Buffalo" never much gets past people opening doors in rapid succession and shouting each other's names. It's about a husband and wife team (played by Cyrus Newitt and Marianne Tatum) and their troupe of actors in 1953, the last gasp for nomadic stage companies that pull into town with a selection of classics, rotated nightly. In this case, the town is Buffalo and the plays are "Cyrano de Bergerac" and Noel Coward's "Private Lives." The town everyone gets straight, the plays not so much.
Newitt and Tatum gamely play has-beens whose lives could change if Frank Capra comes (as promised) to Buffalo to see them perform, then signs them to a Hollywood contract. They fit one another like proverbial old shoes, right down to the last quirk. Can this couple, each living on the far borders of their egos, make it to A-list movies?
Suzan Perry almost steals the show as the wife's blunt mother. Ginna Hoben (as the daughter who grew up in the theater and now hates it), Joseph Robinson (her old flame), B. Brian Argotsinger (her new fiancé) and others round out the solid cast, playing to the beat set by Newitt and Tatum.
Michele Sinacore's costumes are pleasant – especially the ones that fit the cast out in either of the two plays they're supposed to be performing in Buffalo. Shawn Fisher's set, mostly the backstage of a theater, leaves plenty of room for romping through plenty of doors that open and close all evening.
"Moon Over Buffalo" runs through August 1 at Cape May Stage, 405 Lafayette St., Cape May, N.J. 609-770-8311 or www.capemaystage.org.
WHYY is your source for fact-based, in-depth journalism and information. As a nonprofit organization, we rely on financial support from readers like you. Please give today.