Three historic Baptist churches headed for historic designation
Three churches built by historic Baptist congregations were recommended for nomination to the Philadelphia Register of Historic Places last week by the Designation Committee of the Philadelphia Historical Commission. The churches are in Spruce Hill, Graduate Hospital, and East Kensington – all areas where development pressure continues to mount and preservationists are attempting to respond by nominating individual buildings to the local register. Architectural historian Oscar Beisert served as Sherpa for these nominations, prepared in collaboration with other volunteers and community groups.
Union Baptist Church, founded in 1832, is one of the city's oldest African American Baptist congregations and its members built a succession of churches as their houses of worship, an "extraordinary" heritage among Philly's African American congregations, noted committee chairwoman Emily Cooperman. The third, at 1910 Fitzwater, is a Gothic stone building dating from 1915 and is the only one of Union's buildings that remains standing. The second, which stood at 12th and Bainbridge, was demolished last year. Famed contralto Marian Anderson was a member and "just a little girl in the choir," said Loretta Lewis, a lifetime member of the church. Lewis and church trustee Theresa Pearsall voiced support at Wednesday's hearing for the designation, advanced by The Keeping Society of Philadelphia.
Paul Steinke, director of the Preservation Alliance for Greater Philadelphia, said the neighborhood "has been ground zero for the teardown epidemic in this city" and called designations like this one a "line in the sand."
So many churches in the neighborhood have been torn down and turned into housing, Pearsall said, "we would not want to see that happen to our building ever."
The Marian Anderson Residence Museum is just around the corner from Union Baptist Church, where she began her singing career

The Marian Anderson Residence Museum is just around the corner from Union Baptist Church, where she performed as a child
Committee members found the building, without question, worthy of preservation and welcomed the nomination.
It is an "articulate visual monument of the community," said committee member Jeff Cohen. The committee unanimously recommended it for designation by the Historical Commission.
Monumental Baptist Church, at 41st and Ludlow in Spruce Hill, is one of the oldest and most important sites of worship related to Philadelphia's African American history. This area is the location of an early free black settlement, and the property has long been a site of worship.
According to the nomination, Monumental Baptist Church has gone by three names: the African Baptist Church of Blockley Township (1826-1848), Oak Street Baptist Church (1848-1884), and Monumental Baptist Church from 1884 to present. The current building dates from an 1884 design by David Gendell, repaired after a fire, and a section built in 1914.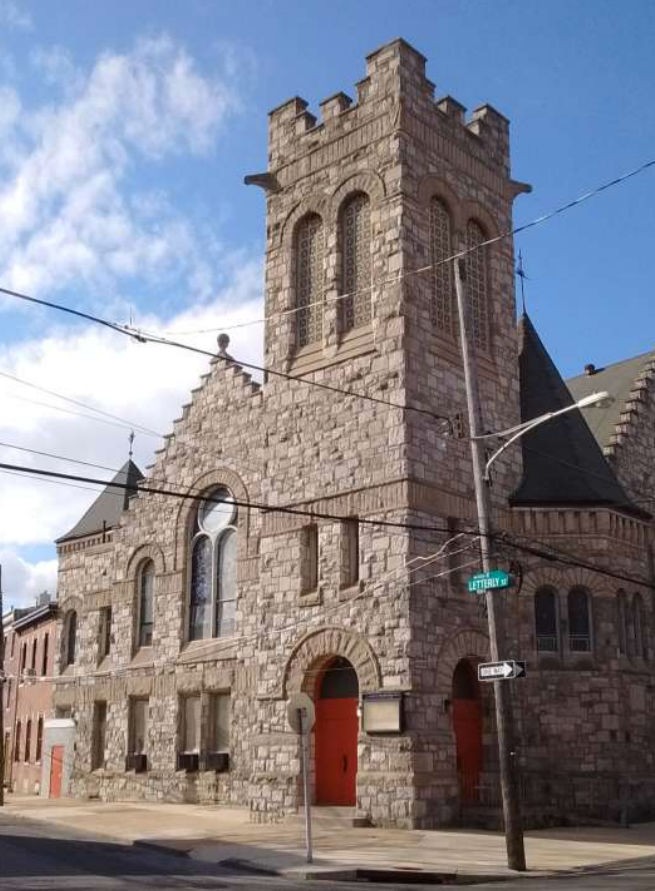 St. James Pentecostal Church purchased the building from Monumental Baptist Church more than five decades ago when that congregation moved to another location nearby. Now St. James is ready to sell the building and move on too.
Desay Downing, a St. James trustee, said the congregation opposed designation though they know the history and appreciate it. But his congregation intends to sell, in part motivated by the scale and scope of investment the aging building now requires. Instead, Downing said, St. James is seeking something more modern and larger.
Here too, Steinke raised the alarm, saying that development pressure is "mounting" in the neighborhood and that this building should be considered "threatened."
The University City Historical Society worked with Beisert to complete the nomination, which the committee also supported.
Since the 1860s the Frankford Avenue Baptist Church has stood at the corner of Frankford and Letterly, and served as a house of worship until recently. In the late 1880s, ecclesiastical architect Isaac Pursell remodeled the earlier church complex as an eclectic architectural expression in stone.
The building was sold in April, according to city records, and its future is uncertain. The property is located in ever-changing East Kensington and is currently being marketed as a rental. The current property owner, Frankford Avenue Holdings, did not participate in designation committee's hearing. Committee members were unanimous in supporting the nomination, which was prepared by Kensington & Olde Richmond Heritage LLC and the preservation committee of East Kensington Neighbors Association.
WHYY is your source for fact-based, in-depth journalism and information. As a nonprofit organization, we rely on financial support from readers like you. Please give today.