The hostages at Trump TV: 'We have lost respect for our jobs'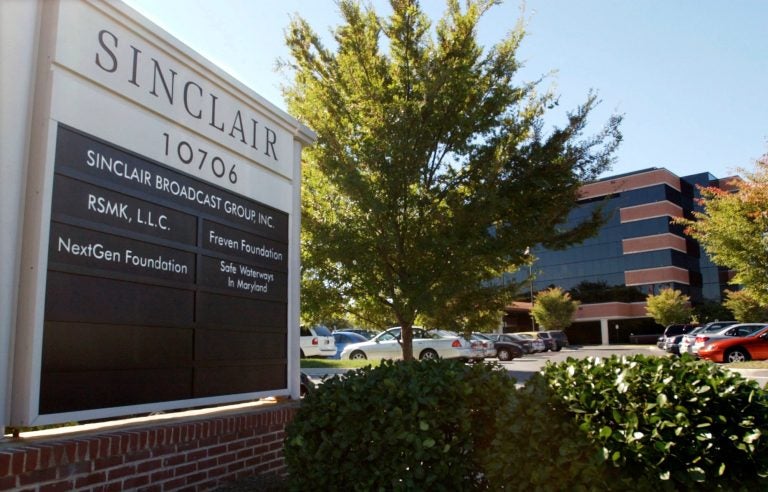 It reads like a hostage letter penned in a basement cell and smuggled to the public via carrier pigeon.
"We are journalists at one of the (193) local television stations owned by Sinclair Broadcast Group," it says. "A station we've cared about for many years has been stripped of its credibility" — thanks to what happened late last month, when anchors at the station, and at others in the Sinclair empire, were ordered to morph into mindless puppets and read authoritarian agitprop. As I detailed earlier this week, the Trumpian message assailing the mainstream media's "fake news" was crafted by Sinclair's corporate overlords, who decreed that it shall be read on the air without edits, word for word.
And thus we took another step down the slippery slope toward de facto Trump TV, with Sinclair poised to add 42 more stations to its portfolio pending approval from the Trump-rigged FCC. But there was an upside this week, such as it was. Various past and present Sinclair employees began to speak out, warning us about the broadcast group's lockstep propaganda. As the aforementioned hostages write in their Vox article, "It feels like Sinclair management is turning up the heat on pro-Trump content, and we, the journalists at this station, are the frogs in the pot."
Cliff Schecter, an ex-Sinclair worker and current freelance journalist, pointed out that Sinclair has been building its right-wing fake-news brand for a long time. During his brief stint as a Sinclair political analyst in 2004, two of his colleagues "told me how a company executive sent them to Iraq with 'instructions' to cover 'positive' narratives of the war. When each of them returned with more accurate, nuanced stories of bloodshed, chaos, civilian lives lost and casualties among United States troops, most of these accounts were placed on the back burner, never to be seen again."
Schecter said that in the wake of Sinclair's growing threat, "we must all rededicate ourselves to democracy. Allowing our media to become the province of a few ideological extremists bent on ownership of our airwaves is not just bad for the republic. It could be its end." He was joined this week by Justin Simmons, a Sinclair employee in Nebraska who quit his station job because he doesn't believe in "forcing local news anchors to lie to their viewers."
Simmons, at least, felt comfortable using his name. That's because he wasn't under contract. The Sinclair hostages who authored the Vox article insisted on anonymity because "if we spoke out under our names, we could lose our jobs — and potentially owe money to Sinclair." That's because they're under contract. At Sinclair, it's financially risky to quit or be fired. As the anonymous employees explain, "The payment for breaking a contract is a payment to Sinclair of part of the employee's annual salary … That's money most employees simply don't have. Faced with the choice between possible unemployment and staring into a camera to read this script, many chose to swallow and read it."
A few local anchors have tried to defend themselves. When Delaine Mathieu, a co-anchor at WOAI in San Antonio, Texas, was attacked on Facebook by viewers who said she should've quit in protest, she fired back: "Yeah, shame on us for wanting to keep our jobs so that we could continue to support our families." She also pleaded for sympathy: "Trust me, this was awful … We had several closed-door meetings and even had to re-record our version because we looked so mortified in the first cut. But we gathered our composure and did our job knowing this [backlash] would happen … It sucks."
Sinclair staffers have seen what can happen when someone bails on the company. James Beaton, an ex-reporter at a Sinclair station in Florida who has since left the broadcast business, was sued last fall by Sinclair for breach of contract — and $5,700 in damages (a pittance, which proves that Sinclair litigates as a warning to others). The company also wanted Beaton to sign a gag order barring him from talking about his tenure. He refused. He has stories to tell — like how he was ordered to conduct biased "man on the street" interviews. He recalls: "I'd ask loaded questions like, 'How much do you disagree with Obama this year?' It was disguised as real journalism. But I'm a Republican, and I was still pissed by it."
Who knows, maybe this backlash will raise public awareness and slow Sinclair's momentum. But its top people don't seem deterred. Boris Epshteyn, Sinclair's in-house Russian-born Trump toady, spent this week cranking out commentaries defending corporate management; local stations duly ran Epshteyn's spots, as required by corporate management. The anonymous Sinclair staffers lament, "Right now, it looks like they're just going to charge ahead, cry 'fake news,' and hope this [backlash] goes away. We wonder who they got that from."
As if anyone is wondering. A few days ago, the beneficiary of Trump TV took a break from his immigrant-bashing and tendered his endorsement on Twitter: "Sinclair is superior to CNN and even more Fake NBC, which is a total joke."
The anonymous staffers read that tweet and called it "the death knell," because they know that Trump taints whatever he touches. They ask, "[Did] Trump's seal of approval put us in the same camp as Infowars and Fox News?" But they already know the answer. The real question is whether Sinclair will be vigorously checked and balanced, not just by those of us who cherish democracy, but by its hostages within.