New from Trump TV: Sinclair's robotic propagandists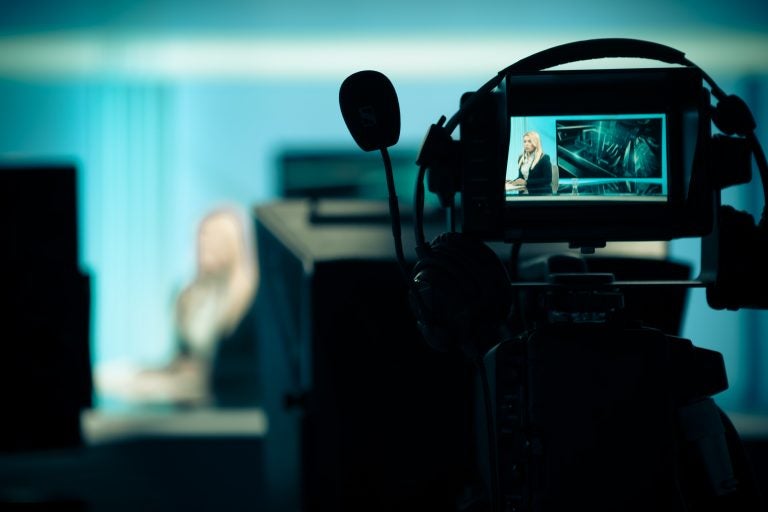 Local TV's talking heads have long been ridiculed for their coiffed hair and vaporous chitchat. But until now, they were never ordered by their broadcast overlords to recite authoritarian agitprop on the air – and for that they truly deserve our sympathy.
As one anchor recently lamented, "I felt like a POW recording a message." That's the deal when you work for a station owned by the Sinclair Broadcast Group, a media company that owns 173 outlets nationwide and may soon buy 42 more, including WPHL 17 in Philadelphia. As a font of pro-Trump propaganda, Sinclair is arguably worse than Fox News. At corporate headquarters, people with ties to Russia (I kid you not) are writing Trump promotional pieces – and all across the land, Sinclair's talking heads are forced to read the pieces word for word. As the corporate instructions intone, "Please produce the attached scripts exactly as they are written."
Welcome to the newest iteration of Trump TV, courtesy of the nation's largest owner of local TV stations. Remember when Americans used to say that authoritarian propaganda could never happen here? Well, guess what. It's happening here.
It's been happening for a while, albeit slowly. Very slowly. Way back in 2002, executive chairman David Smith lauded Fox News for having "demonstrated that people want a different level of truth." Two years later, Sinclair sought "a different level of truth" by ginning up a documentary – intended for broadcast on 62 Sinclair stations on presidential election eve – that attacked Democratic candidate John Kerry, painting the Vietnam vet as a fake war hero. Smith's plan was partly foiled by a consumer boycott of Sinclair's advertisers, forcing him to run a truncated version of the attack.
But starting in 2017, and continuing three times a week, Sinclair "political correspondent" Boris Epshteyn, a Russian-born Trump toady, has been cranking out video commentaries – and the company's local station managers have been required to weave them into their locally produced news shows. Epshteyn's pieces, known as "must-runs," have graced TV screens in Sinclair's far-flung markets, large and small, from Pittsburgh and Washington D.C. to Harrisburg, Pennsylvania and Little Rock, Arkansas.
Another piece last month, featuring former Trump adviser Sebastian Gorka (known for his ties to anti-Semitic groups in his native Hungary), recited the right-wing conspiracy theory that Trump is being victimized by a so-called "deep state." That segment was produced by "national correspondent" Kristine Frazao, a former anchor at RT – better known as Russia Today, the Kremlin's prime propaganda outlet. The local Sinclair station managers resent these "must-runs," they don't like being treated as vessels for top-down propaganda, but, on the other hand, they fear losing their jobs.
But the worst episode last month – so bad that Sinclair talking heads leaked it to the press – occurred when they were forced en masse to read a corporate HQ message that echoed Trump's toxic rhetoric about "fake news." (Deadspin has assembled a video collage.) The message was brilliantly Orwellian.
The talking heads boasted about Sinclair's "quality balanced journalism" and lamented "the troubling trend of irresponsible, one-sided news stories plaguing out country…More alarming, national media outlets are publishing these same fake stories without checking facts first. Unfortunately, some members of the national media are using their platforms to push their own personal bias and agenda to control 'exactly what people think.' This is extremely dangerous to our democracy."
Corporate HQ didn't specify any "fake stories," of course; its simple aim was to talk in Trump code. One unhappy local anchor, speaking anonymously to the press, said this weekend: "I feel bad because (local viewers) are seeing these (anchors) they've trusted for decades tell them things they know are essentially propaganda…(The anchors) have all this experience in news, and now they're being degraded like this."
You may ask: Aren't Sinclair's overlords (who are banknrolled by rich Republican donors) concerned that their Trump propaganda will turn off a lot of local viewers, especially in predominantly blue markets? Isn't their pro-Trump 'tude potentially bad for business? Well, not necessarily. At Emory University, a new study concludes that even though Sinclair in some markets will suffer "a ratings penalty," its top-down propaganda strategy will probably boost Sinclair's profits – because "ideologically-unified content produced in a single studio" results in "cost efficiencies."
And speaking of business, Sinclair is awaiting federal permission on its intended purchase of 42 more stations from the Tribune Media Co. If the Sinclair-friendly Federal Communications Commission gives the OK, it will expand its reach to roughly 70 percent of American households. (I call the FCC "Sinclair-friendly," because its Trump-appointed chairman has already eased an anti-monopoly rule that would've made such a deal impossible.)
Fortunately, we viewers are less captive than the benighted Sinclair employees. The analysts at Emory University warn that Sinclair's tactics are "civically corrosive"; that being true, we can choose not to watch Sinclair stations or to patronize Sinclair advertisers. We can protest to the FCC that a deal to expand Sinclair is "an unprecedented concentration of power in the hands of one broadcaster" (to quote a filing from the conservative outlet Newsmax). Most importantly, we as citizens can prioritize accountability journalism over lapdog propaganda. It's up to us.