Tesla says it has turned over documents to feds
Tesla has turned over documents to the DOJ after statements by CEO Elon Musk about taking the company private.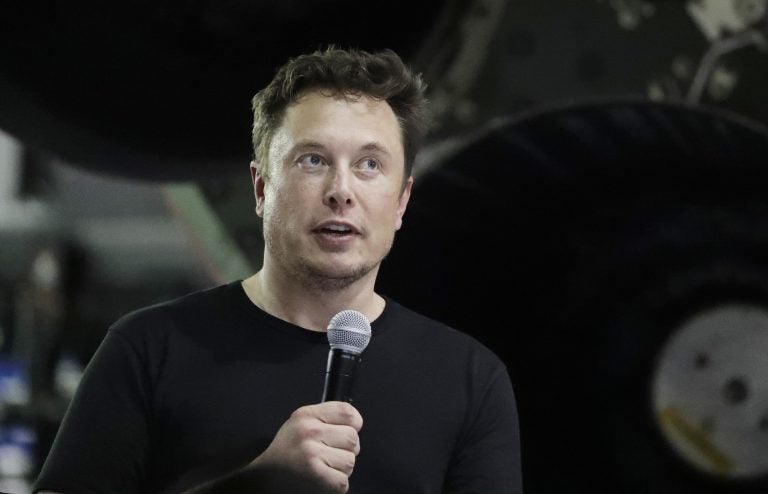 Tesla Inc. has turned over documents to the U.S. Justice Department after statements by CEO Elon Musk about taking the company private, the electric car maker confirmed Tuesday.
The Palo Alto, California, company cooperated with the request and believes the matter should be resolved quickly once federal prosecutors review information they have received, according to a company statement.
News of a potential criminal investigation pushed Tesla stock down 5 percent in morning trading Tuesday, but the decline subsided a bit by early afternoon to 3.4 percent, at $284.89.
"We have not received a subpoena, a request for testimony, or any other formal process," Tesla's statement said.
Bloomberg News reported Tuesday morning that the Justice Department is running a criminal probe parallel to an investigation by the Securities and Exchange Commission. The news service cited two people familiar with the matter that it did not identify.
The Justice Department generally does not confirm or deny investigations, spokeswoman Nicole Navas Oxman in Washington said. The U.S. Attorney's Office in San Francisco took the same stance.
Tesla said it was contacted by prosecutors after Musk tweeted last month while driving to the airport that funding was secured to take the company private. The announcement raised the stock price 11 percent in one day, but it has since fallen.
Later the company admitted that funding wasn't lined up and eventually Musk abandoned the idea.
Short-sellers, who bet against the stock appreciating, complained that Musk's announcement was done to manipulate the stock price and cost them money.
Stephen Crimmins, a former deputy chief of litigation for the SEC, said prosecutors probably are looking at Musk's tweets to be cautious. "It automatically becomes so high profile that the government enforcers have to be particularly conscientious in taking a look at things," he said.
Crimmins said Musk "speaks loosely," but his conduct probably doesn't rise to the criminal level. Prosecutors would have to prove Musk lied in order to move the stock price, which would be difficult, Crimmins said. Any loss to short-sellers would be for a short period and wouldn't be worth the risk of Musk intentionally manipulating the stock price, Crimmins said.
The SEC likely would pursue a civil remedy that would include a provision that someone at Tesla review Musk's tweets on corporate matters before they are sent out, he said.
WHYY is your source for fact-based, in-depth journalism and information. As a nonprofit organization, we rely on financial support from readers like you. Please give today.