'I think comedy is legal.' Elon Musk evasive, jokes his way through testimony in Wilmington courtroom
The mogul deflected questions, often joking and giving meandering answers. He insisted he didn't have undue influence over Tesla's board to get a $55 billion pay package.
Elon Musk mused for several minutes Wednesday about an array of techno and metaphysical topics.
The world's richest man reflected on how his Tesla electric car company began with a luxury sports car before embarking on a lower-cost, high-production sedan.
Musk bemoaned how "tragic'' it was that before Tesla achieved success in recent years, other electric car companies had failed and the automotive industry had been reluctant to build non-gasoline vehicles.
He even waxed poetically about his vision of "making life multiplanetary to ensure the long-term survival of consciousness."
But the Tesla CEO — who also heads the SpaceX exploration enterprise and last month paid $44 billion for social media giant Twitter — wasn't giving a lecture at a university, doing an interview with a reporter, or filming a video to share with his millions of followers.
Instead, he was testifying in a Delaware Chancery Court case with tens of billions of dollars at stake.
The topic of the case?
Whether Musk exerted undue influence on the Tesla board in 2018 before receiving a compensation grant now tied to market valuations that is now valued at upwards of $55 billion. The suit was brought by a Tesla shareholder.
Musk's appearance for the second time in 16 months at the Wilmington courthouse was markedly different from his July 2021 visit.
For one, he entered the courtroom through the public doors, rather than a side door that jurors and court personnel use.
The main difference, however, was his demeanor under cross-examination.
In July 2021, Musk waged a nonstop battle with the opposing lawyer, disparaging him as a "bad human being'' and hurling insult after insult under intense questioning. Like this one: "I think you should reconsider your life."
Musk ultimately prevailed in that case, which centered on whether he exerted undue influence on the Tesla board over a different matter: Tesla's $2.6 billion purchase of SolarCity in 2016 while Musk was the solar power company's board chairman.
On Wednesday, wearing a black suit and speaking in soft and lighthearted but sometimes inaudible tones after taking a red-eye flight from California, Musk stuck to his contention that he didn't orchestrate the deal that helped make him the most affluent person on the planet.
His 90-minute cross-examination by the plaintiff's lawyer Gregory Varallo was a courteous session, even though Musk deflected serious questions with one-liners attempting humor.
For example, Varallo brought up Musk's mock crowning of himself as Tesla's "techno-king" and how the executive had described the role as being a "monarch,'' albeit one with "great dance moves."
'I think comedy is legal,'' Musk retorted, drawing a few laughs from the gallery filled with about three dozen lawyers and reporters.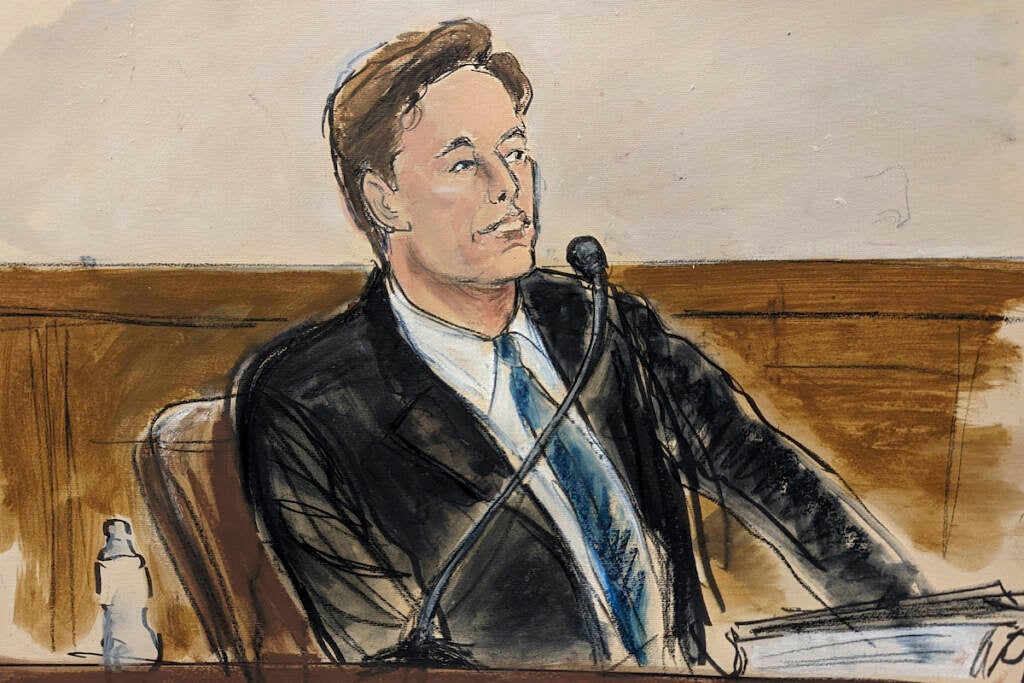 'We could listen all day, but I don't think it was responsive'
Yet Varallo continually forced Musk to answer questions instead of giving meandering off-topic responses, or providing testimony that contradicted previous remarks he made in a deposition or filed by his legal team.
Some queries revolved around Musk's 2006 master plan for Tesla and his investment "to help expedite the move from a mine-and-burn hydrocarbon economy towards a solar electric economy, which I believe to be the primary, but not exclusive, sustainable solution."
"You wrote the master plan all by yourself?'' Varallo inquired.
That's when Musk started rambling about Tesla's first car, cell phone technology development, and more insider talk about the auto industry.
Finally, Varallo interrupted.
"We could listen all day, but I don't think it was responsive to the question,'' he said, looking at Chancellor Kathaleen St. J. McCormick, who is presiding over the case. "I'm on the clock and as much as I like to chat with you, I believe your plane might leave without you.''
Varallo then asked Musk once again if he "personally came up with a vision for Tesla?''
Instead of answering, Musk began speaking about how his graduate studies at Stanford University were "focused on energy storage."
Varallo kept pressing, noting that his question had three possible responses: "'yes' and 'no' and 'I don't know.' Were you the person who came up with the vision for Tesla?"
Musk responded, "Your question is complex. 'Yes' is more accurate than 'no.'"
Undeterred, Varallo played Musk's deposition in the case.
"Who came up with the vision for the company?'' the lawyer had asked during the deposition.
"I did,'' Musk responded.
That point went to Varallo, but of course the case won't hinge on Musk's mission statement.
Varallo was trying to undermine the credibility of the jet-setting workhorse who insists he didn't exert under influence over a board while trying to execute his dream of cars powered without gasoline. The board was filled with friends Musk vacationed with and to whom he suggested several scenarios for the $50 billion package now in dispute.
Musk remained playful, however, even as Varallo reminded him that he and his family went on overseas vacations with Tesla board members who helped make him the wealthiest man alive.
"Vacation is a strong word for me,'' Musk quipped. "For me, it is an email with a view."
Fan who dined with Musk in L.A. 'thought he did amazingly well'
During a break in the proceedings, WHYY News asked Musk how he thought his testimony was going.
"I can't talk about it,'' Musk said as he strode past to confer with his lawyers in a witness room.
Varallo said he was enjoying his exchanges with the billionaire. "It's going well,'' the lawyer said. "I continue to have fun and try cases. It's what I do."
While almost everyone in court was a lawyer or reporter, the gallery did include one admirer of the man who jokingly referred to himself last month as "Chief Twit" as the deal to buy Twitter was closing.
The spectator was Julie Griffith, a Wilmington native who has worked in the modeling and fashion industry in New York and Los Angeles and now lives back in Delaware.
"So I'm a fan,'' Griffith said outside the courthouse after Musk finished testifying. "Since I was right down the street and the trial was here I was happy to see it. I thought that a lot of the public would be here. I expected it to be crowded."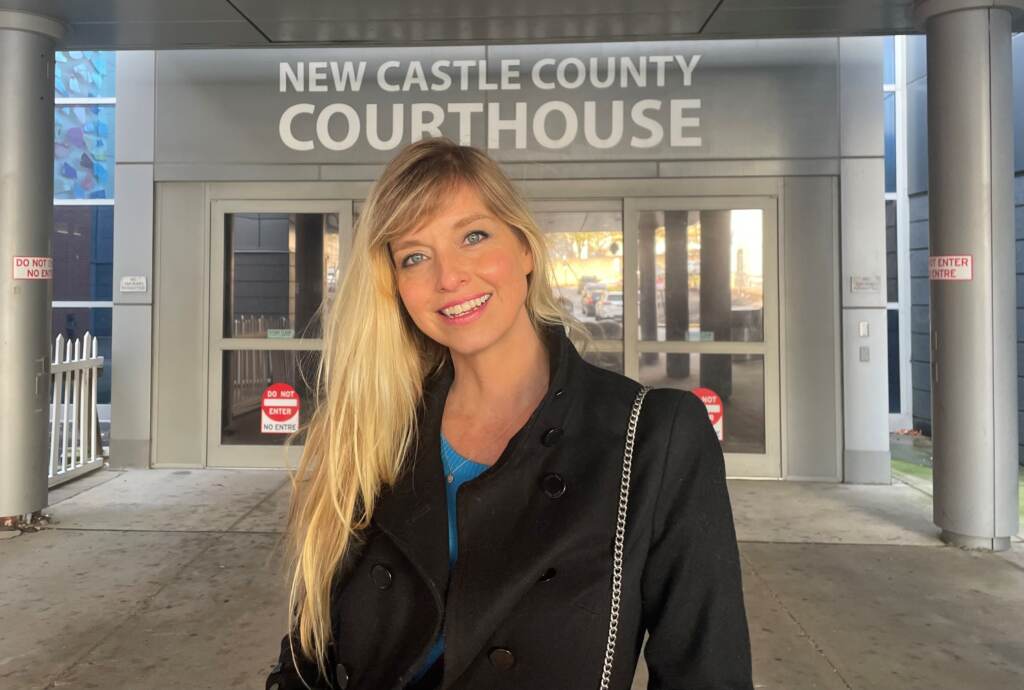 Griffith even recounted a previous pleasant encounter with the tech mogul. Years ago in Los Angeles, when Musk was married to his first wife Justine, Griffith said she was invited by mutual friends to a small dinner party the Musks attended.
"And then later they invited me to a big party at their house,'' Griffith recalled. "He was a very nice guy. He was very funny. Great sense of humor in a very cerebral environment."
She enjoyed his testimony and his comic touches Wednesday too.
"I thought he did amazingly well,'' Griffith said. "I was impressed."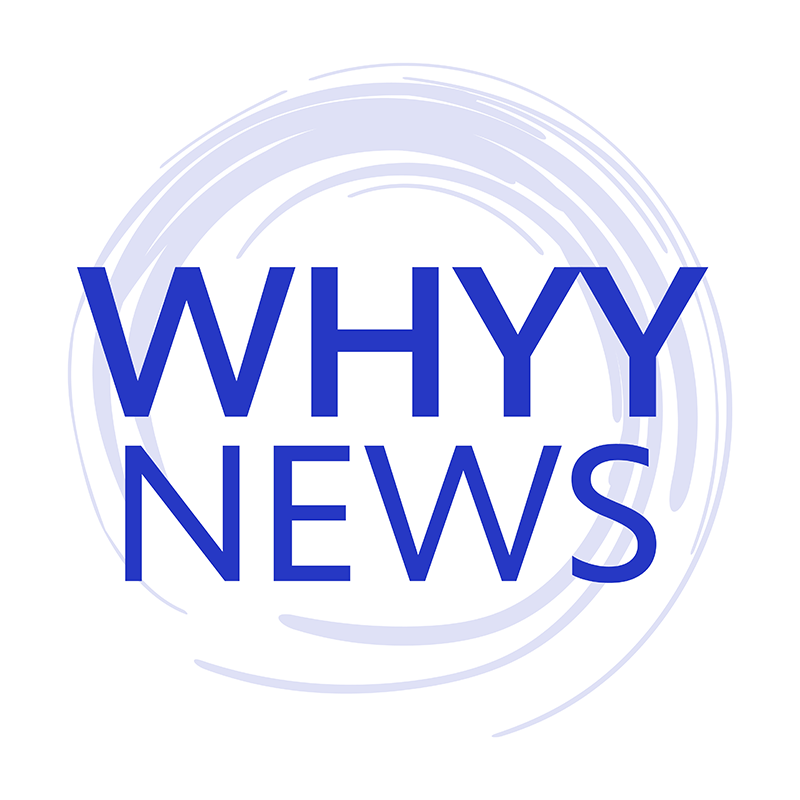 Get daily updates from WHYY News!
WHYY is your source for fact-based, in-depth journalism and information. As a nonprofit organization, we rely on financial support from readers like you. Please give today.