'Temple has to succeed': Where does Temple University go from here?
Following the resignation of Temple University's president and months of controversy, key stakeholders reflect on how the university got here and where it should go next.
For more than a century, Temple University has stood the test of time as Philadelphia's premier public research institution.
Like many colleges and universities, the pandemic has left a massive impact on student enrollment and financial woes.
But, a tumultuous past few months have left many key stakeholders wondering if the university has steered away from its intended mission.
"I love Temple University. I want Temple to succeed. And frankly, Temple has to succeed for the future of North Philadelphia — for the future of this city. This is one of, in my view, the crown jewels of Philadelphia. And it would be unconscionable that this not succeed as an organization," said state Rep. Malcolm Kenyatta, who received his undergraduate degree from Temple.
Kenyatta, who represents North Philadelphia in Harrisburg, said it has been a "tough time" for Temple. He doesn't see most of the issues Temple is grappling with, especially as they relate to the pandemic, as unique.
Former Temple University President Jason Wingard stepped down from his post in late March. His resignation came after mounting criticism over the university's handling of the Temple University Graduate Student Association strike and a period of increased violence around campus.
"All of these things have been really compounded in a way that made any president's job tough. But I also think that former President Wingard was behind the eight-ball in terms of building the types of sustainable relationships that I think would have made him more successful in dealing with these challenges," Kenyatta said.
Temple's decision to cut health care benefits and tuition remission from striking graduate students back in February has left a foul taste in Kenyatta's mouth. Throwing his support behind the union, he called the move "despicable."
On Tuesday, Temple announced that former Provost JoAnne Epps would serve as the university's acting president.
Kenyatta believes the best way forward is more state oversight. He is proposing a bill to increase the number of board of trustee members who are publicly appointed.
"I think that if we're going to talk about the challenges Temple is facing, we have to also talk about [board of trustees] Chairman Mitch Morgan and we have to talk about whether or not we as the state, which gives hundreds of millions of dollars to Temple every single year, whether or not we have a large enough voice in what is happening in this moment and how we can right the ship," Kenyatta said.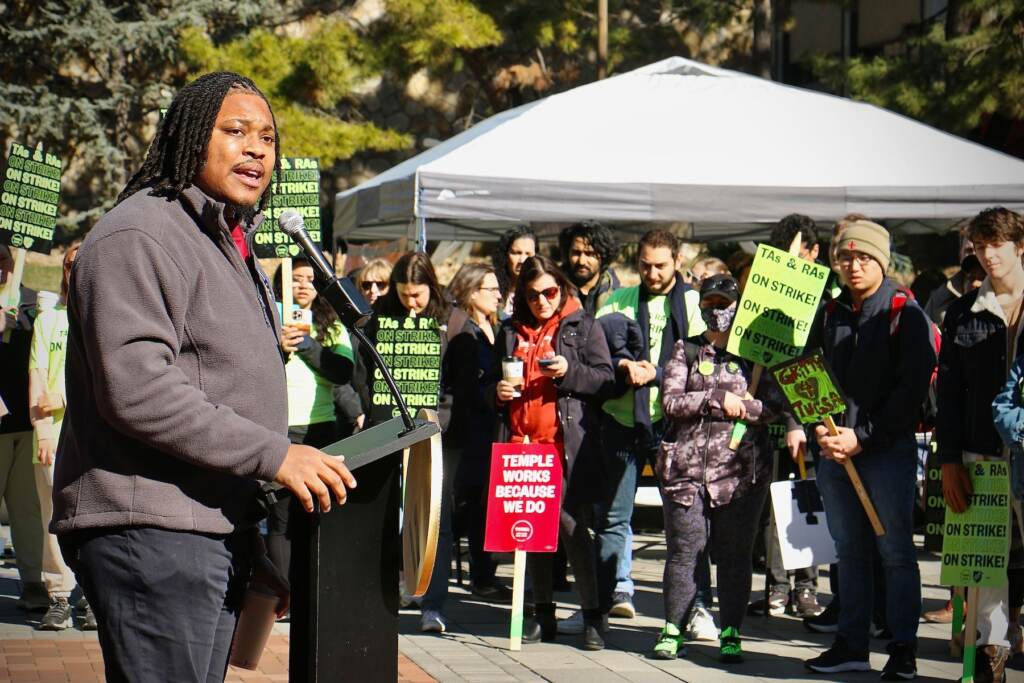 As Kenyatta looks to use the state as a conduit for increased oversight, the Temple Association of University Professionals is exercising accountability measures. TAUP is expected to take a vote of no-confidence in Morgan and Provost Gregory Mandel sometime around April 10. Prior to his resignation, Wingard would have also been included in the vote.
Hammam Aldouri, vice president of organizing for TAUP, said the university is experiencing a watershed moment. He said he had mixed feelings following Wingard's resignation. While he felt Wingard's vision of higher education was incompatible with Temple, he said many of Temple's problems are bigger than just one person.
"I don't feel like Wingard's resignation is actually going to solve the kind of crises that the university is currently facing. Because I think to simply place everything on Wingard is to naively assume that he was the only decision maker in the process," Aldouri said.
He said Wingard never sat down to speak with the union, despite consistent inquiries from TAUP.
Aldouri, who teaches in the Intellectual Heritage program at Temple, said faculty union members have expressed a great deal of concern about the state of the university. The TUGSA strike, however, put faculty on red alert.
He called the university's handling of it a "catastrophic failure" and an example of the university's inability to handle labor issues.
"It wasn't the only issue, but it really threw all of the other issues into sharp relief. And I think it did for a lot of faculty, too, because all of a sudden they were thinking not only how is this administration going to relate to us when we enter our contract negotiation, but how do senior administrators actually approach problems? And so very many faculty felt that they didn't actually approach problems effectively or in good faith," Aldouri said.
From his perspective, there has been a lack of consistent communication that has drained stakeholders of a sense of confidence that certain crises are being handled with care.
Aldouri believes Temple's mission for higher education — "top level, internationally recognized, accessible, affordable education for students" — is still intact.
"I think it doesn't have a leadership team that is fully committed to that vision that already exists. So I'm not sure, right now, the vision needs to be changed. I think it needs to be taken seriously. And I think we need a new approach to how it is that it's taken seriously and who's actually going to be part of fulfilling that mission," Aldouri said.
He said it is the union's stance that the university's big decision-making process needs to be democratized to include faculty, students, and the greater North Philadelphia community.
Kimmika Williams-Witherspoon, an associate professor of urban theater and community engagement, is president of the faculty senate and in that role, she said her biggest focus in recent months was pushing the university to restore health care to striking graduate students.
But as a member of the Temple community, Williams-Witherspoon has been consumed by a feeling of sadness. In addition to her concerns about the state of the university, she feels as though Wingard has been unfairly singled out as a root cause of Temple's problems, especially as they relate to gun violence in North Philadelphia.
"The fact that a group of individuals wanted to single out one individual for violence, for the rise in tuition, for the loss of students, for the social issues that we know have been exacerbated by conditions since 2019 and even beyond that is just rather interesting. And I don't think that you can single anyone out for gun violence," Williams-Witherspoon said.
She said violence has been a problem throughout the country for decades, especially in areas devastated by institutional racism and poverty.
"So if we're really going to talk about who's accountable and who's responsible, then we should probably look at the ways in which capitalism works in this country," Williams-Witherspoon said.
Kenyatta also raised concerns about Wingard's exit as the first Black president of the university.
"I don't think every critique of him is unfair or that every critique of his time as president is racially motivated. But I will say it does also stick out to me that the first African-American president of Temple is out in a year-and-a-half," Kenyatta said.
Dealing with the pressures of being the first, Kenyatta said, are "never easy." Williams-Witherspoon said in the days and weeks leading up to Wingard's resignation, she witnessed positive change regarding public safety already going in motion.
"I think that if we're really going to as a university to address some of these issues, then unemployment, poverty, residential segregation, those kinds of things are going to have to be on the table as well," Williams-Witherspoon said.
In his 22 years at Temple University, Steve Newman said his colleagues' outlook on the university has never been more dire.
Newman, an associate professor of English and a former TAUP president, has had many conversations with fellow faculty members.
"We are seeing people losing their jobs — people who have served this institution well for decades, friends of mine, both part-time and full-time. Now, part of that is an enrollment trough. It cannot be just laid at President Wingard's doorstep. But part of that is the result of decisions that the administration is making about how to spend its money and not sufficiently supporting the schools and colleges who pay the salaries," Newman said.
He doesn't think Wingard should be above criticism. In fact, Newman believes Wingard was a mismatch for Temple's education access mission.
However, Newman also said concerns over the exit of Temple's first Black president need to be taken seriously.
"I think it is a fair question to ask. And it was asked of us, and I raised it myself: why haven't we gone to vote of no confidence for, let's say, President [Neil] Theobald, who made all sorts of terrible mistakes. And so I think that it is a fair question to ask. And I think it's one we really need to be concerned about going forward, not just as a union. And I know we are concerned about it, but as a university community," Newman said.
He said people should remain "self-conscious and thoughtful" about the messages that get sent out around diversity and racial justice in the aftermath of all this.
Newman and Aldouri both said the union has talked about this at length, and will remain careful and intentional in its actions.
Newman — like Kenyatta, Aldouri, and Williams-Witherspoon — is all in on Temple.
He plans to remain there for the rest of his career.
"I don't mean to get sentimental, but I really do love this place, as angry as I get at it. And if we're going to be Philadelphia's public research university, if we're going to embrace that mission, President Wingard's resignation is only a first step toward the changes we need. And I don't know a single faculty member I've talked to who thinks any differently. And the grad students I was talking with before seminar today were of the same mind," Newman said.
Bethany Kosmicki, is the immediate past president of TUGSA and was a member of the negotiations team during the strike.
She said her biggest concern is Temple's administration shifting towards a model of "corporatizing" higher education.
To her, maximizing profits while minimizing expenses in the form of the pay and benefits of educators and student workers is what got Temple into its current state of peril.
"I think it's going to take a lot more than a president resigning. It's going to take more than replacing a couple people in upper administration. It's going to take the leaders of Temple to recognize that they need to invest back in students. They need to invest back in the education and the research that Temple provides. And it needs to take seriously the community concerns of Temple as an institution of public education in the state of Pennsylvania and the city of Philadelphia," Kosmicki said.
As far as the next president, Kosmicki wants to see somebody who has a background in education, not in finance or corporate business.
"And I would hope that Temple would include the faculty union, the graduate student union that I'm part of, the other unions at Temple, there are 11 other unions, and I would hope that they would include us in that decision making process as they look at who's going to represent the people at Temple," Kosmicki said.
Temple declined to comment for this story.
WHYY is your source for fact-based, in-depth journalism and information. As a nonprofit organization, we rely on financial support from readers like you. Please give today.