Teachers seize the moment as parent demand fuels market for private tutors
Tutoring services have exploded across the country in recent weeks, often fueled by anxious parents who have banded together into "pandemic pods."
Listen
4:02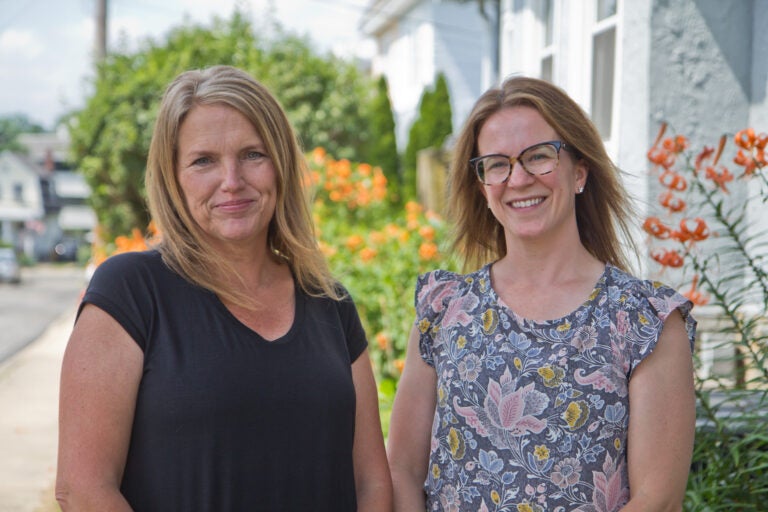 Leigh Ann McCormack and Kim Cipolla have always had a close working relationship. They have both been special education teachers at Gladwyne Elementary School for more than a dozen years, with classrooms right next to each other. They are both also adjunct processors at St. Joseph's University and have dabbled as private tutors.
"From the very beginning we just gelled," said Cipolla, 54. "We were like frick and frack."
This week the duo decided to launch their next professional venture together: a private business called "Beyond the Tutors." The teachers, who will keep their day jobs with the Lower Merion School District, have been batting around the idea for years, but decided to launch now because of unprecedented demand from parents facing the prospect of a largely virtual school year.
"A lot of parents that I have been speaking to are just really concerned that, no matter what the format looks like in the fall, they are able to supplement that," Cipolla said. "We thought: if they are concerned, then that need is spread out. It's not just in our school — it's everywhere."
Requests for long-term tutoring services have exploded on social media across the country in recent weeks, often fueled by anxious middle and upper-class parents who have banded together into "pandemic pods" to create substitute classrooms for the days their children are out of school.
The trend threatens to exacerbate the education gap: low-income students, already less likely to have access to the technology required for remote learning, now face a school year where they could get much less in-person education compared to some students from wealthier families.
But, for some educators, the development of these pods is a golden opportunity in an uncertain time. Tutors can expect flexible hours and likely the opportunity to teach in-person — while exposing themselves to fewer students and making what could be a much better hourly wage.
Beyond the Tutors will pay its tutors $40-125 per hour. On Wednesday afternoon, McCormack and Cipolla had ten interviews with prospective tutors: they plan to hire thirty by the beginning of the school year.
"A lot of the teachers we are getting…are feeling uncomfortable about what the plan is for the fall, and they are also missing that [one-on-one] connection they have with students," Cipolla said.
'It's crazy…but I think it's a great opportunity'
Coral Nuschke had a pretty traditional plan for life post-college graduation: the 22-year-old would get her teaching certificate, and then apply for a job at an elementary school in her native Bucks county. Then the pandemic hit.
"I had a reading exam scheduled [to become certified] but because of COVID and everything they canceled it," said Nuschke, who graduated from East Carolina University this year. "A lot of my college friends who were in the same program as me are struggling to find jobs because a lot of the jobs want those tests to be taken."
With no teaching job lined up, Nuschke's mom helped her craft a Facebook post on some Bucks County forums advertising nannying and tutoring services to ensure she had some income and direction.
Within twenty-four hours, Nuschke said, seven families reached out. She's now in the process of setting up a tutoring schedule that could have her earning more than $800 per week.
"It's crazy. It's nothing I ever expected," she said. "But I think it's a great opportunity for me at this point."
College graduates and teachers taking a year off to pursue graduate degrees make up much of the tutor pool, said Jennifer Shemtob, founder of the Philadelphia area tutoring service, Teacher Time to Go.
The service currently has 80 tutors — 25 of whom have been hired within the last two weeks.
"The demand has grown tremendously," Shemtob said. "I average 75 to 100 new inquiries a day."
Many educators are drawn to the tutoring positions because it could limit their potential exposure to coronavirus. Nationwide, about a quarter of public school teachers are over 50, according to the National Center for Education Statistics.
Beth Ferguson, 60, chose to retire early from her position as a speech therapist at Gladwyne Elementary last year, in part because she was worried about being in a building with lots of students and staff, and didn't feel comfortable teaching virtually.
She said a tutoring position would let her return to the work she loves.
"I love in-person learning, that's why I did it for thirty-seven years," she said. "Going virtual is not something I ever planned on, or wanted to do."
Some teachers with full-time jobs are even planning to trade in those positions for private gigs.
One middle-school teacher who works in Philadelphia said she plans to leave her job to tutor a family in the suburbs. The 29-year-old teacher has Lyme disease, and doesn't think she would be safe in the classroom. WHYY is not using her name because she fears retribution if she ultimately decides to keep her job.
"If we are only opening [restaurants] at 25% capacity…I don't understand why schools — where there will be up to thousands of kids in them at a time, where they will be exercising and eating — why that is safe," she said.
The family who offered her the tutoring position is looking to partner up with a few other families of similar-age children to form a pod. They've offered to pay the teacher a salary comparable to what she makes with the district.
Still, she said her decision was not easy. She cares deeply about equity in education, and worries that walking away from a diverse school to educate only the children of higher-income families will set that cause back. 
"It's definitely a moral dilemma," she said. "But teaching can feel like a thankless job. And I think I've gotten to the point where I need to do what's best for me, and my personal health."
'They really need a teacher'
Posts pop up every few minutes on the Facebook group "Pandemic Pods-Bucks County PA," with parents looking to find other families to form pods and/or to hire private teachers.
One Warminster-area dad advertised paid school holidays and health and dental benefits, along with a salary.
Jill Bronner, 43, has hired private tutors for her 12 and 15-year-old sons this summer. The Lower Merion resident, who is currently a stay at home mom, said her boys' experience with virtual education this spring made her feel like the service is worth continuing.
"They really need a teacher sitting with them and teaching them and holding their attention," Bronner said.
Shannon Connelly, 42, is considering hiring tutors for her seven and 10-year-old boys this fall if the Haverford School District does not allow students to return to the classroom full-time.
"I don't think we were amazing teachers in the spring," said Connelly, who split education duties with her husband in the spring. "My concern is continuing that pattern for another academic year."
Connelly said she doesn't want to jump into an arrangement until her district releases its plan. And she's concerned that many lower-income families can't afford this option.
Still, she said, she doesn't think many parents will ultimately turn down private tutoring for equity concerns.
"Some parents can go into a primal zone when it comes to their kids," Connelly said. "Many people may truly believe in these human and universal values [of diversity and equity], but when it comes to their offspring, I suspect some people may make a very different decision."
Get more Pennsylvania stories that matter
WHYY is your source for fact-based, in-depth journalism and information. As a nonprofit organization, we rely on financial support from readers like you. Please give today.