Stripped down and super: 'Peter and the Starcatcher' from Theatre Horizon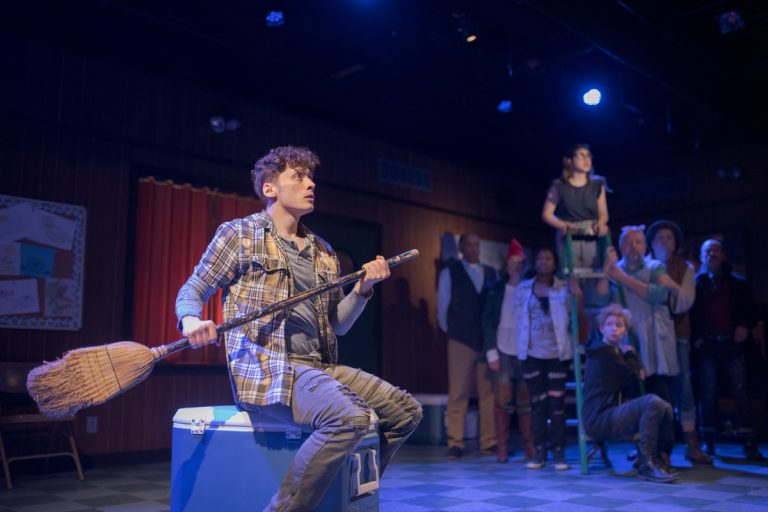 "Peter and the Starcatcher" is a big, sprawling thing — a play with music, and a story that wanders over the sea in two ships and ends up all around an island with lots of different terrain. A storm, fights with weapons, a race across the ocean, a massive shipwreck, mermaids and something magical called "starstuff" are part of the tale.
This play about the way an orphan boy became Peter Pan — a fiction created by Rick Elice (he wrote "Jersey Boys") and Wayne Barker — was a showy production when it opened on Broadway in 2012, and when the Walnut Street Theatre produced it a couple seasons back. Now, at Theatre Horizon in Norristown – a more limited space with a more modest budget — "Peter and the Starcatcher" is up and running again, and proving that smart theater doesn't need bells, whistles, computer-generated sizzle and a bank full of money to make magic.
Matthew Decker, the resident director of Theatre Horizon, has done essentially the same thing he did to "Into the Woods," the Sondheim show that won Theatre Horizon the 2015 Barrymore Award for best musical production: He's stripped "Peter and the Starcatcher" down to its essence with, for example, a crocodile convincingly created by basic roaring (Larry Fowler's sound design) and two freaky red lights (Mike Inwood's lighting)  — and a slew of other homemade ideas.
"Homemade" is the overall concept. Decker has repositioned the show, turning it from a tale that originated at a harbor where two ships are sailing to one that begins in a schoolroom (Christopher Haig's set) where the lights have gone out. No one can study, so the class decides to act out a story — the fantastical tale of how Peter Pan begins as a boy with nothing, not even a name, and ends up as Peter Pan.
What follows is a two-act display of making something big out of many things small. Even flying. When done this well, the show is good fun overlain with puns and rhymes and plenty of silliness. It dashes from crisis to crisis in its storyline, and its script is glib enough to attract adults and frantic enough to attract kids.
Although I was enchanted by this production, I'm not a complete devotee of the show itself. For all it's catchy breathlessness, "Peter and the Starcatcher's" quick first few minutes — delivered here as well as possible — are a turgid setup for the story and difficult to follow. A second-act opening song, the only one that you would call a full musical number, is funny but peripheral to the plot at best. At worst, it contradicts what's about to come. And one of the downside changes Decker makes to the Horizon version leaves the pirate who will become Captain Hook without his hand but also without his hook.
The cast is terrific: Trey Lyford portrays that pirate, Black Stache, with a rock-star mentality and a capricious Marx-brothers style. Leigha Kato is a rich kid with girl power and a magical amulet she wears  — she gloms onto Peter and his badly treated orphan buddies. Peter is the endearing Ben Grinberg, who specializes in physical acting and gives off just the right combination of defiance and vulnerability. Johnny Hobbs Jr. is Lord Aster, the gentleman charged with getting a trunk of valuables over the sea and safely to Queen Victoria.
Two show-stealers are joys to watch: Mel Krodman as the googly pirate Smee and also as a mermaid who didn't take her medication or took too much, and David Bardeen as a coy nanny with a unlikely gift for alliteration. The nanny's being chased by Samantha Rosenstrater, playing a rough but right-hearted shipman.  Kevin Meehan is the leader of a nasty clan and Peter's orphan buddies are Ciera Gardner and Maggie Johnson, each given distinct personalities.
There's a lot of music in the background –piano played by Amanda Morton, and Michael McCoy Reilly on percussion. They each play characters too, and the entire cast takes on multiple roles when sailors or pirates are needed in the background. What's not needed is a lot of big-deal stage razzmatazz to make it all a delight.
—
"Peter and the Starcatcher" runs through May 20 at Theatre Horizon, 401 DeKalb Street in Norristown. 610-283-2230 or theatrehorizon.org.