Street Diplomacy: How Philadelphia's first Complete Streets Director expects to get the job done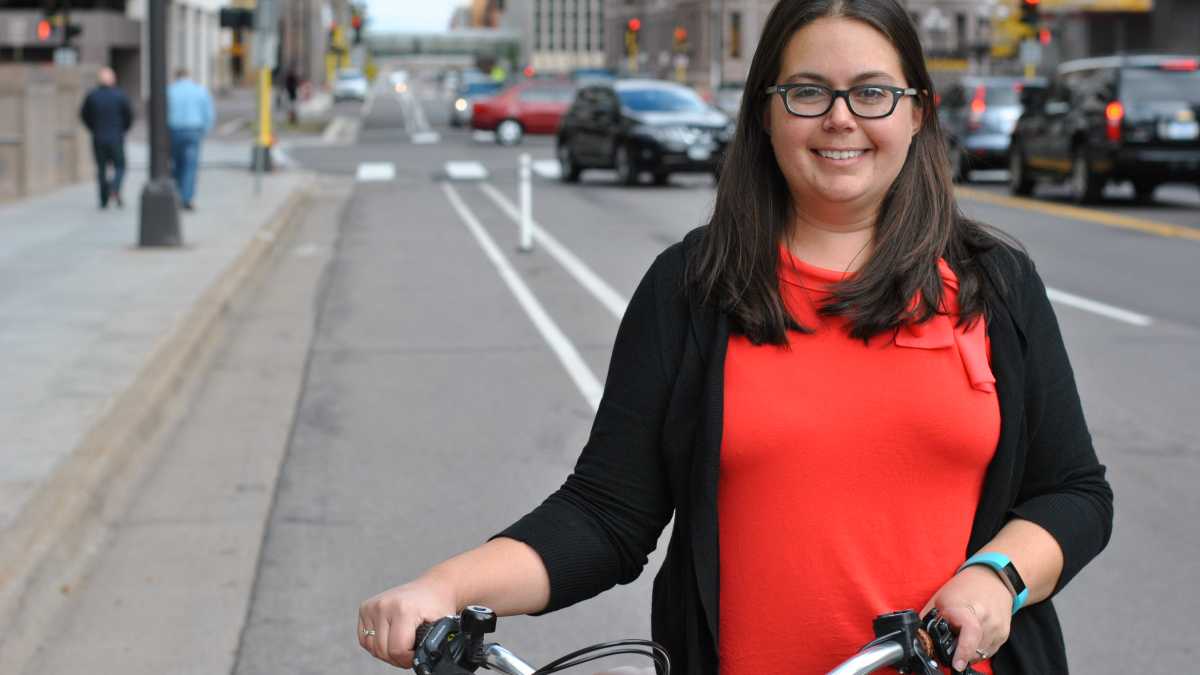 After years and years of talking about Complete Streets—the idea of designing roads for all users, not just cars—Philadelphia has finally hired someone to lead the charge of rethinking our streets.
Or at least lead the conversation.
Kelley Yemen became Philadelphia's first Director of the Office of Complete Streets earlier this month, taking charge of a brand new office of one (Yemen) housed within the Managing Director's Office of Transportation and Infrastructure Systems (OTIS). The hire comes seven years after then-Mayor Michael Nutter issued a Complete Streets executive order, four years after City Council passed a Complete Streets ordinance, and three years after the city published the Complete Streets Handbook.
What can she do to move things along? Talk.
"I think there's a lot we can do, especially community conversation wise," said Yemen. "There's a lot of passion from the advocacy side of things, but when you get into every neighborhood, you're going to have to have that relationship with that neighborhood as far as how we get in a bike lane."
"It's all tradeoffs here," she adds. Philly's roads are narrow and full of parked cars: Adding a bike lane often means removing a travel or parking lane, which as of 2012 requires City Council's approval. Yemen seems to understand already that her power lies in persuasion and relationship building.
It's critical, she says, to "have those conversations and good relationships with both neighborhoods, advocates, and then working within the various [city] departments to move that forward."
"I think that's where [the Office of Complete Streets] can go, developing those relationships."
Yemen comes to Philly after three years in her native Minnesota as the first Bicycle and Pedestrian Coordinator for Hennepin County, which includes Minneapolis. There she oversaw the construction of more than 40 miles of bikeways. Before that, she worked as a project manager for the Office of Bicycle and Pedestrian Programs in New York City's Department of Transportation. Yemen got things done there, and says her focus on relationship building here is no different from what worked in two cities bicycle and pedestrian advocates have held in the highest esteem in recent years.
"I remember working on a project in Brooklyn where we had a store owner who… was really scared about removing parking for a loading zone," recalled Yemen. Loading zones cut down on the number of delivery trucks blocking travel lanes, but usually require the sacrifice of some parking. Yemen said she worked with him to come up with a compromise: delivery-only hours for the spots. It worked, but success didn't come easy. "I think I had like 20 conversations with him," said Yemen.
In earlier interviews—before she started work—Yemen preached the gospel of bike- and pedestrian-friendly urbanism: telling Philadelphia Weekly that "we don't have any more room for cars," and the Inquirer that we need to slow them down.
She hasn't abandoned that faith in the need to rebalance city streets away automobile dependency and towards walking, biking, and mass transit. Far from it: "I want to grow mode share and improve safety—I think they do go hand in hand," she said, clarifying that by "mode share" she meant the percentage of commuters travelling by foot, bike, or mass transit. When asked what the one problem she would fix, Yemen said "parking," especially on some of Philly's narrower streets with parking on both sides that are at least nominally designated for bicycles as well.
"If I had a magic wand and somehow [parking] wasn't problem… one-sided parking on those kind of routes," said Yemen. "You could widen sidewalks, you could do these things without the money issues for the most part—it's paint and bollards—but… I think everybody knows [parking is] the issue, and that's the tough conversation."
But instead of just preaching to the choir about the ills of car ownership, Yemen has embarked on a listening tour since her arrival, learning the lay of the land. Her job is largely evangelical: Convert the skeptics to counter-intuitive ideas, like how less parking and slower speed limits can make life better for everyone—including drivers. "It's the hardest thing," she acknowledged. "You sit down and talk with them, and you're not going to win over everybody, but if you really hear what their concerns are and then hopefully are able to respect what their basic concern is," and not stop listening when it comes off as just a knee-jerk opposition to change, then progress can happen.
Yemen will also oversee a Vision Zero Task Force. Mayor Jim Kenney announced its formation November 7th and tasked it with coming up with a Vision Zero implementation plan in 120 days time. Vision Zero refers to a suite of policy changes aimed at reducing traffic fatalities to zero through increased enforcement, education, and better street design.
At a Vision Zero conference in Philadelphia last December, then Mayor-elect Kenney publicly pledged to "work very arduously and closely with all of the departments involved in bringing Vision Zero to reality, and investing the resources necessary to do that."
The Kenney Administration has faced mounting pressure on Vision Zero from safety advocates. A coalition of nonprofits and advocacy groups created a Vision Zero Alliance to push the City on traffic safety earlier this fall. Since then, the Bicycle Coalition of Greater Philadelphia launched a project to count the number of traffic fatalities in Philadelphia: PHLTrafficVictims.org, which has counted a morbid tally of 66 deaths from car crashes so far this year, 35 of which were pedestrians.
Intersections can be particularly fraught with danger. "If an intersection is failing, the route is failing," said Yemen.
Like its number itself, Vision Zero's impact is circular: improving safety for all street users leads to improved mode share among the cleaner, greener, and less-space intensive transportation means. "If you can't get across the street safely, have to stop every block, those kind of things aren't going to grow mode share," said Yemen.
WHYY is your source for fact-based, in-depth journalism and information. As a nonprofit organization, we rely on financial support from readers like you. Please give today.