Special Report: A surprising mix of bricks, mortar and imagination
On a six-block stretch of Berks Street just east of Temple University, the past, present and future of low-income architecture and urban planning is on display.
It is a mixed picture.
There are the seeming blunders, like the severing of Germantown Avenue to make way for a parking lot. And there are blocks upon blocks of the bland, suburban-style townhomes that have become the default option for so much low-income housing.
But there are also unmistakable signs that a dramatic change in the design of affordable homes and retail space in Philadelphia is well underway.
At Berks and Sheridan, the foundations have been poured for 13 cutting-edge, low-income green homes, complete with geothermal heat pumps and solar panels. They would not look out of place in Dwell magazine.
The Series: Desolate to Dynamic
In the coming months, PlanPhilly will continue publishing a series of reports on the Asociación Puertorriqueños en Marcha and its role in Eastern North Philadelphia's revival.
The upcoming stories will cover the neighborhood's access to city services and in a final report, the experiences of the area's residents.
The writing, video and photography that comprise this series is made possible by a grant from the William Penn Foundation.
Three blocks to the east, snuggled up against the Temple University Regional Rail station, is a parking lot that soon will be demolished and replaced with a mixed-use transit oriented development, a dense, design-forward facility sporting green roofs and generous public plazas.
To the west, at Berks and Third Street, there are a variety of rough plans by SMP Architects for a clustering of garden homes, surrounded by ponds that double as rainwater basins and permeable blacktop to drain away storm-water.
The remarkably eclectic architectural tableau of Eastern North Philadelphia tells a few compelling stories. For one, it is evidence of just how far the neighborhood has come in the past 20 years.
But it is also the city's best example of a growing national trend: low-income housing developers are quickly emerging as leaders in green building techniques and forward-looking architecture.
In recent years, big design firms and famous architects like Helmut Jahn and Michael Maltzan have begun creating innovative buildings with a decidedly modern aesthetic for low to moderate income households in cities like Los Angeles, Chicago, New York, Seattle and even Jackson Hole, Wyoming.
It is perhaps a surprising development, given the cost-constraints of low-income development and the depressing architectural history of affordable housing, from the monolithic public-housing towers of decades past to the omnipresent cookie-cutter twins of today. And then there is the gulf between the wants and needs of low-income families – many of whom are eager to get their piece of the American dream, complete with a driveway and backyard – and the vision of an avant garde architect or density-minded urban developer.
It turns out that non-profit developers are growing more sophisticated, and that their clients are developing a taste for options beyond suburban townhomes. In interviews, Philadelphia CDC leaders and architects alike both predicted the city would soon see more environmentally focused and informatively designed low-income developments, starting with the projects in Eastern North Philadelphia.
"There's no excuse for not doing good design, quality design, and for providing your community with choices," said Rose Gray, chief of development for Asociación Puertorriqueños en Marcha (APM), one of the CDCs most responsible for Eastern North Philadelphia's long recovery.
Given its track record as one of the city's most prolific non-profit developers, APM's evolution offers perhaps the city's clearest example of how low-income architecture and design has become more sophisticated over time.
A video about how APM's approach to design and urban planning is creating a sophisticated housing palette in Eastern North Philadelphia. Story continues below….
At first, expediency over excellence
Twenty years ago, when APM was just getting into the business of community development, it was impossible to imagine that Eastern North Philadelphia would be on the cutting-edge of anything. Devastated by abandonment and the collapse of the city's manufacturing might, the neighborhood was notable mostly for its vast tracts of empty buildings and vacant land, as chronicled by development consultant John Kromer in his extensive survey of the neighborhood released earlier this year.
Even then, though, APM was somewhat design conscious, as evidenced by an early apartment complex – the 90-unit Jardines de Borinquen at 6th and Diamond – which featured terracotta tile roofs, a courtyard and stucco walls, part of a deliberate effort to bring some Latin flair to the neighborhood of brownstones and brick rowhomes.
A view of the Jardines de Boriquen units, located on 6th and Diamond streets, which were APM's first housing construction built in 1994.
But in those early years, architecture and urban design clearly took a backseat to what APM viewed as the more essential job of building homes and commercial space, in whatever style and configuration was most expedient, on the acres of vacant land that the organization had assembled.
The centerpiece commercial development of APM's neighborhood – which stretches roughly from 3rd to 9th Street, and from York to Jefferson Streets – was a shopping plaza along Germantown Avenue, the neighborhood's commercial heart. In decades past, Germantown was crowded with retail outlets, including the Teatro Puerto Rico, which showed Spanish-language films. But by 1989, when APM began the job of trying to lure a grocery store to the neighborhood, Germantown Avenue was a collection of largely abandoned storefronts.
Working with an urban design firm, APM had drawn up a vision for Germantown Avenue that, in Gray's description, resembled Chestnut Hill: a walkable, small-scale retail district that "really makes you feel like you're in a community."
The only problem was no supermarket would so much as consider moving into a small store with limited parking in a badly-blighted neighborhood.
"Big box was all you could get. You could not get a 20,000 or 30,000 square foot supermarket," which would have fit into the Germantown Avenue corridor footprint, Gray said. "The only way we were able to bring a supermarket in was to create the big box effect."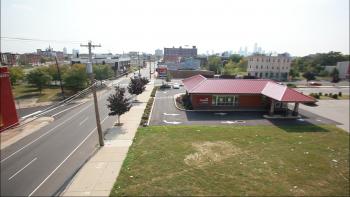 An overhead view of Boriquen Plaza, which cuts into Germantown avenue in the Eastern North Philadelphia neighborhood.
So APM, with the city's blessing, reluctantly cut off the 1800 block of historic Germantown Avenue. That gave the organization enough real estate to build a big enough store, with an ample-enough parking lot, to lure a supermarket into a community that desperately needed better access to fresh food. They called it Borinquen Plaza.
The entire development, with its low-slung cinder-block construction and suburban feel, seems out of sync with the community that surrounds it. And the pedestrian experience of walking along Germantown Avenue has also been badly compromised, a violation of one of the core tenets of new urbanism.
And yet, from the point of view of APM and the neighborhood's residents, the development is a major success. The Cousin's Supermarket in the plaza offers a bounty of cross-cultural produce, and has become something of a citywide destination for hard-to-find ethnic foodstuffs. And last year, a TruMark Financial Credit Union branch set up shop in the plaza, giving residents local access to basic financial services for the first time in decades.
"As an urban designer, you say, 'gee, how could they have compromised the historic line of Germantown Avenue.' You have to look at the other side of the coin, and understand there are people who live there, and they needed that development," said Antonio Fiol-Silva, a principal with Wallace, Roberts & Todd Design, a leading Philadelphia firm that has helped APM develop its strategic plan as well as the transit oriented development by the Temple train station.
"The neighborhood was a different place back then. If that development were happening today, maybe it would take a different turn."
Another signature APM development is the 128-unit Pradera Homes on the blocks west of 6th Street and north and south of Berks. More than any other, this suburban-style project – featuring pitched-roof townhomes complete with driveways, front and backyards and conventional floor plans – is responsible for transforming the look and feel of APM's corner of Eastern North Philadelphia. The Pradera blocks, formerly filled with empty lots and abandoned brick rowhomes, now would easily blend in to the suburban townhome communities of Delaware or Montgomery Counties.
For a lot of architects and urban planners, this sort of low-density development and generic, suburbanized design is anathema. Gray said she had heard from new urbanists who "really hated it."
But again, as in the case of the Borinquen Plaza on Germantown Avenue, the neighborhood's residents are thrilled with the Pradera homes. Consider Javier Rivera, a father of two who works a pair of jobs in order to afford the mortgage on his subsidized five-bedroom Pradera home. Rivera, who grew up in a traditional New York mid-rise apartment building, would have been happy to own almost any home of his own. But the fact that APM was making available affordable, family-friendly suburban style housing was, to him, a dream come true.
"It was the best fit for us. It was a blessing for us to see they were making these traditional single family homes. I saw that as an opportunity for something great," said Rivera, as his wife prepared lunch in the townhome's spacious eat-in kitchen.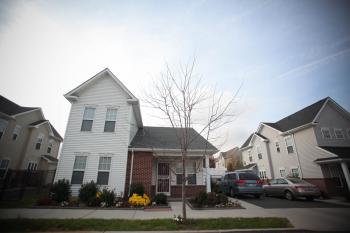 The Pradera homes, APM's signature suburban style developments, are located throughout several blocks of the Eastern North Philadelphia neighborhood.
He pointed to the yard behind his home and said: "I get a chance to plant shrubs and annuals and perennials. We have family outings out there … The kids play with their toys back there, they ride their bikes back there, that was far beyond anything I could have imagined."
Later, as he showed his yard to some guests, Rivera pointed to a fence he'd put up, one of many improvements he has made to the home. Sealing off a patch of land for him and his family, he said, provided "protection and privacy."
One of Rivera's neighbors, James Delvalle, cited similar reasons when asked why he'd purchased a suburban-style home in the middle of the city. He had moved his family down from a rowhome on 9th street north of the APM neighborhood, because, to him, the suburban scenery meant safety and security.
"I didn't want my kids to grow up in a place like that. I wanted them to have a place like this. Peaceful. Quiet," Delvalle said.
Both Delvalle and Rivera said Pradera's amenities – the driveways, and porches, and gardens – were, for them, major attractions. Combined, those features tend to drive down density in ways that irritate urban planners.
"It's a piece of the design discussion that the design community doesn't like to talk about. We like to rant and rave about design this and design that, but these amenities are often a critical part of having a successful redevelopment," said Todd Baylson, an urban planner with the Pennsylvania Horticultural Society, one of APM's key partners.
Public policy played some part in APM's decision to make Pradera a low-density, suburban-style development, Gray said, citing state subsidy guidelines that make funds available to low-income developers who build at low densities in areas, like North Philadelphia, where high density is the norm. The city also favored a lower density development, Gray said, because of the enormous swaths of vacant land in the area served by APM.
But that was not the primary reason APM made Pradera what it is today.
"The community absolutely wanted to see these suburban style houses and have that choice," said Gray, who is adamant that the Pradera village has been "a real success for the community."
Yet Gray agrees that APM's approach to design and urban planning has grown more sophisticated in recent years, a shift she attributed to to the organization's updating of its strategic plan with the help of WRT and 11 other consultants.
"It was not only a plan, it was a learning session. It was the opening of our thinking, of APM and the community saying, 'hey, we can do this even better,'" Gray said.
"That plan is really, what I call going from the dark ages somewhat into the enlightened ages of real sustainable development," she said.
Browse through APM's mix of architectural options in this interactive feature. Story continues below….
Growing ambitions, and more advanced architecture
To Gray's pleasure, the community seems to be embracing the new approach. Before the Sheridan Street homes were built, APM convened a focus group and asked residents if they preferred Pradera or the cutting-edge, overtly-green look of the Sheridan homes. They were roughly split between the two, Gray said, suggesting that the neighborhood would be best served by a mix of styles.
"You may look around and say this is very eclectic. It's not just eclectic. It's what our community wants. Their desires. Their ability to get a suburban style house. Their ability to get a totally green house," she said.
A rendering provided by Interface Studio Architects show the progressive style of the homes planned for the 1800 block of Sheridan Street.
The Sheridan homes, which are slated to open in April, have a long waiting list. And Gray expects demand will be just as strong for the rental units in the mixed-use Transit Oriented Development, which is set to open in 2013 after construction begins late next year.
More than any APM development to date, it is the TOD that has the potential to be a landmark project, one that APM hopes will serve as the region's premier example of transit oriented development while simultaneously connecting Eastern North Philadelphia to Temple University. Though they are next-door neighbors, the bustle of Temple feels very distant from the blocks of Eastern North Philadelphia, due in large part to the imposing railroad viaduct separating the two.
WRT's plan for the site – which is being jointly developed by APM and the New York-based Jonathan Rose Companies – includes transit friendly features like ample bike parking and car-sharing pods, green-roofs and environmentally sustainable building materials and public plazas. There is ground floor retail, office space on the second floor, and low-to-moderate income rental housing on the upper floors.
The hope, Fiol-Silva said, is that the development becomes a "real demonstration project, and something that could be catalytic in terms of creating a model that people can really look at."
This is not as unusual as it might seem. Low income developers are serving as models for innovation in architecture and green design across the nation, for a variety of reasons.
One is financing. The economic collapse certainly hasn't made it easier to build low-income housing, but the recession hit market rate developers a lot harder than it did low-income builders.
"It's one of the few areas where the financing mechanisms are still in place," Fiol-Silva said.
A second reason is that low-income housing is no longer confined to low-income ghettos. From the Philadelphia Housing Authority's Martin Luther King Jr. community in South Philadelphia to the South Lake Union section of Seattle, non-profits and public housing agencies are building projects that either blend seamlessly into well-off neighborhoods, or that stand out – in a good way – for their modern aesthetics. Building developments that are as-good-or-better than the private-sector homes that surround them helps ameliorate the NIMBYism that low-income developments so often encounter.
And in cities like Philadelphia, where waiting lists for subsidized housing are long, low-income developers arguably have more room to innovate than market-rate builders.
"In markets where there is a very strong demand for affordable housing, I think that architects don't have to be as conservative as they might be with market rate housing. It frees you up to be a little more experimental in your design. So sometimes affordable housing can in fact be a little more cutting edge," said Paul Freitag, a managing director of development for Jonathan Rose Companies, one of the nation's leading low-income builders.
WRT's Antonio Fiol-Silva explains how the Temple TOD ties into the rest of APM's strategic plan. Story continues below….
Greening over blight
But it is in the field of sustainable development and green building where low-income developments really shine.
This intense focus on energy efficiency makes perfect sense. After all, for low-income households, energy bills are a daunting piece of the monthly budget. Ultra-efficient buildings like APM's Transit Oriented Development – which will reduce average per-unit energy use by an estimated 25 to 30 percent over similar buildings – can make a real difference in the pocketbooks of low-income families. The people with the money – including the feds, but also state and local governments and private lenders – are also demanding that subsidized housing go green.
In some cases, the focus on energy efficiency and sustainability has inspired a much more modern-looking design, as in APM's Sheridan Street Homes.
"The efficiency constraints that come with public money I think freed up architects and their clients a bit. Some of the more high performance sustainable elements: the solar panels and exterior shading devices, these really begin to impact the way the building looks," said Brian Phillips, a principal at Interface Studio Architects, which designed the Sheridan Street homes as well as the Fattah Homes in West Philadelphia.
Some planners and architects, including Freitag, are adamant that there is no real link between cutting-edge design and sustainable building.
"I am such an advocate of green design and green development, that I don't want it to be linked to a specific architectural style," said Freitag. "It can look colonial. It can look southwest. It can look like the space shuttle."
If the APM neighborhood is any indicator, however, low income residents in Philadelphia are open, even eager, to have the chance in to live in cutting edge homes.
A residential "central park" proposal by SMP Architects would cluster homes around a central green space featuring a rainwater basin.
"We have found that many of our residents were aware of green building features, and didn't think they would have access to them, and they were very, very excited to have an opportunity to buy a home with a design similar to what they've seen on magazines and on TV," said Gray, referring to the focus group where residents were asked for their views on both the Pradera and Sheridan Street homes.
This tracks with what WRT architects and planners have found in other cities.
"We've developed or redeveloped neighborhoods in 40 or 50 cities. Seattle, Miami, Newark, Chicago, Birmingham, Mobile, all over. And we've been doing this 20 or 25 years. And in the beginning, everybody wanted to demolish what was there and build suburban housing," said Gil Rosenthal, a WRT principal. "We now find that we can push density higher and higher. We have found almost a societal shift over those past 20 or 25 years from people who were living in really bad neighborhoods who just wanted a taste of the suburbs."
Of course, this trend is hardly limited to low income renters and homeowners. Urban areas like Philadelphia are, after a long interregnum, enjoying a renaissance, not just among the poor, but among the middle-class and well-to-do. And maybe that is the simplest explanation of all: low income home buyers and renters tend to want what everyone else wants. In past years that was most often a slice of suburbia. Today, there is more interest, in all market segments, in cutting edge and distinctly urban styles.
"Low income residents, well they're looking for what all folks are looking for. A nice layout. Access to bathrooms. A good flow of space in their homes. I don't know that just because you're low income you have different desires," said Rick Sauer, executive director of the Philadelphia Association of Community Development Corporations. "I think what's important is that CDC's take steps to adapt to those changing desires and needs."
Contact the reporter at pkerkstra@planphilly.com
WHYY is your source for fact-based, in-depth journalism and information. As a nonprofit organization, we rely on financial support from readers like you. Please give today.