Darrell Clarke: I'll 'entertain' Temple's stadium proposal if and when the community supports it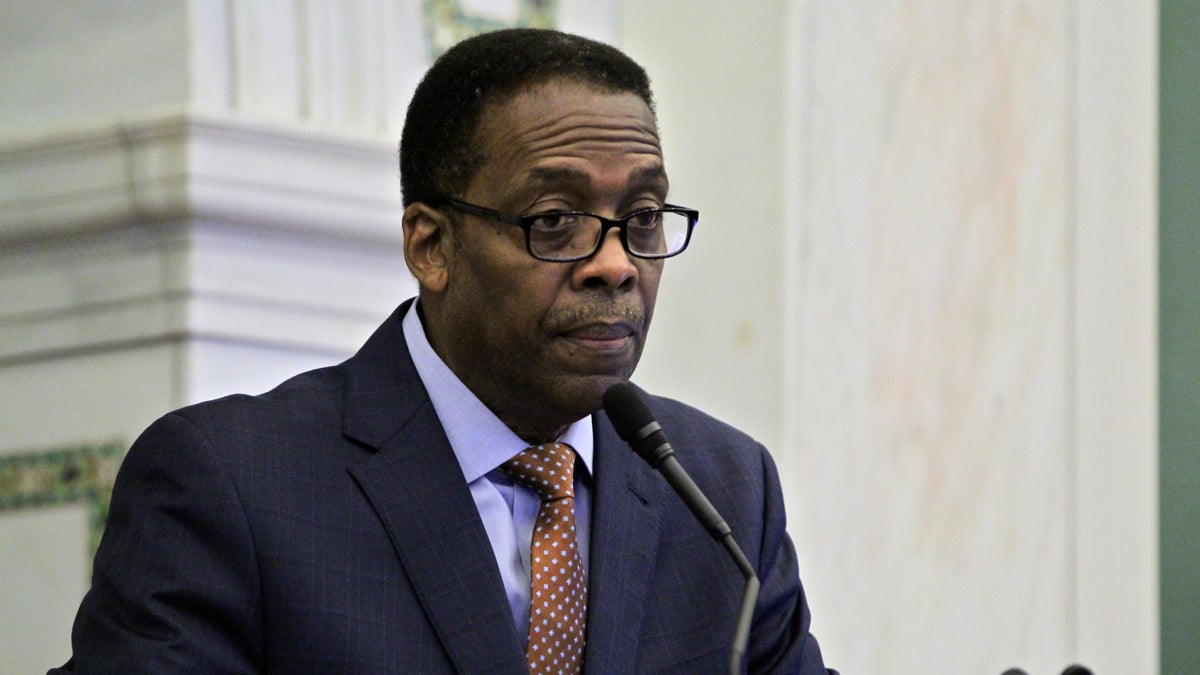 For the past couple months, protests against Temple University's proposed 35,000-seat stadium have dominated the public comment period customary at every meeting of the City Council. Project opponents have called, repeatedly, for Council President Darrell Clarke to declare his opposition to the football stadium, planned to rise in a working-class residential section of his district, near the Temple campus.
Clarke and his constituents know that his position matters. The development as currently envisioned requires enabling legislation to allow the closure of 15th Street for two blocks between Norris Street and Montgomery Avenue, and because of Philadelphia's tradition of councilmanic prerogative, it would be functionally impossible to move forward with the stadium as currently envisioned without Clarke's proposal. (Temple already owns all the land required for the project.)
But Clarke insists that he's been clear all along. He says that he has consistently been on the record opposing the stadium because he doesn't think such a facility belongs in a residential neighborhood, but that he doesn't think his personal opinion should guide a public decision of this magnitude. For that reason, he says he will follow the lead of neighbors and local community members who stand to bear the brunt of the impact if the university gets its wish.
PlanPhilly sat down with Clarke in City Hall to talk with him at greater length about Temple's plans, his feelings about a community benefits agreement and the grassroots activists who say he needs to take a stronger stance on the development. The following interview has been edited and cut down for concision and clarity.
Temple can't move forward without your help with the road closure and the special services district. But you have recently said that you don't think the current stadium proposal is a good idea and that Temple needs to go back to the drawing board. What could Temple do to get you to support the stadium? Are there community benefit concessions that would win you over?
I've responded to that question so many times that I'm ready to make a CD. As I've said, with respect to my role, [my support would be] based on getting buy-in from the community and having broad-based public support. Then I will weigh my options.
They have clearly not gotten to that point, or even remotely close to that point. But the underlying issue in respect to a stadium, or any other significant development that would impact the community, goes back decades. The Liacouras Center faced a very similar type of opposition. Again, they were taking a square block to build a recreational development that also had multi-purpose uses. And at that time it actually did relocate some people, as opposed to this proposal. It was very, very contentious battle.
At that time the district councilperson, John Street, got to a point where Temple tried to get a change in the state law that would have eliminated the need for the local municipality to have say so over the development. That's how bad it got. But eventually, there was a work-out where communities and other individuals got on board, and some who were relocated were given an opportunity and compensated significantly. There was a fund set aside for affordable housing that was put in place to support affordable housing in that area.
Some of the [Temple] leadership in the past clearly didn't respect the local community. Although Temple does employ people from the local community, their ability to market those things had been insufficient. We talked about the special service district that's now on the table some time ago, and I actually initiated the process and introduced legislation. But that was actually not successful getting that authorized. I think that could have gone a long way to dealing with some of those daily issues with respect to trash and lack of enforcement, but I wasn't able to get that done.
I can't blame Temple in the entirety for that because there were community people and elected officials who also voiced opposition at the time. But they shouldn't have given up on that; they should have figured out a way to do it similar to what was done in University City. The University of Pennsylvania, in their area, it's a voluntary program they pay for. Temple should have considered that, but they didn't.
My position, from a personal perspective, is that I don't think it was a good idea to put a stadium in the middle of a residential community. But because of the size and scope of what's being proposed, I don't think it should be solely my personal perspective. That's why I told Temple to go out and build support. They have not done that. Just the opposite. Unless something changes dramatically, I don't foresee them getting the necessary community support in the foreseeable future.
And they would need you to introduce legislation regarding the special services district and the road closure.
The road closure is the most significant element of the government involvement. The special services district, I'm not sure if they need legislation for that. A lot would depend on how it was implemented.
I know there have been conversations with the city about moving towards that kind of special services district where the primary funder would be the university. That for whatever reason hasn't been an agreement that has been struck. As far as I'm concerned that's something that should have been done 10 or 15 years ago. From my perspective, that has no relation to the stadium. That's something that should have been done. So that would not be something that I'd view as a step towards a stadium.
Are there any community benefits that they've been considering that could bring community members on board?
I don't know I haven't been part of conversations they've had with the local community. Nor should I be. That's their responsibility. It is not my proposal, contrary to some people's suggestion. I should be the one that brokers an agreement? It's not my proposal. I've stated my position: if Temple is interested in having the support of the community, it is their responsibility to build that support. I told them when they build that support I will entertain what it is that they are proposing. I don't know what they are offering people, but I haven't seen any public support for it at this time.
So your strategy moving forward?
I don't have a strategy; it's not my proposal. This is Temple's proposal. I don't have any responsibility to sell this proposal on behalf of Temple.
Project opponents such as the Stadium Stompers say they want you to be out front opposing this stadium because they know that you can stop it. What do you say to their demands, and that push to get you on their side?
I don't understand the perspective of some of the folks…I've talked to a number of people. I've talked to some people from POWER [an interfaith progressive organizing group]. There are a lot of people in that particular organization who don't want the stadium. A lot of people who don't live in that community don't want the stadium.
If you start off with the premise that I am not introducing an ordinance unless Temple can convince the community, I don't know what their question is. It's Temple's responsibility to do things to get me to entertain it. It's not clear to me what they want me to do about it.
WHYY is your source for fact-based, in-depth journalism and information. As a nonprofit organization, we rely on financial support from readers like you. Please give today.