Environmental foundation to guide Eastwick's plan
It's easier to understand Eastwick's flooding problem when you look at an old map and realize that most of the neighborhood was part of the Tinicum Marsh.
By 1900, the marsh encompassed 5,700 acres covering not only what the John Heinz National Wildlife Refuge protects but also where most of the Philadelphia International Airport and the Philadelphia Refining Complex stand today. As the city started developing, the wetlands started getting filled and dredged. And by 2000, the marsh was just 200 acres.
"This was covered, filled, different times in different ways," Interface Studio's principal Scott Page said pointing a map of Lower Eastwick. "But effectively the land still wants to act as a marsh, despite whatever we filled it with over the years."
USE THE SLIDER IN THE MAP ABOVE TO TOGGLE BETWEEN VIEWS OF TINICUM MARSH IN 1900 and 2000.
This month, Interface Studio started the baseline research for the new planning and feasibility study that will decide the future for Eastwick's 189 acres of publicly owned land, in an historic effort to rewrite the history of urban renewal in this Southwest Philadelphia community. The local design firm was selected by the Philadelphia Redevelopment Authority (PRA) and a steering committee including city agencies and residents.
For decades, Eastwick residents have endured flooding, the most severe being Hurricane Floyd in 1999, when some properties were under four to eight feet of water. The neighborhood is in a low-lying area, within FEMA's Special Flood Hazard Area (SFHA) or 100-year floodplain, a high-risk flooding zone. Because it was built on marshlands, the soil is unstable and the water table is high, which means some houses sink and some basements get flooded by underground water.
Eastwick is like a bowl, Page explains, and when seasonal snow melts or when it rains, water naturally flows into the area. Flooding can be caused by overflows along the Cobbs Creek, Darby Creek, and the Schuylkill River, and by storm surges from the Delaware River.
According to Philadelphia's climate adaptation plan extreme events such as intense rain, snowstorms, tropical storms, and hurricanes are expected to become more frequent and severe, and higher sea levels will raise water levels in the Delaware and Schuylkill rivers.
"The consensus is that you'll get a 3 foot Sea Level Rise (SLR) by 2100. Then everything that's colored here will be underwater," Page said pointing to a map (see below). "What this doesn't show is the impact of storm surge. So if you have another Sandy this would look a little worse."
If, for example, there's a storm and the Delaware floods into Eastwick, and at the same time the Cobbs and Darby creeks overflow, emptying into the neighborhood, that's a major problem.
Wetlands actually help control flooding, by absorbing floodwaters, and prevent shoreline erosion. Without wetlands, and other impervious surfaces, Eastwick is more vulnerable. The closed Pepper Middle School site is sitting at the bottom of a bowl, Page said, and it's already flooding at times when the creeks overflow.
"If anything is constructed down here, we have to ask [ourselves] the question where is the water going to go," Page said. He's not proscribing any particular reuse, rather saying whatever the future uses might be "knowing how to handle water will be crucial."
Interface's research, done by Bishop Land Design, is going back to glacial times to see how sediments have been deposited, forming the underlying environmental conditions of the sites. While reviewing historic documents, they found traces of old creeks and water channels built through Eastwick. The project team is trying to pinpoint their exact location to try to understand how they helped convey some of the water before the urban renewal.
(Interface Studio)

(Interface Studio)

(Interface Studio)

(Interface Studio)
But flooding is not the only environmental issue in Eastwick.
The neighborhood is also adjacent to the Lower Darby Creek Area (LDCA) superfund site comprised of two former landfills, Folcroft and Clearview. According to Earl Wilson, an Eastwick environmental activist and former public school teacher for 41 years, both sites are being cleaned up, but in the process Environmental Protection Agency (EPA) found toxic material in residents yards, deposited by rainwater and overflows.
Wilson, who's part of Eastwick's Community Advisory Group working with the EPA said that the highways, the adjacent old refineries and the Philadelphia Airport had been additional sources of pollution for decades. And because there are lots of vacant lots, the neighborhood has become an easy spot for construction and other businesses to illegally dump their trash.
Page blames most of Eastwick's environmental challenges to a legacy of bad planning and policy decisions, increasingly developing the area and filling the wetlands, and ignoring the fact that it is so flood-prone.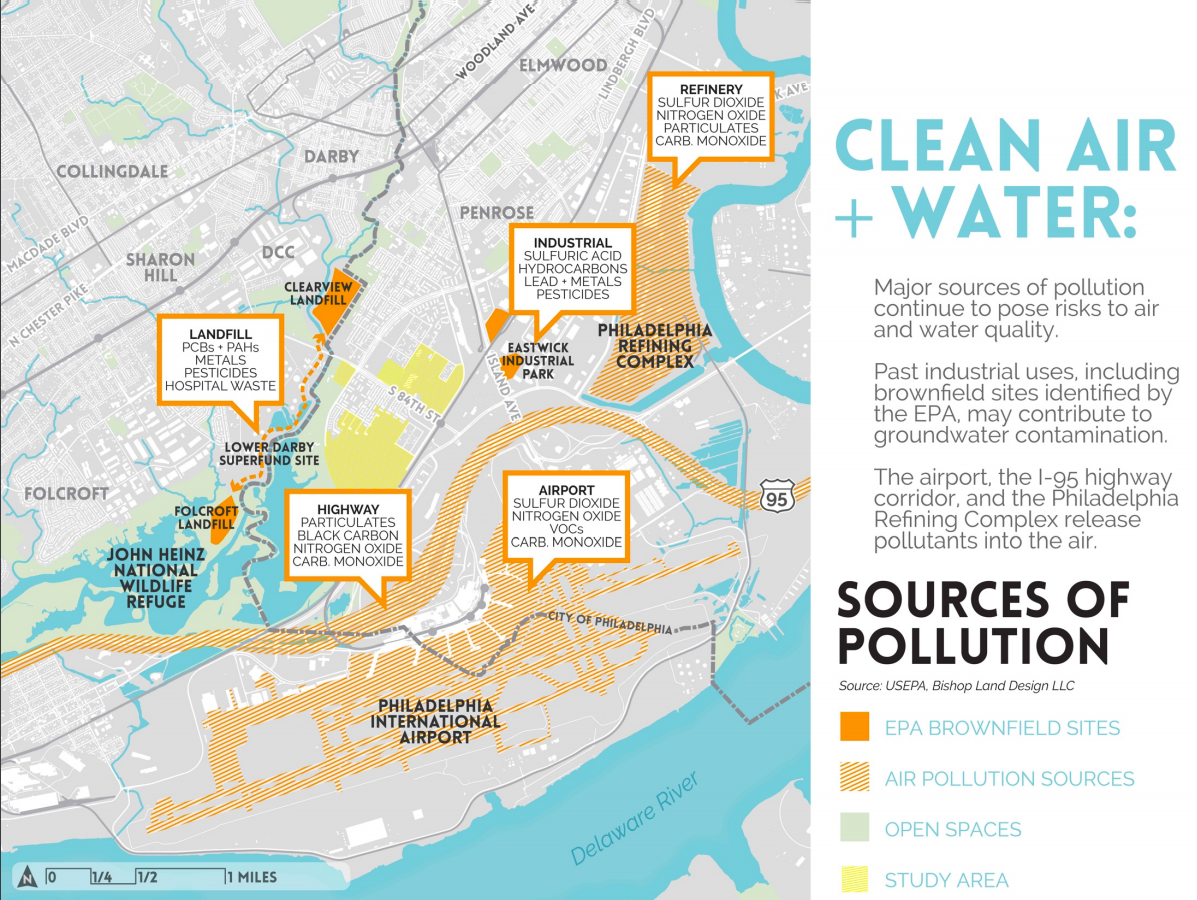 "If I can summarize it, I would say that this [Eastwick] was an integrated community; they were farming and, yes, there was some industry but they were living very lightly on the land," Page said. "And then, we decided to create a 'City within a city,' that's how the urban renewal plan was called, and basically the land has been taking revenge ever since."
The future development of these sites will have to balance a lot of pressures, Page said, and planning is in its very early stages. But if done well, it can find ways to integrate services and amenities that the residents need, while keeping in mind the environmental challenges.
"I think there's been a history of Eastwick residents being told what was happening," Page said. "This is a very different process where we're not telling them anything. We're asking them and we're working with them to define what would they like to see. This is the opportunity to define what the community wants in the context of the info that helps to set the foundations of what we can really do here."
In the coming weeks, Interface will start having discussions with residents, city agencies, local business, Philadelphia International Airport and other stakeholders. And Interface is working closely with Terry Williams, chair of the steering committee president of Eastwick Friends and Neighborhood Coalition to engage as many residents as possible. Page envisions smaller group meetings with in-depth conversations organized around certain topics, and big public events that will start around April.
With the help of the WSP/Parsons Brinckerhoff and Real Estate Strategies, Interface is studying how to maximize the value of the Eastwick station and of the commercial infrastructure that already exists. At the same time they want to evaluate which kind of businesses would work well in that market, to better inform the community and the planning process.
An earlier version of this article incorrectly stated the total percentage of marshland left. PlanPhilly regrets the error. The map representing marshland in the year 2000 has also been updated.
WHYY is your source for fact-based, in-depth journalism and information. As a nonprofit organization, we rely on financial support from readers like you. Please give today.