Southeast by Southeast: Public art meets refugee art therapy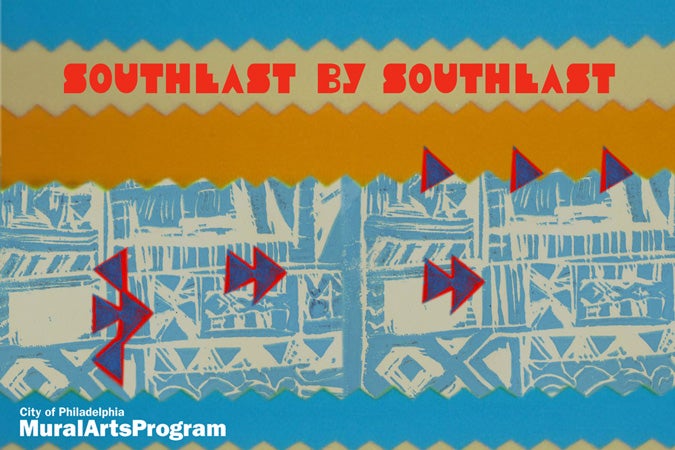 Stand on the corner of 7th and Dudley streets, and you're in South Philly. But step inside a storefront on the southeast corner, and you're immersed in a colorful space that reflects the Bhutanese and Burmese refugees who have, through difficult and improbable journeys, found themselves in this corner of the city.
It is a long way from Southeast Asia to Southeast Philadelphia. But this small storefront is part of a collaborative art project aiming to help ease the transition for refugees and offer creative opportunities to work through their experiences of displacement, conflict, and loss.
Southeast by Southeast is a joint-venture project of the Mural Arts Program, the Department of Behavioral Health and Intellectual disAbility Services, the Philadelphia Refugee Mental Health Collaborative, and the Hummingbird Foundation. It's sort of public art meets community art therapy.
The mission of Southeast by Southeast is to "use art as a catalyst to give refugee populations an opportunity to tell their story," said Mural Arts project manager Will Pace when we met with artists Shira Walinsky and Miriam Singer in the storefront this fall.
Southeast by Southeast is a heavily process-oriented arts project where public art is only one of the intended outcomes. The overarching goal is to use creative expression to answer some of the unmet mental health needs of these refugees, many of whom were not well-served by more traditional mental health systems, according to Melissa Fogg of the Philadelphia Refugee Mental Health Collaborative (part of Lutheran Children and Family Services).
The project may seem a bit unconventional as therapy, but Fogg says it is a big help to the participating refugees. "They're starting to tell their stories, starting to get out of a victim mentality, and beginning to share their culture," she said.
Through Southeast by Southeast refugees had a platform to express aspects of their culture, by participating in print making workshops, weaving and cooking demonstrations, and traditional dance performances. And while an art project itself won't erase the traumatic ethnic conflict that many refugees experienced, the process can help people start to heal.
"It's not only the art making process, which is big, but people's interaction in the process." Walinsky explained. "Because this project is connected to mental health, it's also about the idea of getting people out, and having opportunities for people make art or to dance, because that makes them feel good."
The Southeast by Southeast storefront at 1927 S. 7th Street opened in March to provide space for the project's programs, and it quickly became a de facto refugee community center with a life all of its own. The idea was to embed Southeast by Southeast's programs in the neighborhood where many Burmese and Bhutanese refugees live, and serve as a neutral ground for nearby residents to meet their new refugee neighbors. It also had the added practical benefit of providing the artists a staging area for their public art projects. It's not much, but the storefront has given the refugees a place of their own.
"If there's [any aspect of the project] that's had a real impact, it's having that community space," Fogg said. "There is a real sense of ownership of it in the community."
From their storefront outpost Southeast by Southeast team worked with neighbors to hold community clean-ups, led art workshops, hosted a World Refugee Day event for the city, and even participated in Design Philadelphia. And this summer, Southeast by Southeast reached out beyond South Philly with shows at the at the Free Library and at the Magic Gardens.
When I stopped by the storefront this fall, I walked in on Adam Forbes teaching an ESL class for Karen refugees (an ethnic group of Nepali-speaking people who had been targeted for ethnic cleansing by the Burmese military). Along with Melissa Fogg, Forbes has been a critical connector for the project and refugee community at large. Forbes helps run the Growing Home Community Garden at 8th and Emily, which like the storefront, is an important shared space for many of the Bhutanese and Burmese families. [See a gallery of photos from the storefront and garden on Flickr.]
As these new Philadelphians practiced their English in the storefront, Walinsky and Singer explained how they developed the public art component of South by Southeast, rooted in ideas generated by the refugees through art workshops and a lot of community input.
For the artists the project has been a crash-course in Bhutanese and Burmese culture and politics, and both seem to have relished in the process-oriented, social practice nature of Southeast by Southeast.
For months Singer and Walinksy worked with the refugees on art projects to generate different images that remind the Bhutanese and Burmese people of home (mountains, agriculture), their culture and heritage (temples, animals), and speak to their journeys to Philadelphia (airplanes, cities). The artists then had the challenge of incorporating this imagery into a series of public art pieces, large and small, that interpret the refugee experience.
Though each artist's work is very distinct, they share a design vocabulary, both using prints from traditional textiles that belong to the refugee women, elements of rural and urban landscapes, and a vivid color palette. Here's a look at two pieces that are already up along 7th Street now:
Miriam Singer created smaller and more temporary pieces for space on two 7th Street buildings (including the storefront building) and at the garden. Singer's sidewalk-scale pieces are meant almost like trail markers, signifying the refugee community's presence in this part of South Philly. Her compositions are layered and colorful textile-patterned environments where mountains meet street lamps, created with parachute cloth, paint and screen prints.
Shira Walinsky designed two large murals that interpret the refugees' relocation from rural areas to city life. The almost-finished mural overlooking the vacant lot at 7th and Emily streets features high-contrast images – huge mountains, an airplane, clusters of people carrying things, rural houses, an anonymous city, a temple – developed from block prints and displayed in black and cream on a blast of wildly colorful bending stripes. It speaks to the journey, but it also declares: We are here.
The Southeast by Southeast artists will soon hang up their brushes for the winter and the storefront lease is slated to expire in early 2013. Come spring, Walinsky will complete a second mural at the garden. Here's her design for that mural: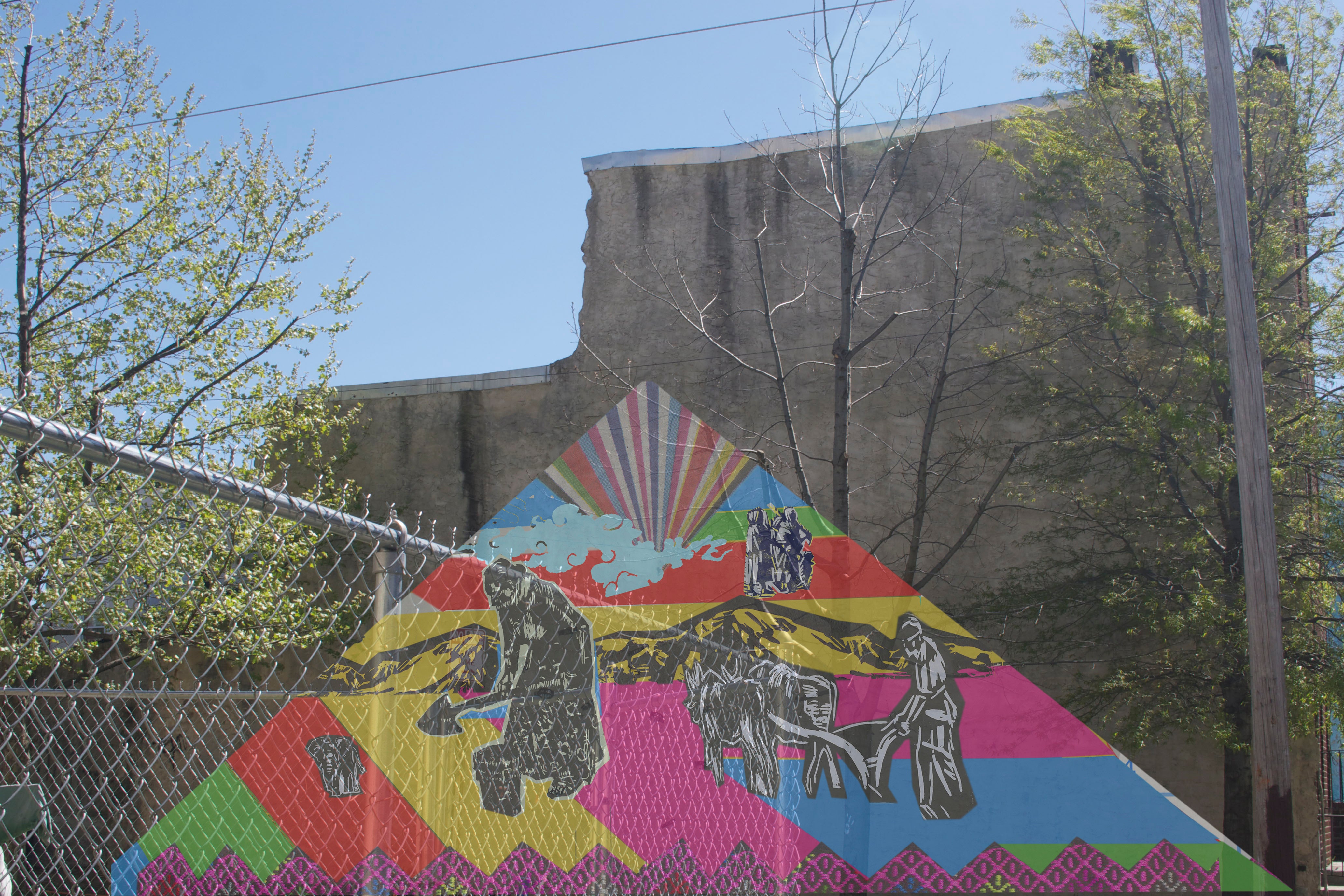 Here's another look at this design: