Site Visit: Orinoka Civic House and walking tour with NKCDC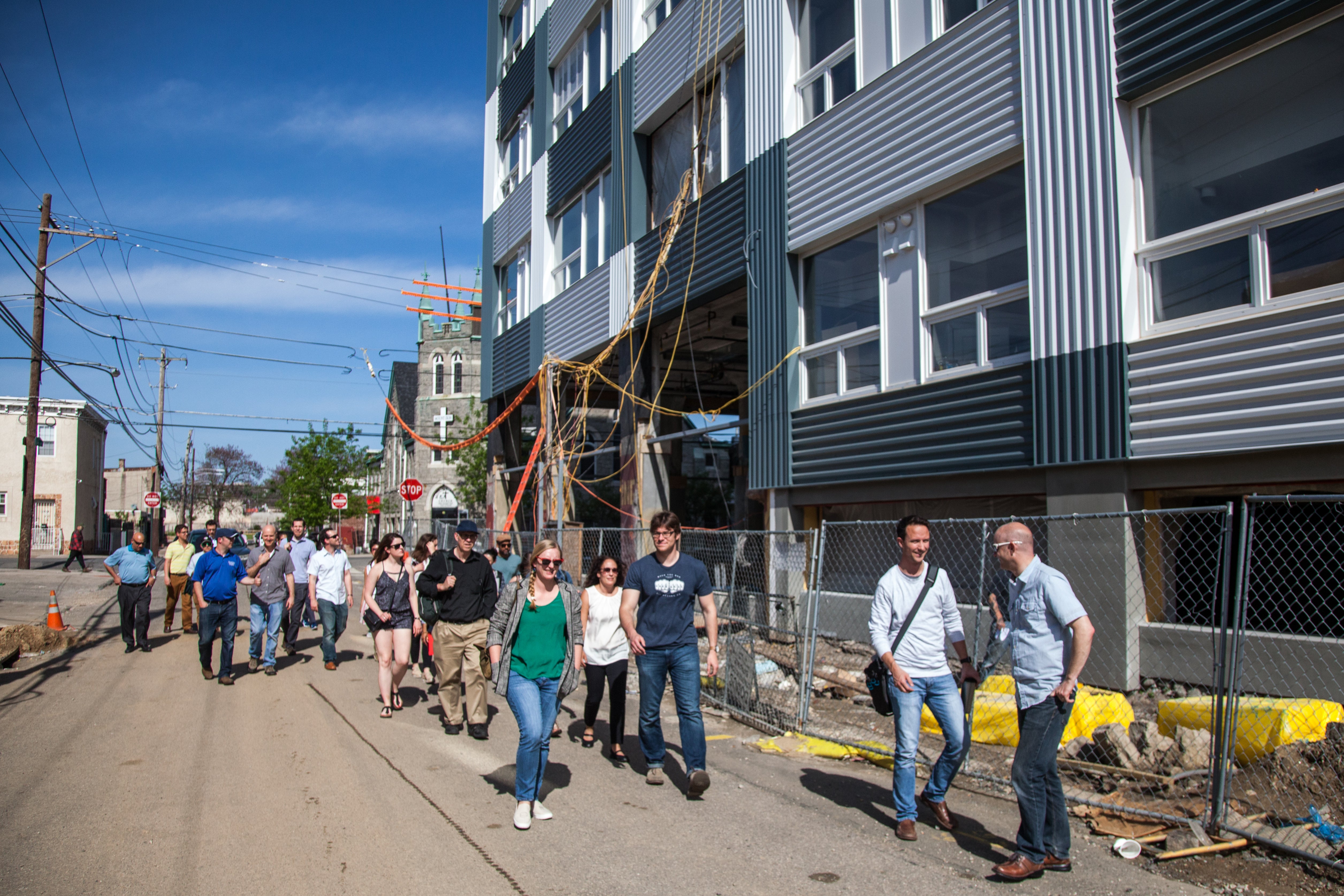 Last Friday, PlanPhilly readers got a first look at the nearly complete Orinoka Civic House, the mixed-use, affordable housing development and soon-to-be home for New Kensington CDC (NKCDC). Orinoka Civic House marks next chapter for the former Orinoka Mills, a 19th century textile mill at East Somerset and Ruth streets. It's a key piece of NKCDC's work in areas of Kensington north of Lehigh Avenue, which also includes support for the Kensington Avenue commercial corridor, lighting and safety of the Lehigh Viaduct, and Porch Light's new Kensington Storefront.
(Ashley Hahn)

Orinoka tour outside construction site (Lowell Brown/NKCDC)
Commercial Corridor Coordinator Sam Thomas met us below the Huntingdon station on the Market-Frankford Line and we headed north up Kensington Avenue. Thomas highlighted the commercial pocket of Vietnamese businesses on Kensington between Cumberland and Huntingdon, noting that several storefronts had recently utilized the city's Storefront Improvement Program to invest in new signage and facade improvements.
The tour passeed under the Lehigh Viaduct and paused at a vacant, grassy lot to discuss the way it divides Kensington and the character of the street. South of Lehigh, Kensington Ave has a busy mix of storefronts, community centers, religious institutions, residential and mixed-use buildings. Activity north of Lehigh changes drastically, with more vacant lots and storefronts. Here, Rolando Sanchez of Impact Services Corporation, a workforce development organization in Kensington, and Thomas discussed how the viaduct, itself and its state of disrepair creates an psychological and physical barrier that separates the neighborhood on either side of Lehigh Avenue. One way NKCDC is hoping to overcome this is by artfully illuminating the underpass. As we walked, Thomas called attention to the difference between the bustling cluster of active shops surrounding the Huntingdon station and the to massive fenced-in auto lot and shuttered storefronts near the Somerset station.
At Ruth and Somerset streets, NKCDC's Managing Director of Real Estate and Finance Barb Varela greeted the tour at Orinoka Mills and invited everyone in to see the building's apartments, a mix of one- and two-bedroom units, which are in varying stages of completion.
(Credit: Lowell Brown/NKCDC)

Domus contractor Charlie Fazio discusses materials (Lowell Brown/NKCDC)

Tour attendees check out the fiberglass insulation inside Orinoka Civic House. Credit: Lowell Brown/NKCDC (Lowell Brown/NKCDC)

Orinoka apartment unfinished windows (Lowell Brown/NKCDC)

(Lowell Brown/NKCDC)

(Credit: Lowell Brown/NKCDC)
Inside Orinoka Mills, Varela and Thomas explained the building's textile manufacturing history, its previous industrial tenants, as well as its more recent troubled past as a symbol of disinvestment and the ways it attracted unsafe and unhealthy activities.
As the tour explored the work in progress, Varela said that the apartments will be rented out to tenants with a household income at or below 60% of the area median income. And the demand is huge: NKCDC received about 700 applications for just 51 units.
Domus carpenter Charlie Fazio walked the tour group through construction details, materials (14-inch thick concrete floors, original, and buffed for a muted finish), labor (100% union, from the electrician to painter), and new adaptations (huge energy-efficient new windows) that will help keep energy costs low for low-income tenants.
In the coming months, NKCDC's main offices will move from Frankford Avenue near Cumberland to the ground floor of Orinoka Civic House. But a tenant for the commercial space on the ground floor is still to be determined. NKCDC staff said it would go through a community engagement process to select an amenity that residents want and will use regularly, and Thomas said the organization is seeking a business with a social mission.
To cap off our visit, the tour then shuffled around the corner to the Porch Light Kensington Storefront, two vacant shops that was recently converted to a collaborative space for community-based art classes and social services, run in partnership with Mural Arts. While enjoying bahn mi from Thang Long, two blocks down Kensington Ave, NKCDC staff talked about the organization's current work in the neighborhood. NKCDC's new executive director, Felix Torres-Colon, Associate Community Engagement Director Tess Donie, and AmeriCorps VISTA Brian Green fielded questions about the Orinoka project, community services and organizing, affordability, the storefront, and their North of Lehigh Neighborhood Revitalization Plan. As Thomas explained, Orinoka Mills is meant to be a "catalyst" for positive change, while "the work that NKCDC does day-to-day colors in the lines."
WHYY is your source for fact-based, in-depth journalism and information. As a nonprofit organization, we rely on financial support from readers like you. Please give today.