Shallcross hosts anti-violence program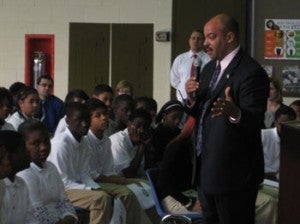 Camelot Schools held its sixth-annual anti-violence program for the first time ever in the Northeast.
Nearly 200 students at Shallcross Academy on Woodhaven Road gathered Tuesday to hear Democratic District Attorney-elect Seth Williams discuss how to avoid, prevent and overcome violence. Williams made curtailing youth violence a priority in his campaign, citing examples of how his own upbringing inspired his race for office.
The students also heard from Joe Davis of the Think First Program. Paralyzed from the waist down after being shot in the back, Davis went on to earn his GED, bachelors and masters degrees, and now counsels youths who are dealing with drug addiction.
He told the students about hit former drug problem, saying he is "thoroughly ashamed of selling that 'poison' and harming and hurting so many people."
Shallcross Academy has been operated since 2005 by Camelot Schools, which also runs three other alternative schools in Philadelphia. Students at Shallcross are in fifth through twelfth grades, ages 10 to 21, and have been placed there by the School District of Philadelphia for conduct violations.