At Philly's Bluver Theatre, a play about drug overdose deaths is on a grim timer
A documentary play at Louis Bluver Theatre is abruptly interrupted every 5 minutes and 39 seconds by another overdose death. That rate is quickening.
Listen
1:29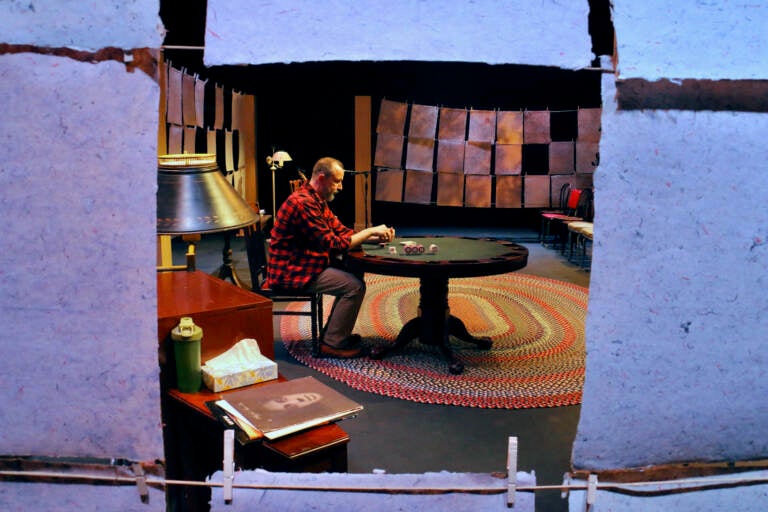 "A Shadow That Broke The Light" has gotten shorter since it premiered three years ago in Troy, New York. The play is expected to continue to shrink as the United State's opioid and addiction crisis becomes more dire.
The one-man play, developed by local theater artist Charlie DelMarcelle and his brother Adam DelMarcelle, a visual artist, is about people remembering loved ones lost to addiction overdose. The DelMarcelle brothers lost their own brother, Joey DelMarcelle of Lebanon, Pa., to a heroin overdose in 2014. He was 33.
A few years after they lost Joey, Charlie and Adam started reaching out to others grieving their own losses and recorded interviews.
Charlie said that, for many of them, this was the first time they talked openly about their loved one.
"So many folks, and this was not intentional — no obituaries for these people, no services to celebrate their life. I began to realize that that was rooted in an incredible sense of guilt and shame, and the pervasive stigma around drugs and drug users," said Charlie. "Maybe it's an oversimplification, but I think the reason we haven't been able to have any substantive policy discussions on how to save people's lives is because of that stigma, and not being able to talk openly about it."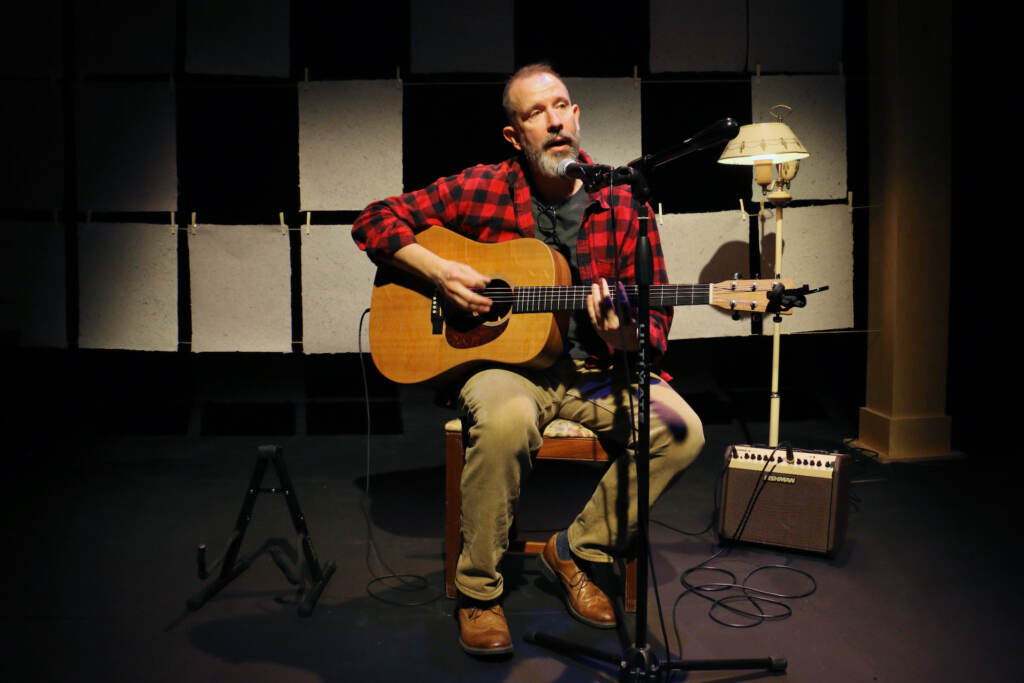 "A Shadow That Broke The Light," produced by Simpatico Theater, is now playing on the Louis Bluver Theatre stage of the Drake Theatre, near the Avenue of the Arts on South Broad Street. It is a docu-drama, in which Charlie reenacts excerpts of those interviews, performing in their own words those people's stories, memories, and feelings, interspersing them with his own.
"When I talk directly about Joey it's really about all the things about my brother that I found beautiful and infuriating and complicated, like you do about any close family member," Charlie said. "And then about how his loss affected our family and how we tried to pick up the pieces after that."
But every 5 minutes and 39 seconds, the stories, songs, and memories are abruptly cut short. Every day, about 255 people on average die in the U.S. from an overdose, according to a 2021 report, or roughly every 5.6 minutes. Onstage, a bell chimes at that interval, signaling Charlie to stop whatever he is doing, go to a pile of handmade paper, and hang a sheet on clotheslines strung across the stage.
The paper is made from the clothes of the deceased, donated by the families who were interviewed. Adam turned that fabric into pulp and made paper sheets out of it, about 12×16 inches.
The stories Charlie tells onstage can be emotional, funny, or gruesome. He describes the scene when his brother Adam discovered Joey's body on the floor of a bedroom in his house, and also a madcap poker game he once played with Joey and his roguish friends. Charlie plays a Billy Joel song on guitar, one of Joey's favorite songwriters.
But as soon as each reminiscence gets going, when Charlie's performance gets a head of steam and he seems to have forgotten that the timer is ticking, the telltale bell sounds. Everything stops instantly, and a moment of grief reenters the stage as another sheet of paper is pinned to the line.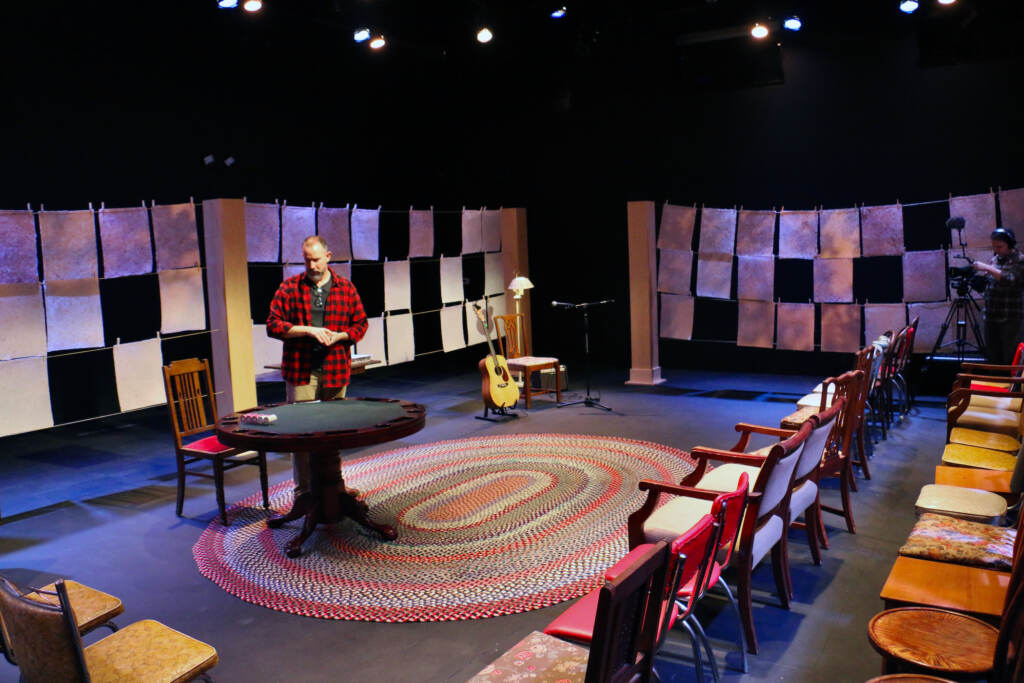 Charlie does not return to the story that got cut short. He abandons the song or anecdote or confession at whatever point the bell chimes, and moves onto the next.
"I hope it's not frustrating and I hope it doesn't feel like a gimmick," he said. "I will say in the last couple of nights — we've been doing it for smaller houses — I think it's really, really impactful in kind of a beautiful way."
When he premiered the piece at the Troy Foundry Theater in 2019, the bell chimed every 7 minutes and 18 seconds, representing an average of 197 daily deaths by overdose in the U.S. That performance lasted about 90 minutes.
As the national overdose death rate increases, the bell chimes more frequently, causing more interruptions to the action on stage. As a result, the play is about 20 minutes shorter.
The death rate may have already increased, again, according to the Centers for Disease Control, which reports the annual overdose death rate has topped 100,000, meaning 275 deaths on average a day, or one every 5 minutes and 12 seconds.
"Initially we were wondering: should we re-edit it? Because all the stories were originally designed to fit a little more neatly in that original time," Charlie said. "We decided, for better or for worse — this is the first time we're trying it — I haven't done a lot of editing. Now the stories just stop."
For the performance at the Bluver stage of the Drake Theater, Charlie developed a workaround: before each story he tells about Joey, he offers the story highlights as verbal bullet points in case the bell cuts him off too early.
Most of the anecdotes focus on people's lives and families, skirting whenever possible talking about people's problems with addiction. Charlie said when a person's life ends from an overdose, there is a tendency to remember that person as a "drug addict."
"You know, that's who they are now. Hopefully this piece will show folks that that doesn't have to be how that human being has to be defined forever," he said.
"A Shadow That Broke The Light" runs until Jan. 28.
If you or someone you know is struggling with substance use, SAMHSA's National Helpline is a free, confidential, 24-hour hotline that offers referrals to local treatment facilities, support groups, and community-based organizations. Call 1-800-662-HELP for more information.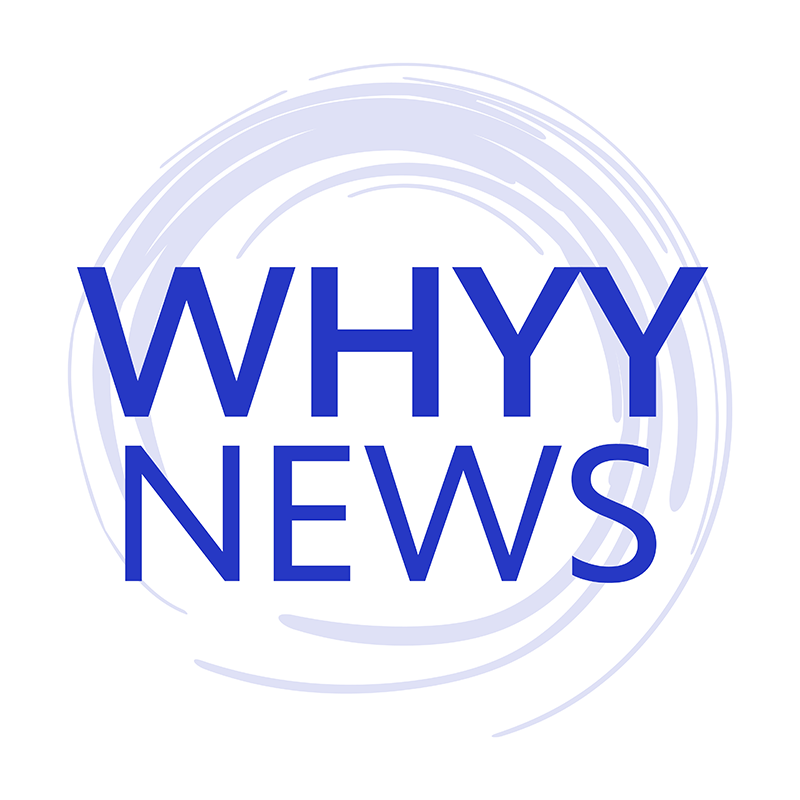 Get daily updates from WHYY News!
WHYY is your source for fact-based, in-depth journalism and information. As a nonprofit organization, we rely on financial support from readers like you. Please give today.