September 3: Jefferson Station | Balancing bike share | Philly in "first quarter of its rebirth" | Transportation devolution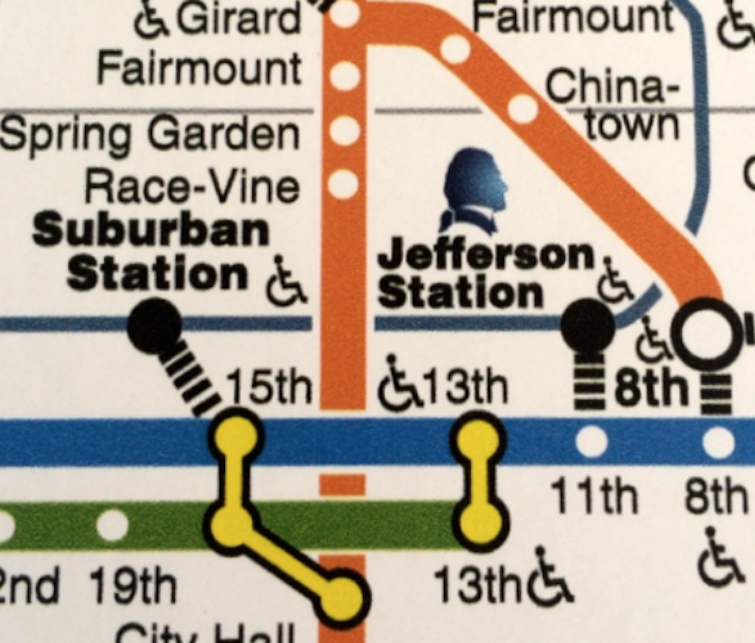 It's official – as the result of a "multi-million dollar deal" yet to be announced by SEPTA and Jefferson University Hospital Systems, Market East Station is officially being renamed Jefferson Station.
Marielle Segarra at Keystone Crossroads looks into the trend of church conversions across PA. Some developers familiar with this market think many more church closings are on the way, which could saddle local governments with lots of empty properties if they don't find ways to make the conversion process less cumbersome. "Many church properties require rezoning. There are physical barriers too. Churches often aren't accessible for people with disabilities and don't have enough exits or bathrooms to meet building codes."
Brady Nolan, vice president of Dalian Development, the company behind the $160 million Rodin Square project, thinks Philadelphia is only in "the first quarter of its rebirth" and believes many more such high-end buildings are on the way. The extent to which national and international firms can take part in Philadelphia's appreciating real estate market will depend to a large extent on how soon the city can complete the zoning remapping.
Is a strong federal role in transportation funding actually bad for U.S. transportation policy? This argument has been gaining steam in urbanist circles recently. Scott Beyer has a good introduction to the idea at Next City, showcasing four federally funded projects he says demonstrate "a top-down approach to transportation, as distant bureaucracies fund large projects that are often out of step with local needs."
Case in point: the Federal Highway Administration celebrating vehicle miles jumping to a 6-year high (not adjusted for population growth), and using that as pretext for a highway spending binge.
Bike share rebalancing – ensuring an appropriate number of bikes are at each station – is more difficult than you think.
And Spruce Street Harbor Park is coming back in 2015!