SEPTA's 30th Street Station getting $37M remake with underground connection to Drexel Square
Federal officials announced a $15 million dollar federal grant, part of a joint effort known as Schuylkill Yards.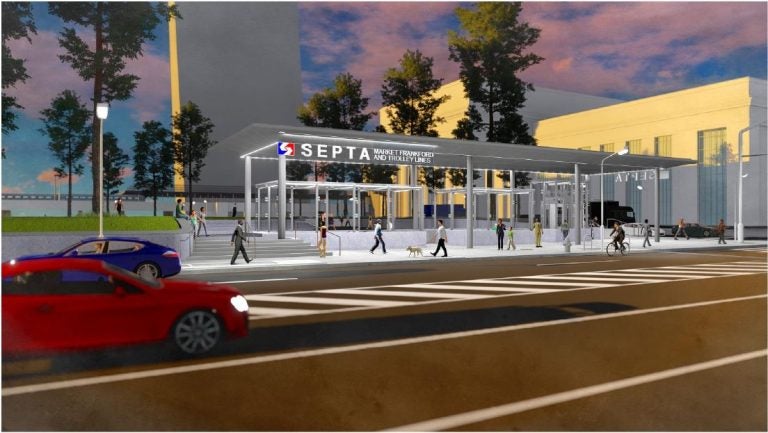 This article originally appeared on PlanPhilly.
—
Rattling El trains and trolleys bring 25,000 commuters a day to SEPTA's 30th Street subway station.
The gilded Deco interior of the better-known 30th Street Amtrak station are just above ground. But riders like Alaina Ennis say SEPTA's underground hub is anything but stately.
"It's a little gritty down here," said Ennis. "This old tile. It's a dank, damp area."
This week, federal officials announced a $15 million dollar federal grant that SEPTA deputy manager Rich Burnfield hopes will bring an end to the leaks and dim lighting.
"You're going to see a much more open, well-lit environment; a much more customer-friendly, rider-friendly facility," Burnfield said.
The grant from the U.S. Department of Transportation's BUILD program, announced this week, will ensure that renovations are coming sooner than later. The funding is the final piece of a $38 million plan to overhaul one of SEPTA's most heavily used subway stations, which also doubles as a major node for five submerged trolley lines.
Burnfield said that ridership at the station, which serves about 25,000 daily riders, has seen use increase by more than 20 percent over the past 15 years. But the area will likely see even more riders in years to come, as transit agencies and local stakeholders realize a $10 billion vision to transform desolate blocks around Philadelphia's iconic 30th Street Amtrak station into a bustling commercial zone.
"University City the second largest employment center in the region and we have a lot of stakeholders who are interested in improving that area," Burnfield said.
The subway station investment is itself part of this joint effort, known as Schuylkill Yards, undertaken in concert with corporate real estate developers, like Brandywine Realty Trust, and nearby institutions, like Drexel University.
To that end, the 30th Street subway station improvements will also include an underground connection to Brandywine's planned Drexel Square project, as part of this public-private partnership. The real estate company chipped in $2 million to the project.
Most construction should start late next year. It can't come soon enough for Ennis.
"The station itself hasn't changed since I was 13 or so," she said. "Yeah this needs to be renovated, it's about time."
WHYY is your source for fact-based, in-depth journalism and information. As a nonprofit organization, we rely on financial support from readers like you. Please give today.