SEPTA showcases plans for cleaner, greener commutes with updated energy action plan
If you want to reduce carbon emissions, one of the easiest and most effective things you can do is to trade in your daily commute by car for taking the bus. Estimates vary on just how much impact this has — it depends on how many others take the bus, or how fuel efficient your car is, for example — but it's safe to say your carbon footprint will shrink.
And at SEPTA's Energy Action Plan open house Tuesday afternoon, officials showcased the authority's efforts to make that switch all the more effective.
"As a whole, mass transportation is one of the best ways to reduce emissions," said Rebecca Collins, corporate initiative manager for sustainability at SEPTA. "So for every passenger mile traveled, the emissions is about a third [less] than if you were just driving in your own vehicle."
SEPTA's energy action plan is nothing new — it was introduced in 2012 as part of SEPTA's ongoing sustainability program. The open house highlighted progress made over the last five years, and gave a glimpse at where SEPTA intends to make improvements toward reducing greenhouse gas emissions by 80 percent by 2050.
SEPTA's plan comes with some significant, self-imposed restraints: All energy-saving initiatives must be both budget-neutral (or improving) and cannot reduce service levels.
Perhaps the most exciting development on display: SEPTA's plans to pilot 25 all-electric buses on routes 29 and 79 starting early next year. The first electric bus could start operating as quickly as December, with the remaining 24 set for delivery soon afterwards.
SEPTA had hoped to start the pilot this year, but going all-electric requires more than just getting the buses, said Erik Johanson, SEPTA's director of innovation.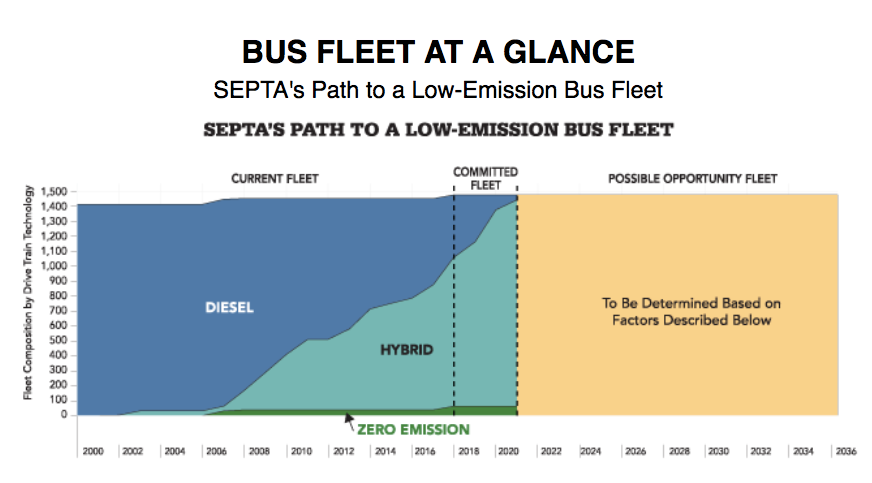 "We needed a new power substation," said Johanson. The Proterra buses will run out of SEPTA's Southern Depot, which held an electrical capacity of around 500 kilowatts — almost all of it already going to keeping the lights on at the large bus warehouse facility. The 25 electric buses, each using around 50 kilowatts to recharge overnight, required more than double that.
So SEPTA converted some storage space at the Southern depot into a two-megawatt substation.
Regardless of how the pilot turns out, SEPTA is committed to expanding its fleet of electric and hybrid buses — in large part because they won't have any choice. "Vehicle manufacturers have told us they will stop building diesel buses soon," Johanson said.
If nothing else, SEPTA plans to nearly phase out diesel vehicles by 2021 — 118 diesel buses will remain.* SEPTA completed an order of 275 60-foot hybrid buses last year, and started a five-year order for 525 40-foot hybrids this year.
Routes 29 and 79 were picked to pilot the new buses because they are some of SEPTA's shortest and flattest routes, reducing the likelihood of a bus losing juice mid-run. Some of SEPTA's longer routes would outdistance the current range of the buses.
Should the pilot run well, Johanson said, SEPTA will look to expand the size of it's all-electric fleet. But, he cautioned, the conversion will take time. First, SEPTA will look to convert its fleet only by replacing older buses that have reached the end of their operative lives. More importantly, though, will be the challenge of locating and building the necessary electrical infrastructure for around 1,400 buses, which would add around 70 megawatts to SEPTA's nightly power demands. That would require new substations, new power lines and maybe even more authority-run power plants.
"So, even if this project is a dream, it'll take some time to expand and build new substations at the depots — or new sites — to handle the big electricity loads," said Johanson.
Despite the lofty goals and promises of a greener tomorrow, not all environmentalists are happy with SEPTA. The authority has been hounded over the last year and a half by a small band of environmentalists opposed to the construction of a small natural gas plant next to SEPTA's Midvale Bus Depot in Nicetown. Even though SEPTA shows no signs of changing course, representatives from the environmental advocacy group 350 Philadelphia once again spoke out against the Nicetown project at SEPTA's last board meeting in October.
SEPTA maintains that the project, overall, will reduce emissions. If anything, SEPTA argues, emissions from the new plant will be lower than emissions from the existing electricity sources, and the excess heat generated by the plant will heat the Midvale deput, further reducing energy costs.
While SEPTA is about to pilot the electric Proterra buses, the authority remains open to exploring hydrogen-powered vehicles, Johanson said. Hydrogen vehicles would offer a longer range and faster refueling times, but come with their own infrastructure headaches, requiring large, power-intensive compressors. Currently, the technology behind hydrogen-powered vehicles simply isn't as advanced as electric vehicles, said Johanson.
SEPTA will hold a pair of open houses on Nov. 21, one from 11 a.m. to 1 p.m., and another from 5:30 p.m. to 7 p.m. Both will be at SEPTA's headquarters at 1234 Market Street in Philadelphia. Riders and residents alike can also submit comments online at SEPTA's Energy Action Plan website.
*CORRECTION: This originally said that SEPTA would "completely" phase out diesel by 2021. That was incorrect, based on the reporter's misinterpretation of a graph. SEPTA expects to have some diesel buses operating at that time.