SEPTA loses less money on fares than most other metro transit agencies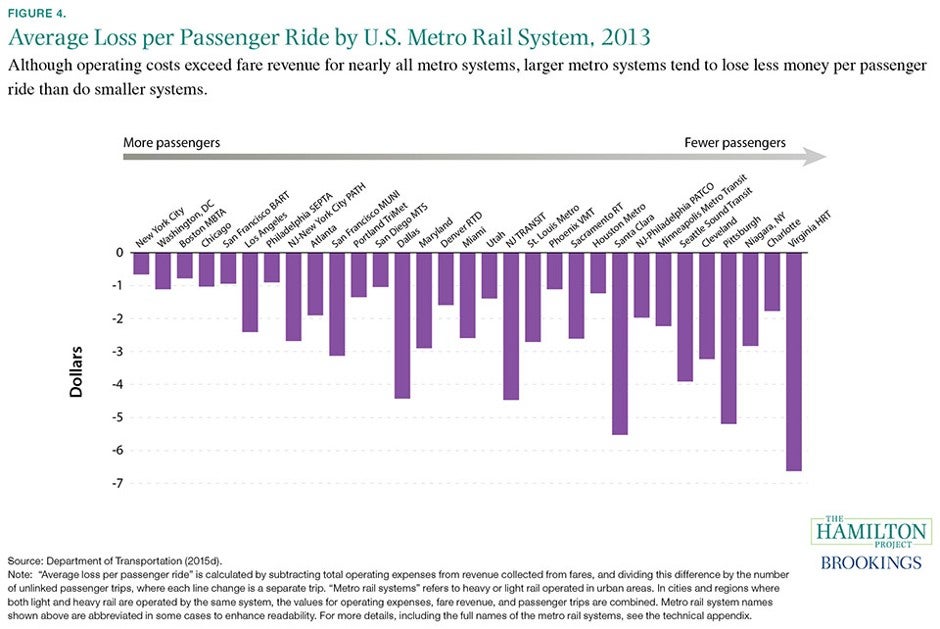 Every single US metro transit agency loses some money on each passenger trip, but how much money they lose varies. This piece at City Lab shows that, on that score, SEPTA comes out looking pretty good comparatively. Here's a chart from the Hamilton Project comparing all the major agencies' farebox recovery:
Why does this matter?
The idea that transit requires "subsidies" while roads are fully paid for by user fees is a very popular myth that hurts transit in the political arena. In Pennsylvania, for example, user fees only cover about 33% of the road budget, with the rest being subsidized by general fund revenues.
It also matters because there are things we can do, particularly on the land use and zoning side of the equation, to reduce the subsidies required for transit over the long term. As Eric Jaffe points out, high farebox recovery rates tend to correlate with denser mixed-use land use patterns:
The notable pattern here is that transit does a better job operating near cost in compact cities with dense residential and commercial development. That's not a totally hard-and-fast rule; Phoenix had a low per-ride loss in 2013, even as San Francisco's MUNI and New York's PATH came in at roughly $3 a trip. But generally speaking, as a transit system stretches into remote and far-flung suburbs, it becomes harder to pick up enough fares to cover expenses.
The less housing there is in the walk shed around transit stations, the more money the system bleeds out. The 2012 zoning reforms provided for some fairly conservative transit-oriented development zoning overlay districts that could be applied to transit station areas on the BSL, MFL, and regional rail lines, but no ordinances establishing these have so far been introduced by City Council members.
Jaffe points to this Josh Barro piece from City Journal on the land use factors influencing ridership, which I think provides a good framework for local officials who want to understand what more they can do to help the transit network bring in some more riders and money.