'Schooled' back in session in East Germantown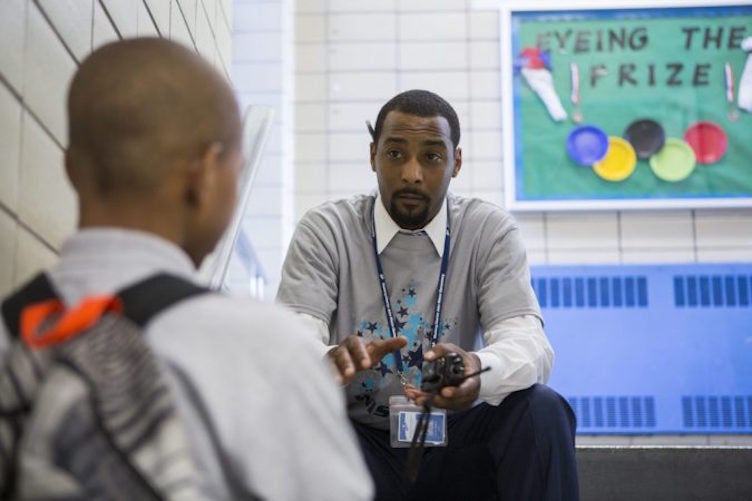 Across Philadelphia, charter schools have been a force of change in neighborhoods, providing opportunities for some families, alienating others and all the while, bringing new people, resources, and conflict into communities struggling with poverty and decades of neglect.
Over the last two years, Kevin McCorry, host of the WHYY podcast "Schooled," followed the story of East Germantown charter, Wister Elementary and its principal, Jovan Weaver, who attended Philly public schools and overcame a difficult childhood to lead a school educating students who face many of the same challenges he did while growing up: poverty, trauma, and exposure to violence. In the podcast's second season, released this week, McCorry brings listeners into Wister's classrooms and Weaver's life.
Episode 1, 'You Shouldn't Be Here' follows Weaver as he grapples with memories of growing up in crack-ravaged, 1980s-era Strawberry Mansion with a single mother and her abusive boyfriend. Weaver takes McCorry back to Blaine Elementary, which he attended in the 1990s.
"A lot of nightmares came from that place," Weaver told McCorry. "I would rather not go in there. The level of abuse, the level of neglect, forget about it, man. Forget about it."
Weaver's past, though, is exactly why he's dedicated his life to education, McCorry writes.
The story of Jovan Weaver and Wister Elementary is best experienced as a radio documentary. Listen to Episode 1 here.
"Philadelphia is better than that"
At 9th and Wharton in South Philadelphia, the redevelopment of a vacant lot on an iconic corner has neighbors fighting one another over the future of their neighborhood, the Philadelphia Inquirer 's Caitlin McCabe reports.
"When you think of Philadelphia, you think of Pat's and Geno's, one of our biggest tourist spots where visitors come all the time to eat, and all they see right across the street is a vacant lot," said developer David Landskroner, who has sought a variance from the ZBA that would allow him to build a mixed-use building on a current vacant parcel facing Pat's on Ninth Street. His proposal includes 5,300-square-feet of ground-floor retail and 21 one- and two-bedroom units in the three floors above the shops. On the Wharton Street side of the parcels, Landskroner plans to demolish the crumbling rowhouse at 827 Wharton St. and build three rowhouses.
For some neighbors, the new housing and shops raises questions about how many people ( and cars) belong in the dense, rowhouse-lined area.
"We don't have a problem with the [commercial space] or the rowhouses, we just have a problem with the sheer number of apartments. The neighborhood can't absorb that additional traffic," said Toni Pelosi, 61, who has lived on the 800th block of Wharton Street a few houses down from the proposed development for 40 years.
Meanwhile, other area residents support the proposed development and argue that the opponents are a minority. The Passyunk Square Civic Association voted 20-3 to support the development in April.
Landskroner initially proposed a development "that would have been an exclusively mixed-use building, with ground-floor commercial and 30 residential units, plus a handful of parking spaces," McCabe writes. Neighbors picked away at the every aspect of the plan: concerns over too many apartment units, preference for rowhouses, and that "parking spaces would create more problems and safety concerns due to the curb cuts Landskroner's team had designed."
Landskroner whittled down the proposal before returning to the ZBA on April 18. The current plan has no parking and Landskroner proposed 12 bicycle parking spaces in the basement of the mixed-use building. According to city records, McCabe writes, "the ZBA held off on a vote and directed the developer to meet with the community and come to more of an agreement before the board considers the matter again."
The Oldest Public School in Pennsylvania is Heading for a Sheriff's Sale
Up in Northeast Philadelphia, a group of preservationists are racing to save one of the oldest buildings in Philadelphia from going to sheriff's sale, CBS Philly reports.
"To the detriment of Northeast Philadelphia, much emphasis has been placed on Old City in Philadelphia to protect important historic buildings and sites," writes Jason Sherman, a local filmmaker and Holmesburg resident who is leading the charge (with the building owner's permission) to save and restore the school. Sherman and others formed nonprofit The King's Highway Foundation to raise money to preserve the historic school building.
Built around 1800, the Lower Dublin Academy at the intersection of Willits and Academy Roads in Holmesburg is on the local historic register, but due to damage from a 2006 fire, the building could "still be demolished if it's deemed a safety hazard beyond repair," CBS reports.
Sherman is known for his recent historical documentary, The King's Highway, which tells the story of the road that connected the American colonies and links it to the Northeast Philadelphia communities that sit along its route. HIs mission is to share a little-known history and preserve historic places in Northeast Philadelphia. Sherman estimates at least $1.2 million is needed to save and completely rehab the building. He has laid out six potential uses for the building that would celebrate Northeast Philadelphia's history and house local organizations:
1. The Northeast Philadelphia Museum of American History

2. Office for Greater Northeast Philadelphia Chamber of Commerce

3. Office for King's Highway Foundation / Northeast Philly Initiative

4. Office for local civic organizations that don't currently have offices

5. Education and Community Center, and event hosting

6. Gift Shop and cafeteria
The King's Highway Foundation has set up a YouCaring site up to raise money to restore the building.