Sandy by the hour | Bart's 'anti-casino' | Toll, Society Hill neighbors at ZBA | cheering land bank legislation | Philly's brightest bulbs | ID old signs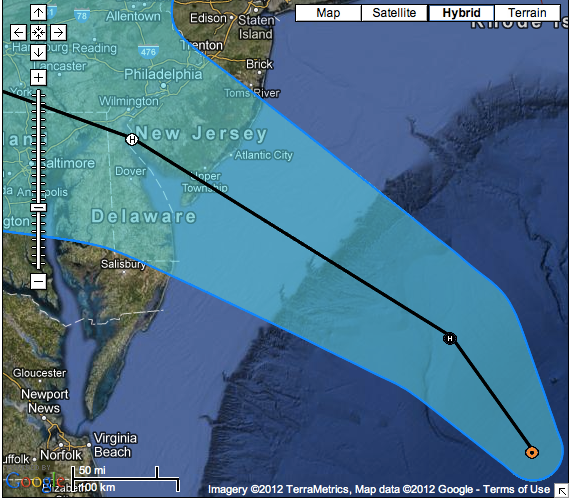 Good morning, Streeters. We've got Sandy on the mind this morning and will do our best to post useful information and updates here to the extent that we can. Send along what you're seeing from your window as this storm progresses, and we'll share your Eyes on the Street dispatches. (But, as Governor Christie says: Don't be stupid. Seriously.) Here's hoping that all of this preparation won't be necessary. For now, stay home (unless you're in a flood-prone area) and stay safe.
The Inquirer has compiled a handy Sandy timeline: What to expect from Hurricane Sandy for the next 40 Hours? By 2pm this afternoon "the strongest winds of the storm will begin to lash the area" – 45 mph sustained with gusts to 70 mph. "Conditions outside will be extremely dangerous and local authorities will react by closing major bridges if deemed necessary." Come 4pm today the storm's heavy rains will actually arrive. It's still very early in the game, and Sandy is apparently pickup up speed.
Bart Blatstein's plans for The Provence casino/entertainment/resort complex are in a way an "anti-casino," even though it will be gaming revenue that drives the whole development, writes Monica Yant Kinney in her Sunday Inquirercolumn. She sat down with Blatstein to discuss his plans to attract at high-rolling gamblers and an "elegant" nightlife environment. She writes: "We're not going to let people walk in dressed like slobs," he tells me, hinting of a dress code, strict security, and no comps. "We don't want that demographic. We want people with money."
Toll Brother's condo project at the New Market site is slated to make its third trip to the Zoning Board of Adjustment on Wednesday, requesting a height variance, but a parking dispute is likely to take center stage, reports PlanPhilly's Kellie Patrick Gates. Lombard and Pine neighbors claim they retain the right to park on-site thanks to an agreement with the former Rusty Scupper restaurant to park in their long gone garage. Society Hill Civic Association's Zoning and Historic Preservation Committee Chair, Lorna Katz Lawson, thinks the ZBA may not consider the parking issue, but she does predict an appeal no matter what the board decides.
Governor Corbett signed legislation last week that will enable the city to establish a land bank, a step the Inquirer applauds in an editorial today. It's a critical development that advocates hope will help put vacant, derelict and delinquent properties that are blighting neighborhoods citywide back into productive use.
And to kill a few on this long, stormy day off:
The Buzz is Eyes on the Street's morning news digest. Have a tip? Send it along.